Found December 12, 2012 on Turn On The Jets:
PLAYERS:
Mark Sanchez
,
Mardy Gilyard
,
Jeremy Kerley
,
Chaz Schilens
,
Braylon Edwards
,
Jeff Cumberland
,
Bilal Powell
,
Shonn Greene
,
Jason Babin
,
Austin Howard
,
Matt Slauson
,
Nick Mangold
,
Vladimir Ducasse
,
Jason Smith
TEAMS:
New York Jets
,
Jacksonville Jaguars
The Turn On The Jets offensive film breakdown this week is going to focus on a handful of questions I received on Twitter - All the questions generally broke out into the following four categories, which I will review section by section. Make sure to check back later today for Chris Gross' defensive film breakdown. 1 – Wide Receiver Separation Many people were curious if the Jets wide receivers were getting any type of separation against a below average Jacksonville secondary. There was only 19 attempted passes by Mark Sanchez, in what was a highly conservative game plan. To put it bluntly, the Jets basically ran a high-school passing attack this past Sunday. Extremely simplistic and meant to give Sanchez easy, quick reads that would equate to a high completion percentage. Yet, how did the receivers fare with their limited routes? Overall, they were relatively average. Yes, there were situations where they struggled to create separation as seen below when Mardy Gilyard runs a comeback route and curls directly behind the cornerback. Needless to say, there is a reason Gilyard has been unemployed in the NFL more than he's been employed. But outside of him and a few instances from other receivers, the situation wasn't a complete disaster. Jeremy Kerley continued to run crisp, quick routes and gets himself plenty of separation like shown below but Mark Sanchez just missed him. Chaz Schilens had a good day, consistently getting himself open outside of a sideline comeback route that should have never been thrown his way. He got excellent separation twice on a boot route, including this 17 yard completion below. 2 – Mark Sanchez's General Play Meh. The Jets literally ran a high school passing attack, which consisted of them running about 3 different basic passing plays out of a few different alignments and formations. They ran boot, quick rub routes (short speed outs) to the outside and three step slant/comeback combinations. Sanchez did OK with this but generally played timid and still missed more throws than you'd like to see in this type of attack (like the Kerley comeback above). Look at this boot route – He has Chaz Schilens open for a big gain but instead he pulls the ball down and runs for 4 yards. This hesitation likely comes from having two deep balls to Schilens the previous week dropped and intercepted, along with an emphasis from the coaching staff to play safe. However, if we see Braylon Edwards running the same route this week, I can guarantee that Sanchez makes this throw. Outside of his 37 yard completion to Jeff Cumberland late in the fourth, Sanchez didn't make any plays that you'd classify as "very good." He basically had a mix of proper decisions, good throws mixed in with some missed throws and poor reads. The completion to Cumberland was a thing of beauty however…just a frustrating glimpse of his first round talent. 3 – Running Back Comparison Bilal Powell and Shonn Greene put up nearly identical numbers, with Powell having a slightly higher yards per carry. Both players are very comparable on a week to week basis but the film maintains that Powell is a little quicker and can make a little more happen when less is available. Surprisingly it was Powell who was more effective going directly up the middle, while Greene was getting more from the outside counters. Here are two inside handoffs, the first one is Greene which went for 9 yards, the second one is Powell which went for 13 yards. Powell gets more yardage because he is quicker through the hole and is quicker with his cuts at the second level. To Greene's credit, he showed better vision and decisiveness on counter handoffs than Powell. Both backs were benefitted by a superior game from the Jets offensive line. 4 - Offensive Line Outside of D'Brickashaw Ferguson letting Jason Babin beat him for a strip sack, this was an excellent all-around performance from the Jets offensive line. In the second half, they simply took over the football game and drove Jacksonville defenders all over the field, clearing big lanes for Greene and Powell. Look at the blocking on this counter - To their credit, Austin Howard and Matt Slauson had particularly strong games despite having up and down seasons. Both were borderline dominant in the running game. Nick Mangold had arguably his best game of the season and made the PFF All-Week 14 Team. Vladimir Ducasse played limited snaps but Slauson looked better out there and was in the line-up for both touchdown drives. Jason Smith also deserves credit for strong blocking as an extra tight end.
Original Story:
http://turnonthejets.com/2012/12/turn...
THE BACKYARD
BEST OF MAXIM
RELATED ARTICLES
The New York Jets will try anything to close out the 2012 season with a measure of dignity. Their latest move was the signing of wide receiver Braylon Edwards on Tuesday. Edwards was recently cut by the Seattle Seahawks after an unproductive run that showed promise in the preseason.  Please Click Here To Read This Story
SECOND-YEAR BACK BILAL POWELL SUFFERED A FRACTURED TOE IN SUNDAY'S VICTORY. FLORHAM PARK, N.J. -- Bilal Powell will be held out of practice Thursday after suffering a fractured toe in Sundays 17-10 victory against the Jacksonville Jaguars."I think he'll be okay. I'm no trainer or doctor, but I feel like he'll have a chance to go," Rex Ryan said.Coming off...
Braylon Edwards was pretty good in 2010, and so was Mark Sanchez. The two have pretty much stunk since. Edwards and Sanchez, who connected on 62 passes, eight touchdowns and more than 40 first downs in the New York Jets' 2010 campaign, were reunited this week after an odd sequence of events."We have a good chemistry together," Sanchez said Tuesday, via the Star-Ledger...
Our guest this time for our regular weekly question and answer exchange will be Buddy Crutchfield from Bloguin's New York Jets blog, Rex Sanchez.  If you have any questions about the Jets, Rex Ryan, Mark Sanchez, Tim Tebow, Mike Tannebaum, or anything else Jets-related, please post them in comments and I'll send them along.
Funny man Adam Sandler made a guest appearance at the 12/12/12 Sandy Relief Concert at Madison Square Garden. He showed off his vocals with his own rendition of the great Leonard Cohen song "Hallelujah" and called it "Sandy, screw ya!" Although Sandler wore a New York Jets shirt, he decided to poke fun at QB  Mark Sanchez. "Cause we believe this too shall pass, like...
Adam Sandler showed up last night at the 12/12/12 Sandy Relief Concert at Madison Square Garden and went HAM.  He did his own rendition of the great Leonard Cohen song "Hallelujah" and called it "Sandy, screw ya!" Loved it.  Huge fan of Sandler doing stand up comedy and a huge fan of his old school comedy movies.  Not so much the more recent movies though. ...
For those of you who didn't tune into the "12-12-12" Hurricane Sandy relief concert, you might have this musical gem from comedian Adam Sandler. The song is called "Sandy, Screw Ya" and pays tribute to the New York and New Jersey area that hit hard by the superstorm. In the song, Sandler pokes fun at Jets quarterback Mark Sanchez's butt fumble and...
The semifinals are here. The question is are you still here or did your team get eliminated this final week of the regular season? Whether you're going for a title or just playing consolation rounds, let's scrape the last bits of meat off of the waiver wire's bones. Availability is based on ESPN leagues and FAAB off the $100 budget you've been nursing since September. New...
Tim Tebow hasn't been healthy enough to see the field for a month, yet New York Jets coach Rex Ryan insists Tebow remains the No. 2 quarterback. Meanwhile, Greg McElroy, Gang Green's third-stringer, is the only quarterback not named Mark Sanchez to run New York's offense in a regular season game this year. The healthy and capable McElroy replaced Sanchez in the second...
RB Bilal Powell (New York Jets) – 19 carries for 78 yards and 1 TD WR Harry Douglas (Atlanta Falcons) – 2 catches for 29 yards S Kerry Rhodes (Arizona Cardinals) – 4 tackles (1 solo) CB William Gay (Arizona Cardinals) – 1 solo tackle K David Akers (San Francisco 49ers) – 2/2;  long 37 RB Michael Bush (Chicago Bears) – 1 carry for 6 yards.  Michael Bush was injured after...
As Braylon Edwards rejoices a reunion with quarterback Mark Sanchez, the wideout's balky hamstring might be a cause for concern leading up to the Jets' Monday Night Showdown against the Tennessee Titans.
NFL News

Delivered to your inbox

You'll also receive Yardbarker's daily Top 10, featuring the best sports stories from around the web. Customize your newsletter to get articles on your favorite sports and teams. And the best part? It's free!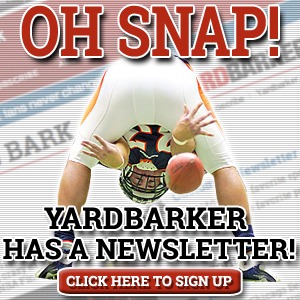 Latest Rumors
Best of Yardbarker

Today's Best Stuff

For Bloggers

Join the Yardbarker Network for more promotion, traffic, and money.

Company Info

Help

What is Yardbarker?

Yardbarker is the largest network of sports blogs and pro athlete blogs on the web. This site is the hub of the Yardbarker Network, where our editors and algorithms curate the best sports content from our network and beyond.