Found October 17, 2013 on Turn On The Jets:
The Turn On The Jets Roundtable is back to debate issues surrounding the New York Jets. Make sure to give all of the writers a follow on Twitter and if there is a question you want to see us debate, leave it in the comment section! How can the New York Jets upset the New England Patriots this weekend? Joe Caporoso - I'd like to see the New York Jets run the football down New England's throat until they can stop it. In all three of the Jets wins over New England under Rex Ryan they have run for at least 117 yards, with an average of 124 yards per game. Give Chris Ivory 15-20 carries. Give Bilal Powell 15-20 carries. Keep Tom Brady on the sideline as much as possible and then let Geno Smith take his deep shots off play action after running the ball heavily on New England's defense. As for slowing down Tom Brady and company, the Jets have always did their best work against Brady when mixing in heavy amounts of zone and dropping extra guys into coverage. They need to keep everything in front of them and force Brady to put together long drives to get points and then hopefully tighten down in the red-zone. The Jets don't have the personnel to match up in man coverage and send the house after Brady, right now. He will torch them against the blitz. Rex will have to be more conservative than usual but that's how he beat New England in the 2010 playoffs. Mike O'Connor - I'm basically going to agree with everybody; the Jets need to hit the ground running, literally. Bilal Powell and Chris Ivory need to get carries early and often so the Jets can dent an already banged up Patriots' defense. Without Jerod Mayo now, and already without Vince Wilfork, the Jets should be able to successfully get the ground game going without having to get to creative. This should open up the passing game for Geno Smith, too. On defense, I agree with Joe here. Rex Ryan can't roll with his chaotic schemes and blitz tactics. He can't even trust his defenders in pure man coverage like he typically does, because Tom Brady will simply pick apart the defense by finding his favorable match-ups.  nstead, the Jets need to make the most out of their defensive line's penetration, and it would be smart to rarely send more than five rushers. Frank Giasone - How do you stop Bill Belichick and Tom Brady? That's a question that Rex Ryan has been asking since he came to New York….And one that he's struggled to find an answer for over their past six meetings. If the Jets have any chance of winning this game the defense will need to limit Brady's ability to put together long drives. While it's no secret that Brady can be rattled by pressure, consistently creating that pressure is easier said than done. Muhammed Wilkerson & Co. will need to be relentless this week. If they disappear against the pass, this Jets are doomed. On the offensive side, I'm going to agree with everyone else here. Run, run, and run some more! The Jets need Geno Smith to be as close to flawless as possible, and one way to do that is to eat up the New England defense (which is playing some very good football through six weeks) with heavy doses of Chris Ivory and Bilal Powell. Limiting Geno's responsibility, while still allowing him to take multiple shots down the field, could give this team the points they so desperately need against this team. Whatever game plan they come up with, one thing is certain. You don't get many freebies when you face the Pats, so Rex will need each guy to pull his weight this Sunday at MetLife Stadium. That means minimal penalties and minimal mistakes….And a deafening tone from the crowd wouldn't hurt. So get LOUD Jets fans!
Original Story:
http://turnonthejets.com/2013/10/turn...
THE BACKYARD
BEST OF MAXIM
RELATED ARTICLES
Sheldon Richardson is a Jets rookie. Most people, much less NFL fans, have never heard of him, but he has decided to assume the mantle of the New York player running his mouth before Sunday's game against the Patriots. Richardson's attack method is not a new one — he's going after quarterback Tom Brady, and he's saying the Patriots get special treatment from the league...
Since Rex Ryan has taken over as Head Coach of the New York Jets in 2009, there have been a few ongoing trends with the team. They generally play very good defense that can be shaky at holding leads late. Offensively, they prefer to run the football and have had ongoing inconsistencies. Rex owns Buffalo. Miami owns Rex. New England? Boom or bust. They've had their good moments...
CHAPEL HILL, N.C. -- "Tom Brady. Tom Brady." Those were the words Miami offensive coordinator James Coley kept saying to his senior quarterback, Stephen Morris, as he prepared to take the field for Miami's last chance at staying undefeated. Weird, right? After all, Morris had looked nothing like Tom Brady through much of Thursday night's game at North Carolina....
Owners, players and coaches always have a different mentality on how to approaches their upcoming opponents. Some show their match-up extreme respect by never underestimating them, others will say whatever they can to criticize. By downplaying your opponent, you can maybe instill a sense of confidence in your own team. There is no shock that the New York Jets seem to be taking this...
Rex Ryan may or may not have implied to his New York Jets players that they should avoid having sex this week in order to be well rested for Sunday's game against the New England Patriots. The confusion came after Josh Cribbs, who is new to the team, told the media about how much Ryan […]
Due to Rex Ryan's complicated defensive schemes that sometimes put players in positions they're not fully accustomed to, I decided to also note where New York Jets players were lining up, along with tallying their snap count.  For example, I notched down what "techniques" defensive lineman were lined up in, if safeties were playing on the deeper level or in the front seven's...
New England Patriots tight end Rob Gronkowski has been cleared to play and will make his season debut Sunday against the New York Jets, reports ESPN's Adam Schefter. Drew Rosenhaus said, "Rob Gronkowski has now been cleared by all his doctors to play Sunday in the Jets game." — Adam Schefter (@AdamSchefter) October 18, 2013 Gronkowski has missed the first six games of the...
So, this one's a little bit weird. Josh Cribbs told the New York media that Ryan told the team to "Say no to the wife" this week. Which he meant innocently, as in rest up your legs, don't take out the trash, etc. etc. Of course, in typical Ryan fashion, the comment became a point of mockery. NFL.com: "I can tell he really wants this game," said Cribbs...
The New England Patriots announced Wednesday that they have placed linebacker Jerod Mayo on injured reserve and re-signed defensive tackle Andre Neblett to the 53-man roster. Mayo underwent surgery for a torn pectoral muscle Tuesday.  He suffered his injury in the fourth quarter of the Patriots' 30-27 victory over the New Orleans Saints last Sunday. Mayo had 55 combined tackles...
This incompletion was all the Jets defense apparentlyBARRY CHIN/GLOBE STAFF In typical Jets fashion, the team in New York is crying about something to do with the Patriots and the media. Much of the focus of the team's week 2 matchup was all of the dropped passes in the game, on both sides. Patriots receivers were often able to get good separation, but had several bad drops...
BY NICK ST. DENISThe New York Jets' defense is among the best in the NFL in most major statistical categories. Turnover rate isn't one of them.Through six games, Gang Green has snagged only one interception and recovered just two fumbles despite forcing nine."I told you guys last week, that's what Rex preached to us last week and preached to us again," Jets defensive...
                             Josh Cribbs was signed last week for the Jets because Rex Ryan says "that it is all on the line". He wants to win this game more than he wants unlimited Dunkin Donuts for life. Cribbs was playing in the probowl 6 months ago and now is unemployed. The former Browns and Raiders returner had the option of signing with the Patriots...
NFL News

Delivered to your inbox

You'll also receive Yardbarker's daily Top 10, featuring the best sports stories from around the web. Customize your newsletter to get articles on your favorite sports and teams. And the best part? It's free!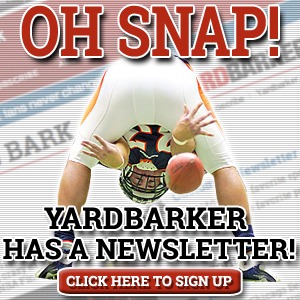 Latest Rumors
Best of Yardbarker

Today's Best Stuff

For Bloggers

Join the Yardbarker Network for more promotion, traffic, and money.

Company Info

Help

What is Yardbarker?

Yardbarker is the largest network of sports blogs and pro athlete blogs on the web. This site is the hub of the Yardbarker Network, where our editors and algorithms curate the best sports content from our network and beyond.