Found September 11, 2012 on Turn On The Jets:
PLAYERS:
Mark Sanchez
,
Brian Schottenheimer
,
Rex Ryan
,
Mike Pettine
,
Ryan Fitzpatrick
,
Santonio Holmes
,
Stephen Hill
,
Jeremy Kerley
,
Chaz Schilens
,
Shonn Greene
,
Jason Smith
,
Darrelle Revis
,
Antonio Brown
,
LaRon Landry
,
Yeremiah Bell
,
Heath Miller
,
Ellis Lankster
,
Isaiah Trufant
,
Garrett McIntyre
,
Bryan Thomas
,
Kenrick Ellis
TEAMS:
New York Jets
,
Buffalo Bills
,
Pittsburgh Steelers
You probably didn't hear all that much about the Jets the past two days from the national media. Well, at least not as much as you did the previous four weeks anyway. Funny how that works, huh? After weeks and weeks of the media portraying the Jets as an absolute joke and pundits everywhere seemingly taking great joy in taking shots at them, the Jets went out and absolutely slaughtered the Buffalo Bills in the first game of the season that actually counted. Yep, that's right, believe it or not those 4 preseason games actually didn't mean crap, and the Jets not scoring a touchdown meant even less than that. When the lights came on, the Jets dropped a 48-spot on everyone's sleeper darling team, the Buffalo Bills. It felt good. It felt damn good. Let's break down what we saw..
BUY: Mark Sanchez – I hate to say "I told ya so", but… Ok, I'm not going to get too carried away just yet, but that was as good as we've ever seen the Sanchize look. He had time in the pocket, he looked poised and confident, and he showed a newfound zip on his passes down the field. It's amazing what a quarterback can accomplish with a legit deep threat (Hill), competent blocking on the right side (Howard + a game plan using chip blocks), and most importantly not having Brian Schottenheimer holding him back. I'm sure it was just a coincidence that in the first game without Schotty, Sanchez had arguably the best game of his career, right? Speaking of which..
BUY: Coaching Staff - This goes to all of the coaches, from top to bottom. Rex Ryan obviously used the media's negative portrayal of the team to motivate them and lead them into the Great Buffalo Massacre of 2012. Plus, he –along with Mike Pettine– showed he can actually coach a little football and put together a defensive game plan that absolutely shut down Ryan Fitzpatrick and the Bills spread attack. On the other side of the ball, watching the offensive play-calling and play design was a thing of beauty. All offseason I couldn't say enough how much better the offense would be simply by getting rid of the black sheep of the Schottenheimer family, and the early results look promising. It had been so long, I forgot that an offense could actually stick with the run throughout an entire game; I didn't realize you could exploit mismatches on defense and attack them; I didn't know you could throw a pass beyond 6 yards. Week 1 was an eye-opening performance by the coaching staff. By the way, I haven't heard many "Schotty must be laughing in St. Louis!" jokes that everyone seemed to love throughout the pre-season. I wonder why?
BUY: The Wide Receivers - Santonio Holmes was mostly double-teamed throughout the game and didn't put up big numbers, but he clearly impacted the game just by being out there. Stephen Hill, on the other hand, did put up eye-opening numbers, scoring two TD's in his NFL debut and getting himself open repeatedly. Jeremy Kerley also chipped in 4 catches, a TD (plus a punt return TD), and put his rough pre-season beyond him. Chaz Schilens even shocked the world by not only walking onto the field without pulling his hamstring AND making a catch. What a day!
BUY: Shonn Greene Carrying the Load – Shonn Greene was handed the ball 27 times and showed he could handle the load, which is extremely important for this Jets team. He ran hard throughout the game, didn't tire, and was breaking tackles well into the 4th quarter which is exactly what we want to see. He's never going to be a game-breaking threat but combined with Tebow's wildcat, he can really be a factor in Sparano's clock control offense. That being said..
SELL: Shonn Greene's fumbles – Greene put the ball on the ground twice on Sunday, including once at the goalline and that is absolutely unacceptable. I'm as staunch a Greene defender as anyone, and I was generally encouraged by his performance, but he can NOT be doing that. Also..
SELL: The Run Blocking – Generally the run blocking was pretty solid on Sunday, but this team still needs a Tight End who can block. Cumberland and Reuland aren't going to cut it, and when Jason Smith comes in for that role, it kind of tips their hand as to what is going to be run.
BUY: The Secondary – A dominant performance by the defense was marred slightly by an apparent concussion for Darrelle Revis. If the Jets are going to win in Pittsburgh, we're going to need to see a healthy #24 out there to eliminate Antonio Brown from the Steelers offense. Against the Bills, we saw Revis, Cromartie, and Wilson manhandle the Bills receivers. We saw the new safeties, Laron Landry and Yeremiah Bell make big hits and actually make some plays. It was nice to see a Jets safety out there not just trailing a tight end by 5 yards while hopelessly diving for a tackle. We're going to need a solid performance from these guys next week against a Pittsburgh team that likes to throw to Heath Miller down the middle of the field.
SELL: Depth on Defense – Perhaps this is nitpicking a little bit, but when the Jets started making some defensive substitutions late in the game, it got really brutal out there. Ellis Lankster can be a nice 4th corner, but when he was forced into a larger role he got picked apart. Isaiah Trufant should never be on the field for defense. Garrett McIntyre came in for an injured Bryan Thomas and the drop off was noticeable. Even Kenrick Ellis, who had a great preseason left a lot to be desired as Sione Po'uha's replacement. We are going to need to see a healthy Sione this week against Pittsburgh and their crap offensive line.
SELL: The media – I wonder how some of these morons were able to recap the game on Sunday with a giant foot sticking out of their mouths. What a major disappointment Sunday had to be for the media hacks who had the Jets dead and buried before a single play that actually counted took place. I feel really bad that they had to file away their pre-written "clown" jokes since they weren't able to use them. What a major disappointment. And did I take great joy in reminding everyone that the real "clowns" were people like Evan Silva, who called for the Jets to score a mere 6 points this week? Yes, yes I did. It was just one game and we can't get too carried away because there's a long way to go, but what a game it was. I have a feeling there are going to be plenty more like it.
Original Story:
http://turnonthejets.com/2012/09/stoc...
THE BACKYARD
BEST OF MAXIM
RELATED ARTICLES
On Tuesday the New York Jets made several roster moves that may impact this Sunday's game versus the Pittsburgh Steelers, including waiving wide receiver Patrick Turner. Last week they brought cornerback LeQuan Lewis back as part of the practice squad, but he was released to make room for linebacker Ricky Sapp, who was released when Lewis was added. The waiving of Patrick...
Hot New York Jets Cheerleaders.  Today's ladies are from the AFC East and represent the last team in the division, the New York Jets.  Feels appropriate to drop them today since they had probably the best showing in the first weekend of the NFL.  They didn't score any points in the pre-season and came out and dropped 48 to beat the Bills.  Not a bad way to start. ...
New York Jets cornerback Darrelle Revis has been cleared to run and lift weights - but not for contact - after suffering a concussion in the team's season-opening victory over the Buffalo Bills. Coach Rex Ryan says Revis won't practice Wednesday, but it's an encouraging sign that the All-Pro is resuming normal activities. Revis must be cleared by the team physician and...
New York Jets head coached Rex Ryan told the Pittsburgh media on Wednesday during his conference call that All-Pro cornerback Darrelle Revis will not practice today as he continues to recover from the mild concussion that suffered in the Jets week 1 win against the Buffalo Bills. https://twitter.com/DVEMike/status/245914248167948288 Revis, who was kicked in the head by linebacker...
Last week: 23 (+4) Record: 1-0 The Jets didn't score a touchdown with their 1st or 2nd team offense all preseason and then they score 48 against the Bills week 1? What the hell? Well, all of their offensive problems are not solved. They may have scored 48, but 14 of those were scored by the defense or special teams and several other scores were helped by great field position as...
New York Jets cornerback Darrelle Revis suffered a mild concussion in the Jets 48-28 win over the Buffalo Bills on Sunday, but he is expected to suit up next week against the Pittsburgh Steelers. When asked on Monday whether or not Revis would play Sunday, Jets head coach Rex Ryan said that he would "lean on the doctors and the trainers" Adam Schefter of ESPN reported...
Even with his team's dominating win on opening Sunday in the NFL, Jets signal-caller Mark Sanchez is keeping things in perspective.
Going into preseason, there were certain expectations for the New York Jets' offense. The word "circus" was ever-present in the media. Were there circus-like elements? Sure, but a lot of it was media-hyped. Mostly, it was long stretches of boredom interrupted by brief moments of stupid mistakes. Infamously scoring just one touchdown throughout the entire [...]
HOF quarterback and current FOX Sports football analyst Terry Bradshaw talks with the Joe & Evan show on WFAN in NY every Tuesday at 11 am. Today he had some pointed advice for NY Jets QB Mark... Full story at Bob's Blitz ~ http://www.bobsblitz.com
In case you missed my Jets Week 1 Stock Watch, you can read that here. Today I'm taking a look around the NFL and in familiar fashion will be buying and selling the comings and goings of a chaotic week 1. But since this column and site in general have a distinct Jets flavor to them, let's start with the St. Louis Rams and their new genius offensive coordinator… The Schotty...
IRVING, Texas (AP) -- The Dallas Cowboys have signed cornerback LeQuan Lewis. Dallas announced the move Wednesday, a day after Lewis was released from the New York Jets practice squad. Lewis filled the roster spot created when the Cowboys released tight end Colin Cochart on Tuesday. Undrafted out of Arizona State, Lewis signed with the Tennessee Titans in July 2011, but was released...
According to Brian Costello of the New York Post, the Jets announced that cornerback Darrelle Revis suffered a mild concussion during Sunday's win over the Bills. Revis has a mild concussion, Jets announce #nyj — Brian Costello (@BrianCoz) September 10, 2012 Revis will be forced to pass a series of concussion tests before he's able to get back on the field.
NFL News

Delivered to your inbox

You'll also receive Yardbarker's daily Top 10, featuring the best sports stories from around the web. Customize your newsletter to get articles on your favorite sports and teams. And the best part? It's free!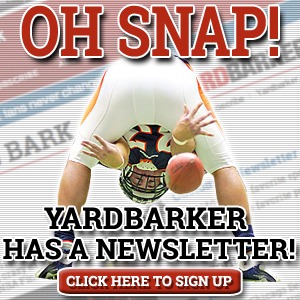 Latest Rumors
Best of Yardbarker

Today's Best Stuff

For Bloggers

Join the Yardbarker Network for more promotion, traffic, and money.

Company Info

Help

What is Yardbarker?

Yardbarker is the largest network of sports blogs and pro athlete blogs on the web. This site is the hub of the Yardbarker Network, where our editors and algorithms curate the best sports content from our network and beyond.