Found February 01, 2013 on Turn On The Jets:
PLAYERS:
Roger Staubach
,
Terry Bradshaw
,
Troy Aikman
,
Joe Flacco
,
Rex Ryan
,
Taylor Swift
,
Dennis Pitta
,
Sidney Crosby
,
Colin Kaepernick
,
David Akers
,
Roger Goodell
,
Ray Lewis
,
Ray Rice
,
Robert Griffin III
TEAMS:
New York Jets
,
Baltimore Ravens
,
Pittsburgh Penguins
,
San Francisco 49ers
,
Washington Redskins
,
Tampa Bay Rays
The Super Bowl is all sorts of fun and stuff, unless your team isn't playing in the actual game. Then, Super Bowl Sunday is all about eating, drinking, gambling and hanging out while a football game is being played in the background. But the most popular single sporting event in America is far, far from perfect. If I were running the NFL, here's a few simple things I'd do to improve the game. Move the Super Bowl to Saturday night You could counter with "Football purists will hate this!", but football isn't baseball. Actually, there are no such things as "Football purists". Lennay Kekua is a "Football purist". If they did exist, or had a strong voice, you'd be hearing a lot of stuff about how it would be bad for the 49ers to win the Super Bowl because it might usher in an era where read-option offense is the norm, and soon we won't have any drop-back, gunslingin' quarterbacks like the good ole days of Roger Staubach and Terry Bradshaw and Troy Aikman and blah blah blah. Is anybody saying that? No. All football fans ever want is to be entertained. We all absolutely LOVE players like Kaepernick and Robert Griffin III, because they're exciting. Far more exciting than say, Joe Flacco. Contrast that with a (admittedly out there) hypothetical in baseball. Let's say the Tampa Bay Rays brought up a young shortstop, Pierre Gomez, who perfected bunting (they're the most annoying baseball team on planet Earth –they WOULD do something like this). Then say Gomez led off every game with a bunt base hit. And unless he came up in a situation where he HAD to take a full swing, he bunted. And he was so good at it, and was Usain Bolt-fast, that it was nearly impossible to get him out if he laid one down. Let's say Pierre Gomez won the batting title and set a new Major League record with a .497 batting average. There would be panic among baseball fans. Dan Shaughnessy would write snarky columns tearing down Pierre Gomez nicknaming him "THE ASTERISK" and imploring his fellow media to never vote for him for any awards because he's made a mockery of the game that Johnny Pesky helped make so sacrosanct. Not that the Niners winning a Super Bowl with a dual-threat like Kaepernick would be as exaggerated as Pierre Gomez winning a bunting-only, record setting batting title, but you get the idea. In football, if it's fun, it works. (This is why the league has taken countless steps to make sure that it's really hard to win unless you can put up some points – Rex Ryan take note.) Football has the flooziest fans of any sport, bar none. This is why it's the most profitable league in the country. The NFL is as popular as it is because of gambling and fantasy football and the fact that it's the easiest sport to watch in a social setting (meaning: crushing Coors Lights with your bros at the bar while ogling girls in pink jerseys all day. They probably do this in Canada with hockey, but it's Canada, so…) It's the easiest sport to be a fair-weather fan of, thus, it has the most fair-weather fans. So can anyone tell me why the Super Bowl is played on Sunday? Other than tradition? Well screw that. What's more fun, Saturday night or Sunday night? The Super Bowl should be played on Saturday at 8:00 Eastern time. With the two week gap in place, the teams already have more than enough time to get healthy and prepare, so that's not an issue. Nothing is worse than the end of a Super Bowl party when you've eaten and drank enough for a week, and you realize it's 10:30 on Sunday. That's awful. Why does the NFL do that to us? You think Super Bowl parties are fun now? How about if the game was on Saturday night? That, my friends, would be a party. Recently, the UEFA Champions League changed their title game from a Wednesday to a Saturday (for those who don't follow soccer – it's the biggest club competition in the world, and the final is watched by more people than the Super Bowl globally). They probably thought to themselves the same thing – why do we stage this insanely big event on a Wednesday night? Probably because that's how it always used to be, but Saturday makes infinitely more sense. It does for the Super Bowl as well. Enough of the damn halftime show Well, you can still have a halftime show, but why does the NFL insiss on having the performance inside the actual stadium? Totally useless. The halftime show, as is, is a made-for-TV event. If the NFL would move the halftime show to a remote location – obviously right near the stadium hosting the game – the break wouldn't have to be the insane 45 minutes or so it currently is. Also, I'm sure you can find  a couple thousand morons who would pay separately to go see the halftime show live in person, so that would alleviate any of the money that may be lost (I'm assuming the NFL would claim that a ticket to the actual game is priced as so because there's also a halftime show).  So when halftime hits, take a commercial break, throw it to Seacrest to introduce Taylor Swift who plays 15 Minutes in Heaven with every horny middle age man in America, take another break (heck, you could throw it back to the analysts, take ANOTHER break) and then come back to the game, and you've probably only taken 25 minutes total; still too long but way more reasonable. Also, more Jets Super Bowl appearances, please And now, the Prop-Bet Extravaganza Will there be a defensive or special teams touchdown? Yes (+145) With these two teams? Sure. Player to score first touchdown in the game – Dennis Pitta (+1000) Dennis Pitta is the exact type of guy who catches the first touchdown of a Super Bowl. The first punt of the game will be…Touchback (+250) They really have to make things like this available to bet on in-stadium at Jets games. Place would be packed. Sidney Crosby Goals + Assists (PK) over Colin Kaepernick touchdown passes Cindy beats Colin by a 2-1 margin. David Akers Total Points – Over 7.5 (-130) Expecting a few stalled drives/holds by the Baltimore defense. Gatorade Shower – Red (+200) Shouldn't Roger Goodell mandate that both teams only use red Gatorade and then put his entire life savings on this? Ray Lewis Solo+Assisted Tackles – Under 11.5 (+120) Just because. MVP Ray Rice (+800) Game Ravens +4 – In a big game, I usually like to side with the guy under center who's more comfortable. Somehow, someway, in a Super Bowl, Joe Flacco is that guy on Sunday. This thing will probably be close throughout, and I like Ray Rice to bang home a few touchdowns in a low scoring affair. Oh yeah, Dennis Pitta catches the first touchdown too. So, Ravens 24, 49ers 20. Congrats Bunk, Jimmy, Omar, Stringer and Rawls. Bring on the offseason.
Original Story:
http://turnonthejets.com/2013/02/turn...
THE BACKYARD
BEST OF MAXIM
RELATED ARTICLES
The New York Jets are in salary cap hell. There are a lot of holes to fill on their roster, but unfortunately due to their precarious financial situation, they are not exactly in the position to acquire great players through trades or free agency. Combine that with the fact that several must-have players are going to be free agents, and it's like former general manager planned...
According to Jason La Canfora of CBS Sports, the New York Jets don't  believe they have the money to re-sign tight end Dustin Keller this offseason. This makes a lot of sense since the Jets are over the cap by about $18 million I believe. Keller is a very good tight end that will get some nice offers on the open market that the Jets won't be able to compete with.   Need NFL...
With the NFL offseason about to kick off, there are a lot of issues to deal with here in JestLand. So many in fact, that I think the only way to properly break them all down is with a special edition of the Stock Watch to buy and sell all things Jets as we get ready for the 2013 season. BUY: Marty Mornhinweg Hire – I'm all in on the Marty M. hire. Aside from an upgrade at QB...
Darrelle Revis's agent, Neil S. Schwartz, was instrumental in making Mike Tannenbaum's life (from a general manager standpoint) a living hell during a good chunk of Tannenbaum's tenure heading the New York Jets.So it's only fitting that the two are rubbing elbows, smiles included, in New Orleans just before the Super Bowl.Adam Schefter tweeted this photo Friday of...
Tight end Dustin Keller has been a mainstay in New York for the past five seasons. With a major roster overhaul expected this offseason, the question remains, does Keller factor into the Jets' plans long-term plans?
Jets Insider Radio will be broadcasting live on Superbowl Sunday Morning from-10 AM to Noon discussing all the latest Gang Green and NFL news. Joining us LIVE straight from New Orleans is New York Times Jets and NFL columnist Greg Bishop who will chat with us about the state of the Jets and his take on all of the latest happenings out of Florham Park. He will also give his take and...
With expectations sky-high when Tim Tebow arrived in New York, the Tebow-experiment proved to be a complete failure in year one. With Mike Tannenbaum ousted from the Jets' front office, where does Gang Green go from here?
In continuation with our positional breakdowns of potential NFL Draft prospects for the New York Jets, we turn our attention to a position that, although is not a top need, wouldn't hurt from the addition of a playmaker. Today, our draft team provides a breakdown of the top five potential wide receivers that could be selected by the Jets in April's draft. These initial rankings...
In continuation with our positional breakdowns of potential NFL Draft prospects for the New York Jets, we turn our attention to a position that will certainly be needed to added to via the draft. Today, our draft team provides a breakdown of the top five potential offensive linemen that could be selected by the Jets in April's draft. These initial rankings are certainly subject...
NFL News

Delivered to your inbox

You'll also receive Yardbarker's daily Top 10, featuring the best sports stories from around the web. Customize your newsletter to get articles on your favorite sports and teams. And the best part? It's free!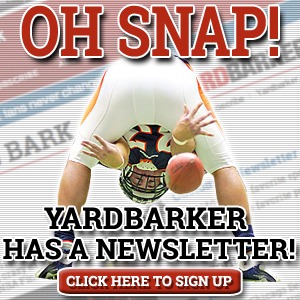 Latest Rumors
Best of Yardbarker

Today's Best Stuff

For Bloggers

Join the Yardbarker Network for more promotion, traffic, and money.

Company Info

Help

What is Yardbarker?

Yardbarker is the largest network of sports blogs and pro athlete blogs on the web. This site is the hub of the Yardbarker Network, where our editors and algorithms curate the best sports content from our network and beyond.