Found November 14, 2012 on Turn On The Jets:
Joe Caporoso - I hate to reiterate what most of our writers are saying but how could you not look forward to Rex Ryan's defense versus Brian Schottenheimer's offense? Without question a low point in a year full of them would be to watch Schottenheimer hang a 35 spot on Ryan. Considering how much crap Schotty took while he was here and how much pride Rex takes in his defense, it would be an ultimate gut punch to this organization. You can bet on Rex throwing the kitchen sink out there this week and likely playing more aggressive than usual. Are the Jets up to representing their now beleaguered head coach against a very average offense? Or will they let the humiliation continue? Chris Gross - Match Up: Rex Ryan's Defense vs. Brian Schottenheimer's offense – Everyone has been talking about the eagerness to see Mark Sanchez face the Rams defense, for the world seems convinced that Sanchez's former tutor, now Rams Offensive Coordinator, Brian Schottenheimer will have the exact script necessary for St. Louis's defensive staff to magnify the surplus of Sanchez's weaknesses. However, after 3 years of having Schotty on his staff, Rex Ryan is likely licking his chops at the opportunity to go head to head with his first and former offensive coordinator with the Jets. New York's offense became highly predictable under the Schottenheimer regime, and Rex likely has an abundance of plays up his sleeve that he began scripting the moment he found out he'd be coaching against Schotty. Look for a dominant defensive effort led by one of Rex's best, most prepared, coaching efforts this season. Mike Donnelly -  The only matchup I'm really looking forward to seeing is Rex Ryan's defense against Brian Schottenheimer and the Rams offense. The Jets did a very good job against Marshawn Lynch and the Seattle run game for most of the game last week, and I expect that to carry over against a lesser offense in St. Louis. But the big thing is how Rex is going to match wits with the Jets former offensive coordinator that was absolutely trashed here. If Rex lets the Rams come out and drop over 20 points on them and make the defense look silly, then things are much worse in Jets land than we even thought, and it will be the first time I will start to waver on whether or not Rex Ryan's job security should be in question. Rob Celletti - This season has gotten so strange that it feels absurd to discuss what's happening on the field when it comes to the Jets, but let's put aside the sideshow for a moment.  There are still seven games to play after all, and believe it or not, the Jets are going to try and win them (I think). So what matchup can the Jets exploit against the Rams on Sunday?  How about this: commit to the running game against an average defensive front.  The Jets are arguably the most disorganized offense in the league for a variety of reasons that don't all involve the play of Mark Sanchez.  If you look at when Sanchez has success, it usually happens when the running game is productive.  But whether it's due to poor blocking, plodder extraordinaire Shonn Greene, or simply Tony Sparano's gameplanning, the Jets have not stuck with their guns on the ground, especially when falling behind – even if only by one score. The Jets should be able to get something done in the run game on Sunday, and I'm excited to see Khalil Bell get some burn. He can't be worse than Greene, can he? TJ Rosenthal - We look forward to watching Schotty vs Rex. What would be more humiliating Rex, canning his OC only to get torched by him the following season, while the new offense and OC are worse? We honestly at this point, don't know which of the two we are rooting for in this matchup. We are carrying decades of anger into this game. Whatever needs to be exposed for the true real nature of who the Jets are as an organization, and an offense this Sunday, let's see it. The Rex and Schotty matchup will be a window into alot of it. Chris Celletti - What I'm most looking forward to is a pretty simple, general matchup: the Jets' offense vs. the Rams' defense. The Jets' offense has reached new levels of ineptitude over the past two games. The Rams have an okay but unspectacular defense, but at this point it doesn't even matter who New York is going up against. Will they show any fight? Will Tony Sparano actually call a competent game? Can Mark Sanchez go an entire game without making a mistake that would make a high school QB cringe? Before we write the Jets off as automatically getting blown out, let's all remember that the Rams aren't very good. If, and its a gargantuan if, the Jets can actually get in the end zone a few times, they can win.
Original Story:
http://turnonthejets.com/2012/11/turn...
THE BACKYARD
BEST OF MAXIM
RELATED ARTICLES
Florham Park, N.J.: Sometimes you have to know when to keep quiet.Rex Ryan stepped to the podium today and almost, repeat almost, didn't feed into answering questions about an article put out by the New York Daily News that said about a dozen players anonymously said Tim Tebow simply isn't good enough to start."First off, if a player doesn't put their name to something...
The Jets continue to reinvent rock bottom every week, and it certainly seems to be taking quite the toll on head coach Rex Ryan. ESPN.com reports that Ryan actually broke down in tears following his team's 28-7 loss to the Seattle Seahawks on Sunday, at least according to some of his players. "In his postgame address to the team," ESPN.com's Rich Cimini writes, "Ryan got...
It seems impossible, but for the sake of fun, let's not rule it out. Would you want Rex Ryan to come to New England to coach the much maligned Patriots defense? Would Rex want to do that? Would Belichick?  These are the questions we at PatriotsLife had some varying opinions on. Here's a recap of our e-mail debate. Be sure to chime in with your thoughts in the comments section...
Some critics are calling it a fatal mistake but Rex Ryan isn't wavering in his support of the Jets starting quarterback.
Rex Ryan is no dummy, and so after he read off the Jets' injury report at his press conference Wednesday, he grinned at the reporters and into the glare of the television cameras crowded into the media room at the Jets' training facility. "Fire away, let's go," Ryan said. "Ask the questions you want to ask." An awkward silence ensued. "I...
Pete Carroll knows a little about the media pouncing on their prey. He took every attack the Boston media threw at him while he was head coach of the New England Patriots. After his dismissal from New England, he went back to sunny Southern California and built a powerhouse USC program that turned him into an icon in those parts. Carroll also knows young quarterbacks and Mark Sanchez...
Sunday's loss to the Seattle Seahawks put the final nail in the coffin for the New York Jets 2012 season. The Jets are much closer to earning the No. 1 draft pick than they are to earning a spot in the playoffs. This is very far to fall for a team that was one game away from the Super Bowl just two seasons ago. There are plenty of theories about who is the root of this fiasco....
ST. LOUIS (AP) Brian Schottenheimer is trying to treat the St. Louis Rams' game against his former team, the New York Jets, this weekend as just another game. "I want to win because it's the next game and we need to get to four wins," the Rams' offensive coordinator said. "It's fun to compete against your friends, but (the games) are all the same....
New York Jets running back Shonn Greene did not have many nice things to say about teammate Mark Sanchez during his interview with Michael Silver of Yahoo! Sports on Wednesday, but at least he attached his name to the quotes. Greene said he felt badly for Sanchez, but it seemed clear that he believes the Jets need to give Tim Tebow a shot given their 3-6 record with Sanchez starting...
Not many quarterbacks in the NFL have less to work with than New York Jets quarterback Mark Sanchez, which is why he's been given an unprecedented amount of slack during his tumultuous 2012 season. After losing Santonio Holmes for the season to a Week 4 injury, Sanchez's No. 1 target has been second-year slot receiver Jeremy Kerley, who has actually been really good. But...
NFL News

Delivered to your inbox

You'll also receive Yardbarker's daily Top 10, featuring the best sports stories from around the web. Customize your newsletter to get articles on your favorite sports and teams. And the best part? It's free!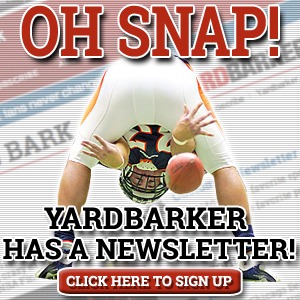 Latest Rumors
Best of Yardbarker

Today's Best Stuff

For Bloggers

Join the Yardbarker Network for more promotion, traffic, and money.

Company Info

Help

What is Yardbarker?

Yardbarker is the largest network of sports blogs and pro athlete blogs on the web. This site is the hub of the Yardbarker Network, where our editors and algorithms curate the best sports content from our network and beyond.