Found November 17, 2012 on Turn On The Jets:
PLAYERS:
Rex Ryan
,
Frank Gore
,
Shonn Greene
,
Jeremy Kerley
,
Mark Sanchez
,
Colin Kaepernick
,
Alex Smith
,
Sam Bradford
,
Marshawn Lynch
,
Antonio Cromartie
,
Danny Amendola
,
Ellis Lankster
,
Kyle Wilson
,
Kellen Clemens
,
Brian Schottenheimer
,
Wayne Hunter
,
Matthew Mulligan
TEAMS:
New York Jets
,
San Francisco 49ers
,
St. Louis Rams
,
Seattle Seahawks
Joe Caporoso - 12 Pack  Chris Gross -  Jets 23-Rams 17: Can New York turn a week of internal turmoil into enough motivation to grab a road victory in a must win situation? At what point does this team develop a chip on their shoulders for all the doubters and perceived negativity they are subject to, week in and week out? If I am Rex Ryan, my pregame speech is similar to Lou Brown's in Major League: "I'm not much for giving inspirational addresses, but I'd just like to point out that every newspaper in the country has picked us to finish last. The local press seems to think that we'd save everyone the time and trouble if we just went out and shot ourselves. Me, I'm for wasting sportswriters' time. So I figured we ought to hang around for a while and see if we can give 'em all a nice big sh*tburger to eat!" Will the Jets channel their inner "Wild Thing Rick Vaughn" and go on a fairytale run into the postseason? Probably not. But, at the very least, they can salvage some respect heading into 2013, starting with a great effort in St. Louis on Sunday, amid a week of drama, finger pointing, conspiracy, anonymous sources, and a poor display of interview ability from their owner, general manager, and head coach. New York needs to come out swinging, not taking their foot off the gas pedal for 60 straight minutes, in all 3 phases of the game. The Jets once stout Special Teams play has become a liability in recent weeks, subjecting their defense to an even greater responsibility to carry this team, something that they are clearly ill-equipped to handle at this point. Offensively, New York needs to do a couple of things. First, the run must be established. San Fransisco rushed for a team total of 183 yards in last week's tie with the Rams. Do the Jets have Frank Gore ability in their RB stable? Absolutely not. However, there is no reason that Shonn Greene shouldn't be given the ball 20 times, with newcomer Kahlil Bell contributing with a minimum of 10-12 carries. Offensive Coordinator Tony Sparano must get creative with this run game, meaning some possible end-arounds, jet sweeps, and shuffle passes to Jeremy Kerley. Let Kerley play a Percy Harvin type role this week, as he is one of the Jets very few consistent offensive players. Kerley must touch the ball at least 10-15 times through a variety of carries and receptions. There is no time left to keep thinking within the box. New York is at, what seems to be, a breaking point in the Rex Ryan era. Nothing can be held back at this point. (Disclaimer: I refuse to comment on Tebow's role in these predictions until the Jets prove to have any type of coherent plan on how to use him). Second, the Jets need to get Mark Sanchez out of the pocket more often than not this week. Prior to the season, our very own Editor-In-Chief Joe Caporoso highlighted the most effective ways to put Sanchez in a position to succeed. Among them was getting Sanchez out of the pocket on designed roll outs and play action passes. St. Louis had a team total of 5 sacks last week against San Francisco's Colin Kaepernick and Alex Smith, two players known for their mobility. St. Louis did an excellent job of containing them, as their fierce pass rush racked up the sacks. If the Jets can get Sanchez on the move, they should be able to effectively move the chains on medium down (3-7 yards) situations. If he is forced to sit in the pocket, however, things could get very ugly for this offense. Defensively, New York needs to attack throughout the entire game. Last week, San Francisco was able to register only 2 sacks on Sam Bradford, resulting in a 275 yard, 2 Touchdown performance from the former #1 overall pick. The Jets don't have anything close to the pass rushing talent of the 49ers, so Rex Ryan and Co. will have to be extremely creative with their blitz and pressure packages once again. If New York can effectively pressure Bradford, and get some big hits on him, they will be in an excellent position on the defensive side of the ball. Aside from getting to the Quarterback, New York needs to do two things. First, Stephen Jackson needs to be shut down at all costs. The Jets actually did an effective job of shutting down Marshawn Lynch last week, despite the back's 4th quarter surge that was a result of a defense that had been worn down both physically, and mentally at that point. Jackson accumulated 101 yards last week against San Francisco, but was only able to muster up a 3.5 YPC average. New York needs to key him on 1st downs and short yardage situations, as limiting him to 75-85 rushing yards will be essential to victory. Finally, the Jets need to put Antonio Cromartie on Danny Amendola in any man coverage scheme. Ellis Lankster and Kyle Wilson's documented struggles in man coverage are very real, something Amendola and the Rams are well aware of. Ryan needs to challenge the remainder of St. Louis's receiving corps to beat his secondary by shutting Amendola down. The only way to do that this week is by putting Cromartie on him for the majority of the contest. If New York can do each of these things on both sides of the ball, while not having any special teams meltdowns, this game shouldn't even be close. However, this is a Jets team that has seemingly made more mental errors all season than most of us can remember. There will be breakdowns in all facets of the game, but I think New York will finally respond to them this week. Expect a hard fought, back against the wall, fight for survival from the Jets, resulting in a game won through a total team effort. There won't be any single player on the offense or defense that is going to put up a monster stat line, but through a cohesive, aggressive game plan, and proper execution of the little things, the Jets will ultimately top the Rams in St. Louis by 6. Mike Donnelly - Jets 20-13  Rob Celletti -  When it comes to sports, and the teams I root for, I try to be an optimist. If I'm watching a hockey game (remember hockey?) and the Rangers go down by three goals early, I usually think to myself, "if they gave up three that quickly, they can score three of their own just as quickly." Needless to say, things don't usually work out that way. Especially when it comes to the New York Jets. Is it possible that the Jets find a way to eke out a win on Sunday and at least give themselves half a chance at meaningful December football in a weak AFC?  Well yeah, ANYTHING is possible. It's also possible that the Mayans were right, and that Earth will get sucked into a black hole in 35 days, rendering all of this discussion moot. The Rams win Sunday, 17-10.  It will be, as usual, an excruciating three hours for Jets fans. Last time things were this bad going into Thanksgiving, Kellen Clemens was playing quarterback. Chris Celletti - For some reason, and I really can't explain this, or justify it with football reasons, but I think the Jets are going to win this game. Maybe it's because I'm all giddy about the Knicks (they were 6-0 at the time of my filing of this), or maybe it's because the Rams aren't any good . They employ Brian Schottenheimer. And Wayne Hunter. And Matthew Mulligan. Although I have no faith in the Jets' offense (or defense or special teams or PR department or the Kraft Tee Kids at Metlife, for that matter), I do think this will be a tight, low scoring, close game that is there for the taking. Can Mark Sanchez engineer like two scoring drives? If so, pop a defensive score or a special teams one and BANG, there's your fourth win of the season. Jets 15 (why not?), Rams 10
Original Story:
http://turnonthejets.com/2012/11/turn...
THE BACKYARD
BEST OF MAXIM
RELATED ARTICLES
I am pretty sure I lost a bet earlier this season when I predicted Mark Sanchez would be benched by Week 10. At the start of the 2012 season, things were looking okay for the Jets. All they really needed to focus on is getting through a tough first half, fix mistakes during the bye, and storm through a much easier second-half schedule. But, the Jets did not do what they needed to...
New York Jets owner Woody Johnson told the media on Thursday that they're going to evaluate quarterback Mark Sanchez just like any other player on the team. "Mark is a player on the team," Johnson said, via the New York Daily News. "We're going to evaluate him as we do the other players. He'll be evaluated just like anybody else." Then Johnson slightly changed his tune...
Stat line: 15/20, 178 yards, 1 TD, 0 INT; 75% completion pct., 118.3 QB Rating Season Stats: 168/314, 2,038 yards, 11 TD, 9 INT; 53.5 completion pct., 73.4 QB Rating We've gotten to a point – and maybe rightfully so – where Mark Sanchez can do no right in the eyes of some Jets fans. Yesterday, Sanchez played a smart, effective, efficient, well-rounded game. He was sharp, confident...
Dallas defensive coordinator Rob Ryan doesn't pretend to ignore that the Cowboys are playing Cleveland for the first since the Browns dumped him when they fired Eric Mangini two years ago. Even when he's pretending. ''Honestly, I'm going to say no,'' Ryan said when asked if he had discussed this week's personal motivation with his players. '...
IRVING, Texas (AP) -- Dallas defensive coordinator Rob Ryan doesn't pretend to ignore that the Cowboys are playing Cleveland for the first since the Browns dumped him when they fired Eric Mangini two years ago. Even when he's pretending. "Honestly, I'm going to say no," Ryan said when asked if he had discussed this week's personal motivation with his players...
Lots of quotes came out of Dallas Cowboys practice in the last 24 hours, including two notable former Browns. Let's start with the fullback. Lawrence Vickers, a 2006 6th-round pick by the Browns, left as a free agent following the 2010 season. Here were his comments on facing his former team, as reported by ESPNDallas.com: "It's personal, why wouldn't it be? It anybody tells...
New York Jets running back Shonn Greene did not have many nice things to say about teammate Mark Sanchez during his interview with Michael Silver of Yahoo! Sports on Wednesday, but at least he attached his name to the quotes. Greene said he felt badly for Sanchez, but it seemed clear that he believes the Jets need to give Tim Tebow a shot given their 3-6 record with Sanchez starting...
Lead writer Nick St. Denis and AFC East Daily contributors Dan Begnoche and Sean Donovan pick the New York Jets' inter-conference contest with the St. Louis Rams. Nick's take: When Jets coach Rex Ryan and Rams offensive coordinator Brian Schottenheimer shared the field during Schotty's time with the Jets, Rex's defense ran the show. I think that holds true when the...
For at least one day, the New York Jets halted the downward spiral. Mark Sanchez was solid for the first time in several weeks, the unquestioned No. 1 quarterback presiding over a turnover-free offense in a 27-13 victory over the St. Louis Rams on Sunday. The beleaguered Sanchez was an efficient 15 of 20 passing for 178 yards and a touchdown, while Tim Tebow was merely a footnote...
Former New York Jets running back LaDanian Tomlison said he believes he knows who called Tebow "terrible" in a report by the New York Daily News on Wednesday.   Tomlison said on his Sirius XM Radio Show Wednesday that after reading the quotes he believes cornerback Antonio Cromartie and linebacker Bart Scott were the ones ripping Tebow. Scott fired back at Tomlison telling...
The New York Jets may have saved their season. For now. And may have saved their head coach his job also. For now. In coming to St. Louis and slapping the Rams around the Edward Jones Dome 27-13, the Jets have given themselves a reason to celebrate and keep the New York media off their backs. For now.Here are five things we learned from the game on Sunday:1. New York quarterback...
The New York Jets season received a shot of life with a 27-13 win over the St. Louis Rams. However, it will take an upset over the New England Patriots this Thursday night to truly make them relevant in the AFC playoff picture again. Here is a collection of early thoughts - 1. The big injury news this week is that Patriots tight end Rob Grokowski will not play because of a broken...
NFL News

Delivered to your inbox

You'll also receive Yardbarker's daily Top 10, featuring the best sports stories from around the web. Customize your newsletter to get articles on your favorite sports and teams. And the best part? It's free!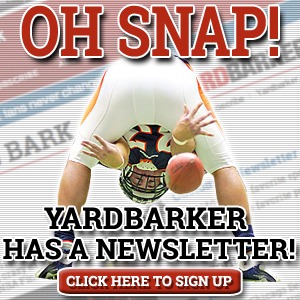 Latest Rumors
Best of Yardbarker

Today's Best Stuff

For Bloggers

Join the Yardbarker Network for more promotion, traffic, and money.

Company Info

Help

What is Yardbarker?

Yardbarker is the largest network of sports blogs and pro athlete blogs on the web. This site is the hub of the Yardbarker Network, where our editors and algorithms curate the best sports content from our network and beyond.