Found December 06, 2012 on Turn On The Jets:
PLAYERS:
Mark Sanchez
,
Shonn Greene
,
Bilal Powell
,
Greg McElroy
,
Rex Ryan
,
Mike Tannenbaum
,
Woody Johnson
,
Chad Pennington
,
Jay Fiedler
,
Brooks Bollinger
,
Kellen Clemens
,
Bill Parcells
TEAMS:
New York Jets
,
Jacksonville Jaguars
,
Miami Dolphins
The TOJ staff discusses what match-ups they are most looking forward to this Sunday when the New York Jets take on the Jacksonville Jaguars.  Make sure to give everybody a follow on Twitter - Thursday Night Picks Joe – Den (-10) Rob – Oak (+10) Chris G – Den (-10) Chris C – Den (-10) Joe Caporoso - Mark Sanchez vs. himself is without question the centerpiece of this game. He likely be navigating a run-heavy, conservative game-plan but when given opportunities he must play aggressive and smart. Better to go down swinging than tentatively floating the ball into triple coverage off your backfoot right? The chances for big plays will be there, does Sanchez have any fight left in him to be a quarterback in this city? Chris Celletti - The only thing everyone has to be keeping their eyes on is Mark Sanchez, right? I mean, we can sit here for hours and talk about how the Jets need to establish the ground game with Shonn Greene and Bilal Powell and if they do they'll win, but all we really care about is how Sanchez does. even if he only drops back 12 times, oh boy he better be good with those 12 throws. The Jacksonville defense is poor, but that doesn't mean much for Sanchez. While if I were the Jets, I'd let Sanchez wing it around and see how he's responded to the benching, I expect them to treat him like the rookie he's played like most of this season. Watch for a run-heavy plan trying to set up the play action and for the Jets to roll Sanchez out and have him read only half the field. You know, sort of like what they did with Greg McElroy last week. Either way, Sanchez is pretty much in a no-win spot on Sunday, and that probably goes for the rest of this season. If he plays well on Sunday, people will write it off since it was against a bad team. Obviously if he plays poorly, he risks losing his job for good. But it's clearly a must-watch if you're a die-hard Jet fan, given that there's a chance Rex Ryan pulls him again if he doesn't play well now that there's a precedent. TJ Rosenthal - Nothing has more intrigue in a matchup between a 5-7 and 2-10 squad, than the battle that will take place between Mark Sanchez and himself. The Jags defense is ranked 31st. There will be makable plays out there. Sanchez either believes in himself and understands that Rex has chosen to jump in the lifeboat with him and Tannenbaum, or wont be able to help any of them. Too beat up mentally from the years of poor guidance, odd personnel choices, and the pressure to save his and other jobs that are relying on him to snap out of it. Rob Celletti - All eyes will be on Mark Sanchez on Sunday. Other than that, this is a game between two generally poor football teams. If Sanchez protects the ball, the Jets will probably win the game going away. The key here is simply how Sanchez responds to his first career benching. This is essentially the final straw, the last stand for Mark Sanchez as a Jet. Will he thrive under pressure, as he did in 2009 and 2010? Or will he fall flat, likely ending his reign as this team's quarterback? Chris Gross - Mark Sanchez vs. Himself – Can the Jets embattled signal caller finally wake up and show some sign of life against the 31st ranked defense in the NFL this week? Many are questioning Rex Ryan's decision to stick with the former 5th overall pick out of Southern California, but contrary to popular belief, this was the only choice Rex could make. Dollar figures and guaranteed money aside, Sanchez has been the face of the Rex Ryan era in New York. He was highly scouted by the Jets entire front office, including Ryan, Mike Tannenbaum, and even owner Woody Johnson (I use the term scouted loosely), and it was an organizational decision to make him the centerpiece of the new Ryan/Tannenbaum regime. Despite his struggles, giving up on him now would be an admission that the whole organization missed on such a prominent piece of their building plans. Sanchez has never been benched in his professional career, and whether or not you think Greg McElroy is the savior at quarterback for the Jets, it is only right to see how he responds to his very first minutes as a clipboard holder. Sanchez needs to prove that he can do what no one believes he is capable of at this point, and that is to become mentally tough and block out all of his detractors, seemingly 99.9% of the team's fanbase. Is he beyond repair for this market at this stage in his career? Possibly, but it is essential to see how he responds to the events that occured in last Sunday's win over Arizona. Sanchez cannot afford to be careless with the ball yet again, and he certainly cannot afford to come out with that look of defeat on his face.   Jets fans can live with bad quarterback play. They fought through years of Neil O'Donnell, Ray Lucas, an injury plagued Chad Pennington, Jay Fiedler, Quincy Carter, Brooks Bollinger, Kellen Clemens…you see the point. Sanchez's maddening incosistent play could be tolerated by a fanbase that has had to stomach so much subpar play at the position over the past 20 years. However, the look of gloom and disaster that Sanchez constantly shows after every single mishap will not be tolerated by this fanbase, nor should it be.   Sanchez will make mistakes for they have become rather habitual at this point in his career. Whether they come this week, or in the 3 weeks that follow, he is bound to make some kinds of mistakes if he is under center. How he responds is what will ultimately decide his fate. He has yet to prove that he has a short term memory, something that is an absolute neccessity at the position, particularly in a town like New York. When these mistakes come, Sanchez needs to display the look of a cool-headed MLB pitcher that gives up a solo homerun in the first inning. Shake it off, regroup, and worry about the next hitter, or play in this case. If he sulks at any point, especially against a team like Jacksonville, the coaching staff, organization, and fanbase will officially write him off. It is the ultimate put up or shut up time for Sanchez, who always preaches the need to get better and continue to work. As Bill Parcells used to say, "Don't tell me about the labor, just show me the baby." This is likely the final audition for number 6 in the green and white. How he rises to the calling will determine, not only the ultimate fate of the 2012 Jets, but the fate of his career in New York, as well.
Original Story:
http://turnonthejets.com/2012/12/turn...
THE BACKYARD
BEST OF MAXIM
RELATED ARTICLES
The New York Jets are staying with Mark Sanchez as their starting quarterback this Sunday against the Jacksonville Jaguars. While this has come as a shock to many, we detailed here yesterday how there was a reasonable argument for this to happen. Not surprisingly many Jets fans are acting like the sky is falling right now…threatening to abandon the team…cursing out Rex…cursing...
The Jets announced that Mark Sanchez will start Sunday's game against the Jaguars. Reports from earlier in the week suggested that owner Woody Johnson preferred to see Greg McElroy starting this weekends game, but Sanchez had the support of OC Tony Sparano and GM Mike Tannenbaum, which most likely weighed heavily in Rex Ryan's decision. Things can't get much worse for...
Quarterback Mark Sanchez will get the start Sunday when the Jets visit Jacksonville.Fantasy Spin:Sanchez (12 TD, 13 INT, 71.4 QB rating) was benched late in the game last week against the Cardinals. Rex Ryan has Sanchez on a short leash right now and it's very possible Greg McElroy will take his place if he gets off to a slow start.
Mark Sanchez remains the starting quarterback for the New York Jets. Coach Rex Ryan deliberated before the team made the announcement Wednesday that Sanchez received the nod over Greg McElroy, the third-string quarterback who rallied the Jets to a 7-6 victory over the Arizona Cardinals. Sanchez was pulled in the third quarter after his third interception. Ryan said Monday he...
The New York Jets will continue to start quarterback Mark Sanchez for a least one more game. Color a lot of people surprised, but not us. Jets coach Rex Ryan pulled the plug on Sanchez last week following a three-interception first half, replacing him with Greg McElroy, who threw a 1-yard touchdown pass in the win.Ryan then said Monday that he needed a little more time to decide...
Mark Sanchez statistically ranks as one of the worst starting quarterbacks in the NFL, but coach Rex Ryan still believes the embattled signal caller gives the New York Jets the best chance to win. Despite being benched during another dismal performance, Sanchez will be under center to start the Jets' road matchup with the Jacksonville Jaguars on Sunday. Ryan's faith in...
If Rex Ryan is going to go down, he's apparently going to do so with his guy under center. ESPN's Adam Schefter reports that Ryan is going to name Mark Sanchez his starting quarterback for the Jets' game this Sunday in Jacksonville against the Jaguars. This comes just a few days after Ryan pulled Sanchez during the team's 7-6 win over the Arizona Cardinals. Though nothing...
When New York Jets coach Rex Ryan benched his quarterback Mark Sanchez on Sunday he made a statement. Initially the statement seemed to be 'forget Sanchez and Tim Tebow, I am going with the kid that went to Alabama: Greg McElroy.' That thought was confirmed as a misfire on Wednesday when Ryan declared that he would return to Sanchez to start this Sunday's game against the...
The quarterback controversy in New York appears to have no end in sight. And another wrinkle just made it even more complicated. Mark Sanchez is keeping his starting job, for now. But after being benched for third-stringer Greg McElroy last week, and chants for Tim Tebow continuing to fill the stands at MetLife Stadium, Sanchez may not have that job for very long. Now, as the Jets...
The New York Jets and their quarterback controversy have turned into Washington's political football. In August, President Barack Obama questioned the Jets' decision to acquire Tim Tebow when they had quarterback Mark Sanchez, who had led the team to the playoffs two years in a row. Then this week, Senate Majority Leader Harry Reid took a swipe at Republicans in the midst...
This week the Jets travel to Tim Tebow's hometown to play the Jaguars, unfortunately for the legion of Tebow supporters who undoubtedly wanted to line up to watch him play quarterback, equally unfortunate for many Jet fans that Greg McElroy won't be getting the start either, as you know, since it's all that anyone has talked about the entire week, Mark Sanchez will remain...
  Recently,  Braylon Edwards took to twitter telling Jets fans that they should lay off of Quarterback Mark Sanchez. Edwards tweeted: "Don't blame Sanchez. I played there. Blame the idiots calling shots. Mark is a beast and will probe it when given a proper chance." Although I do have to agree that the entire Jets [...]
NFL News

Delivered to your inbox

You'll also receive Yardbarker's daily Top 10, featuring the best sports stories from around the web. Customize your newsletter to get articles on your favorite sports and teams. And the best part? It's free!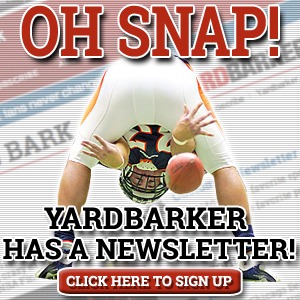 Latest Rumors
Best of Yardbarker

Today's Best Stuff

For Bloggers

Join the Yardbarker Network for more promotion, traffic, and money.

Company Info

Help

What is Yardbarker?

Yardbarker is the largest network of sports blogs and pro athlete blogs on the web. This site is the hub of the Yardbarker Network, where our editors and algorithms curate the best sports content from our network and beyond.