Found September 19, 2012 on Fox Sports South:
FLOWERY BRANCH, Ga. Its been a rough start to the season for two of the most productive running backs in the NFL over the last five seasons, Atlantas Michael Turner and Tennessees Chris Johnson. Between 2008 and 2011, no running gained more rushing yards than Johnsons 5,645 a crown, at this rate, that hell have trouble keeping on his head when the 2012 season has ended. For his part, Turner has made two All-Pro teams but a third trip is in no way in the offing if current trends continue. Adding to Turners on-field woes, he was arrested early on Tuesday morning on suspicion of DUI following the Falcons 27-21 victory over Denver. Neither player has surpassed the 100-yard mark and thats for the season. While there might be mitigating factors, the signs are ominous for both players that only serve to reinforce the current trend in the league in which running backs wear out about as fast as a set of new tires. Accordingly, teams ought to be wary of devoting key resources whether big contracts that eat up salary cap space or high-round picks -- to running backs. Even with the 2011 leagues rushing champion, Jacksonville resisted the holdout of Maurice Jones-Drew, and, in seeing what others are going through, might end up as a wise decision. After 32 yards on 11 carries in Week 1, Turner added 42 to that total on 17 carries on Monday and he needed an important 15-yarder late in the game to finish at that mark. Hes averaging 2.6 yards per carry. But hes 30 years old, in the final year of his contract and the Falcons have gotten excellent value for the six-year, 34.5 million contract they awarded him in 2008 until now. Despite the compact 5-foot-10, 247-pound build that has served him well, Turners 1,189 carries over the last four seasons might have finally taken their toll, along with a new offensive philosophy which has less of an emphasis on the run. On Wednesday, numerous Falcons pledged their faith in Turners ability to run the ball. Hes proven in the past hes consistent and weve been consistent in the run game, Falcons quarterback Matt Ryan said. Just for whatever reason, we havent gotten (the running game) going yet, but Im confident we will. I think weve got the right guys, the right offensive linemen, the right running backs to do it. For his part, Turner, on a day when he was not in a particularly expansive mood to discuss his shortcomings on the field as he spent most of it talking about those off of it, did not express worry. I just want to go out there and play hard, play for my friends, play for my teammates and just do everything I can to help this team win, he said. More worrisome, perhaps from a financial perspective, is Johnson, whose contract averages 13.4 million, but his average yards-per-carry is just 1.1. The last three seasons his year-ending rushing totals have dwindled from 2,006 to 1,364 to 1,047. His yards per carry have shrunk from 5.6 to 4.3 to 4.0. Last year, his performance was aggravated by his long holdout, but the team still won nine games and missed the playoffs by a single win. This season, the Titans have struggled to do much of anything well offensively or defensively and sit at 0-2. First-year starting quarterback Jake Locker hasnt helped much in the passing game, as Locker currently ranks 25th in the NFL with a 77.6 rating and he has committed turnovers early in games that have helped to put the Titans in a hole, which in turn, have made it harder to run the ball. For now, Johnson is at a loss to explain his lack of production. He also faced struggles last season, as 55 percent of his yards came in just four games and the other 12 were games featured limited production with an average of 39.4 yards per game in those. Johnson said that last Sundays game took on a similar feel to what happened in 11. Dont really know whats going on, he said in a video posted on the team Web site. Dont know how were going to fix it or whatever. We still got to continue to work hard and hopefully something happens. He added: Cant get the running game going, cant get no yards no matter what we do, so I dont know at this point. Johnsons four-year extension guarantees him 30 million, which would exact a substantial salary cap hit if the Titans elected to part ways with him after this season. Turner and Johnson might well both turn things around, but if they do, they will be swimming against the current tide.
Original Story:
http://www.foxsportssouth.com/09/19/1...
THE BACKYARD
BEST OF MAXIM
RELATED ARTICLES
POLICE BLOTTER
Falcons running back Michael Turner was arrested and charged with DUI as well as speeding early Tuesday morning, just hours after Atlanta's win over Denver.
FLOWERY BRANCH, Ga. Atlanta Falcons head coach Mike Smith on Tuesday said he has spoken to starting running back Michael Turner about the players arrest on suspicion of DUI earlier in the day and expressed to Turner his disappointment. Tuesday is a mandated off day for the players under the NFLs collective-bargaining agreement, and Smith did not say whether he met in person with...
Atlanta Falcons RB Michael Turner was arrested early Tuesday morning following his team's game on Monday night against the Denver Broncos. Turner was arrested for speeding and DUI. On Wednesday, Turner spoke with reporters and apologized for his arrest and said that expects to play this Sunday against the San Diego Chargers. "I shouldn't have been in this situation to begin...
FLOWERY BRANCH, Ga. Falcons running back Michael Turner apologized on Wednesday for his arrest one day earlier on suspicion of DUI. Id like to apologize to (owner) Mr. (Arthur) Blank, (general manager) Thomas Dimitroff, (head coach) Mike Smith, the whole Falcons organization out there and the fans for the situation Im in right now, Turner said. Its a bad decision on my part. I...
Dear Mr Johnson,When you were drafted to the Titans I was actually giddy.  After seeing your blazing time during the 40 yard dash at the combine I had goosebumps when I thought about what you might be able to do for the Titans during your career.  Flashes of Barry Sanders ran through my mind.  When the Titans' first round pick came around and you were still on the board, I...
Are professional athletes just dumb and/or reckless, or do they think they're above the law because of their celebrity status?  I make a hell of a lot less money in a year than these guys do and even I have the good sense to take a taxi home if I've been out drinking.  So why do athletes have such a hard time grasping such a simple concept, especially when they are wealthy...
Just hours after the Atlanta Falcons beat the Denver Broncos 27-21, Falcons running back Michael Turner was arrested on DUI and speeding charges. According to police, a traffic citation was given to Turner for driving 97 mph in a 65 mph speed zone. Turner was booked into the Gwinnett County Jail just after 5 a.m. and released on $2,179 bond a few hours later. [AJC] The post Michael...
As was earlier reported, Atlanta Falcons running back Michael Turner was arrested and charged with DUI and speeding following Monday Night Football. Gwinnett County Cpl. Edwin Ritter told NFL.com that Turner was bonded out of Gwinnett County Jail at 5 a.m. Bond for the DUI charge was set at $2006 and bond for the speeding charge was placed at $173. Turner was arrested "around...
Via: Just hours after helping his team beat the Denver Broncos on Monday Night Football, Falcons running back Michael Turner was in the Gwinnett County Jail, charged with driving under the influence of alcohol and speeding. Turner, 30, of Suwanee, was booked into the jail just after 5 a.m., and was released about two hours later on $2,179 bond, according to jail records. No taxis...
Owners of Chris Johnson might be justified in their concerns thus far, but after two weeks, there are plenty of running backs who have yet to have the opportunity to break out for a huge fantasy game.  One such player is Maurice Jones-Drew.  Sure, he scored a TD off of a short pass in week 2, but rushing totals of 77 and 60 yards is not what we've come to expect from MJD.  Don't...
The Tennessee Titans have stumbled through a miserable start but are hoping to end that by continuing a trend. The Titans have experienced a bevy of success in recent years against NFC foes, especially at home, but Sunday's game is against a Detroit Lions team that's eager to redeem itself following a missed opportunity. After going 9-7 in coach Mike Munchak's inaugural...
NFL News

Delivered to your inbox

You'll also receive Yardbarker's daily Top 10, featuring the best sports stories from around the web. Customize your newsletter to get articles on your favorite sports and teams. And the best part? It's free!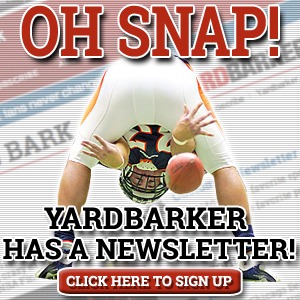 Latest Rumors
The Backyard

Today's Best Stuff

For Bloggers

Join the Yardbarker Network for more promotion, traffic, and money.

Company Info

Help

What is Yardbarker?

Yardbarker is the largest network of sports blogs and pro athlete blogs on the web. This site is the hub of the Yardbarker Network, where our editors and algorithms curate the best sports content from our network and beyond.