Found September 25, 2012 on Fox Sports Wisconsin:
PLAYERS:
Aaron Rodgers
,
T.J. Lang
,
Josh Sitton
,
Tom Crabtree
,
Russell Wilson
,
Golden Tate
,
Sam Shields
,
M.D. Jennings
,
Jermichael Finley
,
Greg Jennings
,
LeBron James
,
Roger Goodell
TEAMS:
Green Bay Packers
,
Seattle Seahawks
,
Miami Heat
GREEN BAY, Wis. Though Packers coach Mike McCarthy and quarterback Aaron Rodgers handled their post-game press conferences with some restraint, the same was not true for a few of Green Bay's players on Twitter. After the Packers lost on Monday night in Seattle against the Seahawks on a last-second hail-mary touchdown, a play that replays conclusively showed was called incorrectly by the NFL's replacement referees, tweets came pouring in from the locker room. It started with Packers left guard T.J. Lang, who wrote, "Got fed by the refs.. Embarrassing. Thanks nfl." Later, Lang added, "F it NFL, Fine me and use the money to pay the regular refs." Soon, other players shared their take on the situation via Twitter. Packers starting right guard Josh Sitton had a series of expletive-filled tweets. "That was bullsh," Sitton wrote. "This is getting ridiculous! The NFL needs to get the refs back bfr we strike and they make no money!" Sitton posted another tweet soon after, writing: "The nfl needs to come to gb and apologize to us for fing us! These refs r bums!" Packers tight end Tom Crabtree posted, "13th man beat us tonight," referring to the referees. On the final play of the game, with the Seahawks losing 12-7, Seattle's rookie quarterback Russell Wilson threw a desperation pass deep into the end zone. Seahawks receiver Golden Tate pushed Packers cornerback Sam Shields out of the way -- which went uncalled -- and attempted to make a jumping catch. However, Green Bay safety M.D. Jennings came down with the ball and landed on top of Tate. Two officials walked to where the ball was, with one referee signaling touchdown and the other calling an interception and a touchback, with the result then being a Packers win. The replacement officiating crew -- still working in Week 3 of the regular season as the NFL continues to keep the NFL Referees Association locked out -- then went to a replay. A few minutes later, it was announced as a Seahawks touchdown, putting them ahead 13-12 with no time left on the clock. After a long delay, with the Packers already in the locker room, McCarthy eventually sent out 11 players to stand on the field and allow Seattle to kick its meaningless extra point. Rodgers said it was "just awful," but that was very kind in comparison to his teammates' reactions. Tight end Jermichael Finley posted on Twitter: "Come on @NFL. This sh is getting out of Control. (Cost) us a DAMN game. Horrible!" Finley later added, "@NFL Cheap (as) hell!! Get us some NFL REFS! Not PEE WEE league refs." Wide receiver Greg Jennings tweeted: "NFL C'MON MAN! Can't even be upset anymore. All I can do is laugh. Laugh at the NFL for allowing America's game to come (to) this. WOW!" Tate stated in his post-game interview that he did catch the ball, a comment that also did not go over well in the Packers locker room. Sitton wrote: "Golden tate is full of sh too. Saying he clearly caught that is embarrassing! Fing jokers!" Lang added: "Any playercoach in Seattle that really thinks they won that game has zero integrity as a man and should be embarrassed." The negative reactions didn't end with the Packers, though. The NBA's Most Valuable Player, LeBron James, even chimed in with multiple tweets. "These replacement refs gotta go man!!," James wrote. "Packers just got game took from them. I LOVE NFL football (too) much to see this type of work. ... C'mon man!! That's clearly an interception. ... I simply just LOVE the NFL (too) much to see these mistakes. I'm sick like I just played for the Packers." Former Packers safety LeRoy Butler took his protest of the call a step further. "I just emailed the commissioner to say I am embarrassed to be a former nfl player after that," Butler wrote. If there needed to be a game-deciding play for NFL commissioner Roger Goodell to end the lockout and come to an agreement with the regular referees, this public outcry should be enough to get it done. Follow Paul Imig on Twitter.
Original Story:
http://www.foxsportswisconsin.com/09/...
THE BACKYARD
BEST OF MAXIM
RELATED ARTICLES
With the Green Bay Packers taking a day off after losing in Seattle on a botched touchdown call that has taken the NFL world by storm, quarterback Aaron Rodgers' weekly radio show was a little more anticipated than usual Tuesday. Immediately after Monday night's loss, both Rodgers and coach Mike McCarthy chose their words carefully, but Rodgers was far more critical of the...
One day after venting on his radio show about the refereeing debacle that cost the Green Bay Packers a game in Seattle, Aaron Rodgers saved one last barb for the NFL. Asked Wednesday about how the Packers were handling the aftermath of a Monday night loss that touched off a national firestorm about the league's use of replacement officials, Rodgers dismissed an NFL-issued statement...
GREEN BAY, Wis. -- When the referees walked into the Packers' locker room just moments after Monday night's now-infamous touchdown ruling in Seattle, linebacker A.J. Hawk thought it was going to be good news."I thought they were going to tell us we won the game, honestly," Hawk said Wednesday. "I think a lot of people thought that. But they were saying we had...
Do you see random sh$% while driving to work and think it needs to be seen by the masses? Does the guy who sits next to you at work look like a tool on a daily basis? Does your dog lick his balls in an odd fashion? Is your neighbor working on some sort of outer space vehicle behind his shed? We want your WTF photos. Email us: mail@bustedcoverage.com Filed under: Daily WTF
Aaron Rodgers may have navy blue and neon green nightmares Monday night. The Seahawks sacked Rodgers eight times in the first half on Monday night. Defensive end Chris Clemons had four of those eight sacks. We tried to tell you the Seahawks defense would be good this year. Rookie and controversial first-round selection Bruce Irvin had two sacks. Defensive tackle Brandon Mebane officially...
I know it's early in the season but it's always fun to discuss and debate who the best players are in the NFL. If you ask me I still say Aaron Rodgers is the best quarterback, Ray Rice is the ultimate running back and Andre Johnson is the most complete wide receiver in the game.  But not right now!  While these players are clearly still at the top of their game and among...
Green Bay Packers quarterback Aaron Rodgers was under a ton of pressure in the first half of his Monday Night Football match-up against the Seattle Seahawks.  Rodgers was so jumpy in the pocket that he just simply slip and feel to the ground while trying to set his feet for a pass. This is not something you see everyday, especially from an NFL MVP. The post Aaron Rodgers Slips...
The 2012 NFL Fantasy Football season is now three weeks old. If you have been paying close attention, some of the stats thus far from players who have been perennial first or second round picks have simply been mind blowing. It almost resembles bizarro world. Players who went as top picks have been huge disappointments. Players who were not even drafted have climbed up their team's...
After the ruling heard around the world that awarded the Seattle Seahawks' Golden Tate with a  catch that gave Seattle a 14-12 victory of the Green Bay Packers on Monday night at Century Link Field. Here is a break down how the Packers failed to put themselves in position to not have to put the game in the hands of the inept replacement officials and how the Seahawks defense...
We're just a little more than two hours away from kickoff in Seattle for the Green Bay Packers vs. the Seahawks. Monday Night Football!There's an interesting stat which hit the Twittersphere today: Packers' QB Aaron Rodgers is winless on the road on Monday nights: 0-4. Yikes! He's 3-0 in the friendly confines of Lambeau Field on Monday nights. Hmmm. So, what can we...
After three weeks the tables have turned in the NFC North and the two teams at the bottom from last season are sitting a top the standings with a tenuous one game lead. Let's take a look at five things to watch this week in the black and blue division.Can the Packers recover from the beat down in Puget Sound?Everyone in America has seen the play that ended the game in Seattle...
Green Bay's high-powered offense has struggled early in the season The Green Bay Packers are 2-1 1-2. That puts the defending NFC North champions one game behind the division leading Vikings and Bears and tied with the Lions. Here's my analysis of the offense after three games: QUARTERBACK: Aaron Rodgers' passer rating is down nearly 35 points from last season, and while numbers...
NFL News

Delivered to your inbox

You'll also receive Yardbarker's daily Top 10, featuring the best sports stories from around the web. Customize your newsletter to get articles on your favorite sports and teams. And the best part? It's free!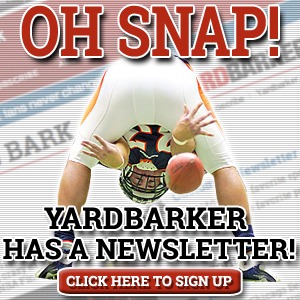 Latest Rumors
The Backyard

Today's Best Stuff

For Bloggers

Join the Yardbarker Network for more promotion, traffic, and money.

Company Info

Help

What is Yardbarker?

Yardbarker is the largest network of sports blogs and pro athlete blogs on the web. This site is the hub of the Yardbarker Network, where our editors and algorithms curate the best sports content from our network and beyond.