Found February 19, 2013 on Down and Distance:
According to NFL Union leader Domonique Foxworth, the players of the NFL do not trust commissioner Roger Goodell (Credit: AP Photo) According to the NFL union leader, Domonique Foxworth, the players do not trust commissioner Roger Goodell, specifically because of the Saints bounty scandal. Foxworth went on to add that he is not sure if he would be able to persuade players to have faith in Goodell even if he wanted to. "It's pretty obvious that there's a gap in what would be a reasonable amount of trust …" Foxworth said. "There have been a number of events to lead players to believe they cannot trust the league. There was a bridge beginning to be built and then there were some recent events that kind of broke that bridge again." Foxworth, who spoke today during an NFL conference call, said that the players want a creation of checks and balances that would be an unbiased arbitrator when problems arise between the players and Goodell. Foxworth also mentioned that during the bountygate scandal, while former commissioner Paul Tagliabue was brought in to be an unbiased mediator, he was anything but unbiased. "When things like that happen," the former defensive back said of Tagliabue's appointment by Goodell, "it's hard for our players to believe that the league has their best interests in mind. And that makes it harder for me to do my job, and for the PA to do our jobs and for the league to do their jobs. Because we really need to agree upon things, moving forward." NFL spokesman Greg Aiello answered back to Foxworth's comments and said that leader the union has not looked ahead since a new collective bargaining agreement with the league was reached a year and a half ago. "Since 2011 the union has spent most of its time backing away from its commitments," Aiello said in an email to The Associated Press. "Whether on old litigation, HGH, or commissioner discipline, the NFLPA has consistently looked backwards. "Trust is a two-way street. If the union wants to work together to build a better, safer and even more popular game, we extend our hand in partnership and respect. If the union wants to stir up old grievances and create mistrust, we will simply have to do the best we can to serve the interests on the fans, players and the game." The lack of trust between the players and the commissioner is something that will have to eventually be addressed. It is hard to be a part of a company where the boss and employees hate each other. The post Union Leader: Players don't trust Goodell, NFL appeared first on DOWN & DISTANCE.
Original Story:
http://sports-kings.com/downanddistan...
THE BACKYARD
BEST OF MAXIM
RELATED ARTICLES
Baltimore Ravens wide receiver Jacoby Jones is the latest professional athlete to get a championship tattoo, and it's a big one. As you can see from the photo above that he posted on his Instagram account on Monday, Jones recently got a tattoo of the Ravens logo and the Vince Lombardi Trophy on his back. The artwork has been ongoing for a while now, and the logo and trophy appear...
The Baltimore Ravens, winners of Super Bowl XLVII, have a long road on the way back to the playoffs in 2013. Gone for certain is middle linebacker Ray Lewis, a future Hll of Famer who announced his retirement before the playoffs even began.There is also speculation that the Ravens will release wide receiver Anquan Boldin and safety Ed Reed in order to stay under the salary cap.Yet...
It's been mentioned that the Baltimore Ravens may have to release wide receiver Anquan Boldin this offseason to free up more money.  One resolution might be to restructure Boldin's contract, but it doesn't sound like anything is happening just yet. According to the Baltimore Sun, the Ravens and Boldin haven't started working on restructuring his contract. The Ravens are...
It's no secret that the NFL and Roger Goodell would like to see the league expand to across the pond. Since 2007, the NFL has played at least one game at Wembley Stadium in London. It will expand to two games starting next season. Graphic artist David Rappoccio took the who NFL-London relationship to another level. He re-designed all 32 NFL logos with a British theme. Here are...
The original Super Bowl Shuffle was one of those things that should have stayed in its respective decade. The 1985 Chicago Bears momentarily murdered music despite reaching #41 on the Billboard Hot 100. But, whether it be our fascination with retro or our collective lack of creativity, we still continue to bring things like the Super Bowl Shuffle back into our culture. We may be...
The post Roger Goodell Beyonce NFL Superbowl Debacle appeared first on THEHUSKER.COM.
It's pretty simple. The Ravens scout young talent in a way that's unique to the NFL. Most teams in the NFL have a division between their scouting and coaching staffs. Also, some teams opt to rely on college scouting services rather than their own internal scouting department, which can lead to differing opinions on how incoming NFL prospects are graded.    But...
With the NFL the way it is now days; it is important for a team to have a couple of top flight wide receivers to make their offenses work. Look at the stats from Super Bowl XLVII; the Baltimore Ravens and the San Francisco 49ers combined for 560 yards passing. Without the receivers their to make the catches those, numbers would not be possible.There are plenty of teams in the league...
The NFL has been a safety oriented league for some time now. Under Roger Goodell's leadership, reforms within the NFL have come at a blazing rate, and now, the NFL is eyeing another way to improve player safety on the field. According to Clark Judge of CBS Sports, the NFL will be "more proactive" when deciding if a field needs to be re-sod. The current rule is rather...
Ravens News

Delivered to your inbox

You'll also receive Yardbarker's daily Top 10, featuring the best sports stories from around the web. Customize your newsletter to get articles on your favorite sports and teams. And the best part? It's free!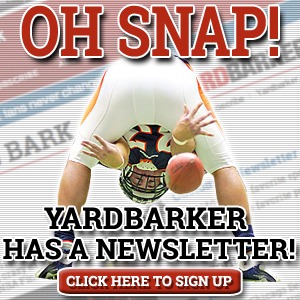 Latest Rumors
Best of Yardbarker

Today's Best Stuff

For Bloggers

Join the Yardbarker Network for more promotion, traffic, and money.

Company Info

Help

What is Yardbarker?

Yardbarker is the largest network of sports blogs and pro athlete blogs on the web. This site is the hub of the Yardbarker Network, where our editors and algorithms curate the best sports content from our network and beyond.