Found May 16, 2012 on Taking Bad Schotz:
PLAYERS:
Aaron Rodgers
,
Ray Rice
,
Michael Vick
,
Maurice Jones-Drew
,
Drew Brees
,
Sean Payton
,
Tom Brady
,
Greg Jennings
,
Marshawn Lynch
,
Roddy White
,
Wes Welker
TEAMS:
Green Bay Packers
,
Baltimore Ravens
,
Philadelphia Eagles
,
Jacksonville Jaguars
,
New Orleans Saints
,
New England Patriots
,
Seattle Seahawks
,
Atlanta Falcons
Round 1
1)   Aaron Rodgers- Rodgers should without question be not only the first QB selected in the draft, but the first player overall selected. Last year, Rodgers kept fantasy owners in every game by averaging a gaudy 25.6 fantasy points per game. No matter what other players owners surround Rodgers with, they can expect to win every week.
2)   Arian Foster- After a slow start to the season and missing two games due to a tight hamstring, Foster had an excellent season and proved that he wasn't a one year wonder. In 13 games, he ran for 1,224 yards, caught for 617 yards and scored 12 touchdowns (10 rushing 2 receiving). Owners can expect Foster to pick up right where he left off and expect even a bigger '12.
3)   Ray Rice- Ray Rice was as consistent as anyone last year. In only two games did he score under 10 fantasy points. He's also a great receiver out of the backfield (76 receptions for 704 yards and 3 touchdowns). At pick #3, Rice will give owners one of the best running backs throughout he whole year.
4)   LeSean McCoy- Last year, McCoy broke out and became not only a superstar but a fantasy stud. Like Rice and Foster, McCoy can catch the ball out of the backfield. However, he was much more of a receiving threat when Michael Vick wasn't injured. In turn, Michael Vick's health status directly effects McCoy's production. Regardless, expect McCoy to have another big year in '12.
5)   Maurice Jones-Drew- MJD was a workforce for the Jaguars last season. He carried the ball for over 20 times in all but 6 games. With the Jaguars still questionable at the Quarterback position, MJD should continue to see lots of touches. The only issue is that the Jags will probably be behind a lot late in games causing them to throw it more, and he is starting to get older which causes some concern for injury risk.
6)   Calvin Johnson- With one of the most incredible seasons ever put up by a Wide Receiver, MegaTron is most certainly worth a top 7 pick. Stafford really came into his own last season causing a sky rocket in Johnson's numbers. He is by far the best receiver and should be taken in the top 7 even though owners may shy away because he is a Wide Receiver.
7)   Drew Brees- Most people will shy away from Brees due to the offseason drama and the suspension of Sean Payton. Regardless, Drew Brees will still be playing in the same offense with the same players surrounding him. While it can be expected that his numbers will dip a little bit, it's no raise for concern and he should, without a doubt, still be picked high.
8)   Chris Johnson- CJ was a headache all year for fantasy owners. He never really got into a rhythm after holding out for so long. He only put up double-digit points in 8 games and scored only 4 times. On a brighter note, he did rush for over 1,000 yards. With a full training camp and no holdout, I think it's safe to say owners can expect better production from CJ this year.
9)   Tom Brady- Brady should be considered the pick here based on who is left on the board. Andre Johnson, Greg Jennings, and Matt Forte are all solid players, none are worth more than having a guaranteed top 3 Fantasy Quarterback.
10)  Matt Forte- Before going down with an injury, Forte was a top 3 ranked running back. While there will still be concern on him coming back from the injury, look for him to put up big numbers this year. Even though he doesn't score many touchdowns, he racks up carries and can catch the ball out of the backfield, which will result in nice yardage for owners.
11)  Andre Johnson- When Schaub and Johnson are both healthy, they're one of the toughest combinations to beat. Picking Johnson this early is a high risk/high reward type situation. If Schaub and Johnson stay on the field all year, the reward will without a question outweigh the risk and make him a steal at #11.
12)  Ryan Matthews- Matthews broke out last year and turned into a solid #1 fantasy running back. He put up double-digit points in 9 games while scoring 6 touchdowns. Matthews will see the vast majority of the carries for the Chargers adding to his value
Round 2
13) Darren McFadden
14)  Marshawn Lynch
15) Greg Jennings
16) Rob Gronkowski
17) Larry Fitzgerald
18) Matthew Stafford
19) Jamaal Charles
20) Roddy White
21) Mike Wallace
22) DeMarco Murray
23) Fred Jackson
24) Wes Welker
Sansevere
*Back to Back fantasy football champion
Original Story:
http://www.takingbadschotz.com/?p=6633
THE BACKYARD
BEST OF MAXIM
RELATED ARTICLES
Click here to view the embedded video. Thank to my extra-innings package, I came across this commercial while watching the Brew-Crew the other day. As football season is still in hiatus, Brewer and Packer fans alike hail Rodgers at every opportunity. I would actually be curious to get Rodgers on the mound to see how fast he could sling it. Watch the snippet above great great great...
In a conversation that must have felt totally natural and heterosexual to him, Aaron Rodgers went on a Canadian podcast this last week called "Cabbie Presents: Softcore Gay Porn Talk The Podcast" and just talked about how much he loves dude's butts. Well, at least dude's butts that belong to his former and current centers. No joke: "There's two main...
GREEN BAY, Wis. -- Don't call Nick Perry the savior of the Green Bay Packers' defense. Dismissing that notion during rookie minicamp, the first-round pick out of USC does not want to approach his upcoming first NFL season with such high expectations. But even if Perry did want to put that type of pressure on himself, there would be a lot of potential obstacles standing in...
GREEN BAY, Wis. -- It seems that Donald Driver may be returning to the Green Bay Packers for a 14th season.Driver, the franchise's all-time leading receiver, posted a message on Twitter that indicates he'll again be catching passes from NFL MVP Aaron Rodgers next season and continue adding to his record numbers in Green Bay."Hello everyone: I'm a packer for life...
GREEN BAY, Wis. -- Donald Driver has advanced to the final of "Dancing with the Stars."The 37-year-old Green Bay Packers wide receiver is now one of three remaining contestants with an opportunity to win it all in next week's finale.With television host Maria Menounos eliminated Tuesday night, it's down to Driver, singer Katherine Jenkins and actor William Levy...
Packer Fans, this IS the Year of the Take Over.....2012 NFL Season.   Often times my articles contain me complaining or ranting about the failure of a Wisconsin team or a player on said team. Today I am going to go a different route. On my personal Twitter account I follow Jermichael Finley. Mr. Finley has been a lightning rod for the Packers most recent playoff loss and for his...
Ahman Green hasn't played in the NFL since the 2009 season, but the former Green Bay Packers running back wants to make a comeback. The 35-year-old Green has kicked around in the UFL and CFL the past two seasons but apparently feels rejuvenated. "I've got at least five years left in me to play football," Green told FoxSportsWisconsin.com. Green remains the Packers'...
It seems that everyone is falling on hard times these days.  According to a report in USA Today, a Green Bay Packers' Super Bowl XLV Ring was pawned at an Grand Shute, Wisconsin pawn shop earlier this week. Before you go getting all worked up about yet another NFL player losing their fortune and resorting [...]
Hot News for DT Johnny Jolly
So… it's May 18th. Don't be afraid to take Megatron super early this year.     It is well past the losersbracket.com deadline for our first Fantasy Football 2012 mock draft.  We are not insane, I mean we will only go about a round here. Well… since it's past due let's get right to it. Non-PPR, QB 6 point league, 2 wr, 2 rbs and a flex.  Normal other ****. #1. ...
NFL News

Delivered to your inbox

You'll also receive Yardbarker's daily Top 10, featuring the best sports stories from around the web. Customize your newsletter to get articles on your favorite sports and teams. And the best part? It's free!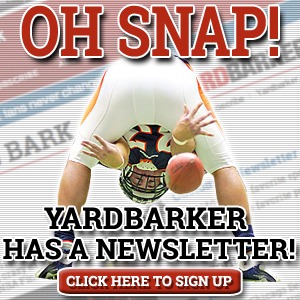 Latest Rumors
Best of Yardbarker

Today's Best Stuff

For Bloggers

Join the Yardbarker Network for more promotion, traffic, and money.

Company Info

Help

What is Yardbarker?

Yardbarker is the largest network of sports blogs and pro athlete blogs on the web. This site is the hub of the Yardbarker Network, where our editors and algorithms curate the best sports content from our network and beyond.