Found May 01, 2012 on Taking Bad Schotz:
 The NFL Draft is complete and every franchise is looking forward to having their new rookies come to training camp. Everyone is waiting to see who will be stars and who will be busts. Every team has a different draft strategy, with some picking talented players, and other picking talented athletes. Although talented players seem to be safer, talented athletes usually have higher potential, but are also a higher risk. Even if some of these athletes do turn out to be busts, some of the things they can do are absolutely incredible. That brings us to this week's Video of the Week. Minnesota Vikings' backup quarterback Joe Webb will probably never be a starting quarterback in the NFL. However, is athletic ability is up there with the best, and its no surprise as to why the Vikings drafted him in hopes that he could do amazing things. Webb had a very strong combine, excelling in the 40-yard dash. However, his most impressive feat was his jumping ability. Webb is able to jump over seven dummies with a minimal running start. As you will see in the video seven dummies is taller than most people, and Webb clears it with ease. Maybe the Timberwolves should ask the Vikings if they could borrow him for a little, because lets face it, when your two best players are Ricky Rubio and Kevin Love, you're lacking athleticism.
-Langer
Original Story:
http://www.takingbadschotz.com/?p=6348
THE BACKYARD
BEST OF MAXIM
RELATED ARTICLES
It's been a difficult season plus for Vikings fans. Not only was their team awful, not only did they lose their best player to a devastating knee injury, but the worst thing that has happened is the continued push for a new stadium, and the resistance it is receiving from the government. I am not going to even get into this at all, because I have no idea the intricacies of what...
EDEN PRAIRIE, Minn. The Minnesota Vikings trimmed their roster by two players Wednesday, releasing guard Butch Lewis and tight end Daniel Hardy. Minnesota now has 65 players on its roster, not including the unsigned 10 draft picks and 15 undrafted free agents the team has agreed to terms with. Lewis and Hardy were considered longshots to make the roster, but were early cuts with...
EDEN PRAIRIE, Minn. The Minnesota Vikings' staff knew coaching the North team in the Senior Bowl would provide it with advantages heading into the draft evaluation period and offer it unique insight into many of the players on hand. Every team has representatives at the Senior Bowl and conducts interviews, but Minnesota got a closer look at players on the North team, coaching...
Minnesota Vikings cornerback Chris Cook says he is working to regain his teammates' trust after missing 10 games last year because of a trial on charges of domestic assault. Cook played the first six games last season before being arrested on two felony assault charges for an altercation with his girlfriend. He was suspended two games and asked to stay away from the team for...
The progress that had been made regarding the construction of a new stadium for the Minnesota Vikings hit a new roadblock Tuesday, as the Minnesota GOP presented a new bill which differed significantly from the one that had been proposed by Democratic governor Mark Dayton, the city of Minneapolis, and the Vikings. The new proposal called for a smaller amount of public funding for...
Supporting the Minnesota Vikings is Larry Spooner's lifelong passion. If the team's latest bid to secure public funding for a new stadium fails, it won't be for his lack of trying. The 51-year-old has been camping out at the Minnesota Capitol with his purple van, trying to help the Vikings win more support for a Metrodome replacement in downtown Minneapolis. But this...
EDEN PRAIRIE, Minn. It's been less than a week since the Colts drafted their quarterback of the future after dispensing with the man who brought them to relevance, six days since the Redskins sacrificed much of their future for the double-threat signal caller who's charged with turning their team around. Talk of Andrew Luck and Robert Griffin III is finally starting to subside...
ST. PAUL, Minn. (AP) -- The drive to reach a Minnesota Vikings stadium deal has taken a step backward at the state Capitol. Democratic Gov. Mark Dayton has sharply rebuked GOP lawmakers for not taking the stadium debate seriously amid word Republicans are working out a deal to authorize a roofless stadium. The altered proposal surfaced Tuesday and drew a rushed press conference...
Amy Senser, wife of former Minnesota Vikings player Joe Senser is facing three counts of felony vehicular homicide. If she's convicted one or all of the felony counts, the state's sentencing guidelines recommend a prison sentence of four years. The misdemeanor count carries a maximum of 90 days in jail and a $1,000 fine. The 45 year old took the stand Monday, with both the prosecution...
NFL running back Caleb King was dumped by the Minnesota Vikings Tuesday and facing the prospect of assault charges for allegedly attacking a man who said he looked like Eddie Murphy. King is accused of dragging 22-year-old Andrew Hayek from a car and beating him so savagely he fractured his skull, the Pioneer Press reported. King, however, denies assaulting Hayek and says he injured...
Vikings CB Chris Cook is back working out with teammates and said he has to earn their respect again after his October arrest wiped out the final 10 games of the 2011 season for him.
ST. PAUL, Minn. (AP) -- On this postcard-like spring day, when the lake and the links are beckoning, Larry Spooner and his purple van are spending more of their vacation time parked in front of the Minnesota Capitol. Supporting the Vikings is a lifelong passion for this 51-year-old suburban Minneapolis warehouse supervisor, who's the same age as the NFL franchise. If the team...
NFL News

Delivered to your inbox

You'll also receive Yardbarker's daily Top 10, featuring the best sports stories from around the web. Customize your newsletter to get articles on your favorite sports and teams. And the best part? It's free!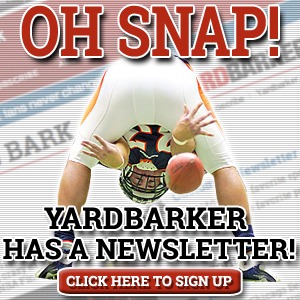 Latest Rumors
Best of Yardbarker

Today's Best Stuff

For Bloggers

Join the Yardbarker Network for more promotion, traffic, and money.

Company Info

Help

What is Yardbarker?

Yardbarker is the largest network of sports blogs and pro athlete blogs on the web. This site is the hub of the Yardbarker Network, where our editors and algorithms curate the best sports content from our network and beyond.