Found March 26, 2013 on Purple Jesus Diaries:
Are we still talking about the Percy Harvin trade? No? Yes? It seems like we should be. It literally only happened, what, two weeks ago? That's not that long, but kind of seems like forever in 2013. I mean, I can't remember what Shirtless Viking I last gaped at, let alone what happened two weeks ago (just kidding, it was Shirtless Adrian Peterson). So I feel like we shouldn't cast aside our Harvin reactions just yet, especially since time and distance will always allow cooler heads to prevail. Right? Which is also why I find it odd that a Seahawks fan, at any point in the process of the Harvin trade, would be skeptical. But maybe I shouldn't, because a Seahawks fan made a cartoon video about the whole thing that all of a sudden puts doubts in MY mind about whether or not I would still want him on the Vikings. GET OUT OF MY HEAD! Courtesy of alleged Seahawks fan and YouTube video creator, Podiatry Avengar, comes the following video of an apparent Seahawks fan trying to talk themselves into the Percy Harvin trade. What? You're not convinced? That's crazy talk! ...... Well Christ, when you put it like that, yeah, it does sound kind of bad. And maybe that's the whole point of this Harvin trade. The return on our investment with him just wasn't great enough. Despite being a bona fide star in this league, he never really did the things which would elicit the kind of money Calvin Johnson or Larry Fitzgerald did, even though he was asking for it. So, the Vikings flip him for enough draft picks to fill Moses' ark, Greg Jennings (essentially), and about an extra $2.5 Million in cap space. BUH?! That still doesn't mean I have to like it. I liked cheering for Percy Harvin. A lot of people didn't. A lot of people thought he was an asshole on this team, a cancer, and that he had no respect. Personally, I like assholes on my teams. I love it when other people hate it. It would be a lot cooler if other people just hated us because we won all the time, but in lieu of that, I'll take people hating us because we have really talented players that they covet. But whatever. We have Greg Jennings and his broken leg, doe. And Jerome Simpson who still loves his weed, obviously, so expect plenty of John David Booty to be around. Really, it's like nothing has changed. [follow]
Original Story:
http://www.purplejesusdiaries.com/201...
THE BACKYARD
BEST OF MAXIM
RELATED ARTICLES
Well that was an exciting period of free agency.  I finally was able to come out of hibernation after being a free agency glutton for the past two weeks.  My diet consisted of a strict regimen of Adam Schefter, Chris Mortenson and Ben Volin tweets.  And sparingly, Jeff Darlington, but only on my cheat days. One thing I wanted to add before we jump into the acquisition of Percy...
Coach Pete Carroll always walks on the bright side of the street, and the Seattle Seahawks see things other NFL miss, but the verdict is still out on receiver Percy Harvin. Carroll knows the team took a big gamble trading and giving Harvin a top level contract. It's a high risk move from a team that tends to make them very often with good results. Carroll feels he has a good...
Before I begin this article, let me make a few points clear:1) I am a huge fan of Russell Wilson. What he did in the regular season AND the postseason are feats that can not be ignored.  He is a rare talent and I believe he will have long-term success in the NFL.2) I love the environment that CenturyLink Field brings to the NFL. It is a stadium you must visit if you are a die...
Seahawks general manager John Scheider told KJR Sports Radio in Seattle that team doctors don't believe Michael Bennett's shoulder will limit the effectiveness of his play in 2013. Schneider also said that Bennett played the entire 2012 season with a torn rotator cuff. The good news of the Seahawks is that if Bennett doesn't work out, they can let him walk in free agency next...
Former Tampa Bay Buccaneers DE Michael Bennett looked to be a hot commodity once free fgency started, with several teams reportedly interested in his services. Then the interest in him sort of went away. Now we know why. ESPN's Adam Schefter is reporting that Bennett has a torn rotator cuff. The Seattle Seahawks ended up signing him on a 1-year deal worth $5 million, and...
Seahawks RB Marshawn Lynch returned to action Saturday rushing for 22 yards and a score, but not on an NFL Field. Lynch crashed the University of California's Spring Game by suiting up and taking a part of the action. He showed up at first as a spectator, but later had his number called to trounce into the endzone for a quick score, complete with Seahawks team cleats on. The only...
Louis Bacigalupi posts comments on the site as LouieLouie.  He's an accountant by trade and worked in a USFL front office.  He can be reached by email at Louie@fiercelyI.com. The addition of Percy Harvin makes the Seahawks' receiving corps one of the best in pro football.  Combine that with one of the top ground-and-pound running games in the league and it won't be long...
Recently I was part of what I considered to be a futile discussion with another passionate fan about the value of a second-year quarterback.That QB was instrumental in his team's success and even got into the Rookie of the Year discussions by the end of the season.In the second half of the season after he had taken full control of his team, he scored 20 TDs, had 1,650 passing yards...
Three remaining teams in the NFL have questions at the quarterback position and all three of those teams have been linked to a report this evening that suggests the y might have interest in acquiring Seattle Seahawks quarterback Matt Flynn. The Seattle Seahawks, Buffalo Bills and the Oakland Raiders are all believed to have interest according to Jason LaCanfora. Matt Flynn has been...
Several sources report the Jacksonville Jaguars may trade a lower selection in April's NFL Draft to acquire Seattle Seahawks backup quarterback Matt Flynn. The 27-year-old Flynn, who the Green Bay Packers chose with the 209th selection in 2008, inked a three-year deal for $19.5 million to become a Seahawk last March. Unfortunately for Flynn, Russell Wilson flourished under center...
Per CBS's Jason La Canfora, the Raiders are one of three teams, along with the Jaguars and Bills, to show a willingness to trade for Seahawks backup Matt Flynn: Several NFL sources have identified Jacksonville as the most likely destination for Seattle backup quarterback Matt Flynn, and the Jaguars are among the teams to talk to the Seahawks about a deal. Buffalo and Oakland are...
Yesterday, Jason La Canfora targeted the Jacksonville Jaguars as a likely landing place for Seahawks quarterback Matt Flynn, citing multiple NFL sources. Also mentioned as potential teams for Flynn were the Bills and the Raiders. Of the three teams, the Jacksonville Jaguars make far more sense than the Raiders or the Bills. The Raiders have no incentive to top any deal made...
NFL News

Delivered to your inbox

You'll also receive Yardbarker's daily Top 10, featuring the best sports stories from around the web. Customize your newsletter to get articles on your favorite sports and teams. And the best part? It's free!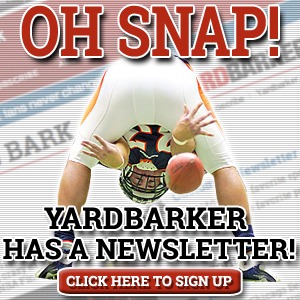 Latest Rumors
Best of Yardbarker

Today's Best Stuff

For Bloggers

Join the Yardbarker Network for more promotion, traffic, and money.

Company Info

Help

What is Yardbarker?

Yardbarker is the largest network of sports blogs and pro athlete blogs on the web. This site is the hub of the Yardbarker Network, where our editors and algorithms curate the best sports content from our network and beyond.