Found December 05, 2012 on Purple Jesus Diaries:
This is Mark Swanson. I'll bet his friends called him "Swanny" in high school. Or Marky. Or ... Well, he's allegedly 39 years old, so maybe he's young enough to have gone by Marky Mark? I don't know. Either way, he's a Minnesota Vikings fan who recently attended a Vikings/Packers game at Lambeau field. In retrospect, he probably wishes he wouldn't have gone, because all he got out of it was a bunch of money lost, the "entertainment" of watching Christian Ponder throw for 100 yards, and another sad Vikings loss. Oh, and he was eventually arrested for beating the **** out of a Packers fan after the game. In a purple sombrero. Inconspicuous! Several media outlets have been following this story, which isn't much of a story, but is KIND of a story, because Mr. Swanson decked some Packer nerd all while wearing a purple sombrero, which is pretty noteworthy, I'd like to point out. Deadspin has followed it most closely, since the story started leaking out after the game and more recently as they tracked down the mug shot and also provided us with some interested ass-kicking NFC North statistics, also view the hillbilly newspaper Press-Gazette: From 2005 to 2011, police reported averages of 10.3 arrests and 40 ejections when the Packers play the Vikings at home during the regular season, compared with 14 arrests and 33.7 ejections when the Bears visit. Police reported much lower averages of 5.1 arrests and 17.1 ejections for Lions games. The Bears and Vikings numbers are much higher than the average of 5.5 arrests and 18.4 ejections police reported when the Packers played nondivisional opponents during regular-season home games from 2005 to 2011. Those aren't bad numbers, but clearly inferior to Bears fans idiotic behavior. Deadspin is also quick to point out that only FOUR arrests were made on Sunday, which means that people were unusually well behaved, and probably that the Vikings suck this year and aren't worth fighting over. Our man Mark Swanson though was just trying to meet that quota, so can we really blame him? ... Probably. But it's also probably safe to say that everyone involved in this "altercation" had it coming to them in some form or another, as they all made a conscious decision to appear in Wisconsin. No one wins in that decision. [follow]
Original Story:
http://www.purplejesusdiaries.com/201...
THE BACKYARD
BEST OF MAXIM
RELATED ARTICLES
FOR BETTER OR NORSE
Minnesota Vikings quarterback Christian Ponder and ESPN reporter Samantha Steele are now engaged, a few months after they went public to reveal they were dating.
The NFL is a pass-first league, unless you're the Minnesota Vikings. The Vikings are a run-first—or more accurately a run-only—team for two reasons. One, they have the best running back in the NFL in Adrian Peterson, who is playing the best football of his career after recovering from a torn ACL. Second, Christian Ponder is apparently not capable of throwing the ball further...
Christian Ponder has 22 starts for Minnesota in his NFL career. Many of his peers have enjoyed far more success in a similar amount of time, but Ponder said Wednesday he's not comparing himself to other quarterbacks around his age. He said he hopes he doesn't need much longer to find his rhythm on the job. Ponder blamed himself for the Vikings' 23-14 loss at Green Bay...
Minnesota Vikings fans who blame ESPN sideline reporter Samantha Steele for Christian Ponder's dip in production this season are not going to be happy. According to Sports Illustrated's Richard Deitsch, Steele confirmed on Tuesday that she and Ponder are engaged. Unless the two were dating for a long time and did a great job of keeping it a secret prior to Ponder confirming it...
Wow, that was quick.  It was less than a month ago when the world found out via twitter that Samantha Steele and Minnesota Vikings QB Christian Ponder were dating.  Now the two are engaged.  Richard Deitsch of Sports Illustrated confirmed the report on his twitter account earlier today.   Christian moves fast, hopefully for him he only moves fast in one way.  The Vikings have...
Spoke to ESPN's @samantha_steele today. She confirms she is engaged to @vikingsfootball quarterback Christian Ponder. — Richard Deitsch (@richarddeitsch) December 4, 2012 Sports Illustrated's Richard Deitsch confirmed on Tuesday that ESPN reporter Samantha Steele and Minnesota Vikings quarterback Christian Ponder are officially engaged to be married. After some speculation...
EDEN PRAIRIE, Minn. Leslie Frazier stood at a podium Monday, taking repeated questions from the media regarding Minnesota Vikings quarterback Christian Ponder and Frazier's resolute stance that Ponder is, and will be, Minnesota's starter. Before standing up and explaining his and the team's position on Ponder, Frazier had already thought long and hard about a vastly...
Minnesota Vikings quarterback Christian Ponder is scoring both on and off the field. The second-year signal-caller from FSU is engaged to ESPN reporter Samantha Steele. Sports Illustrated's Richard Deitsch confirmed it on Twitter "Spoke to ESPN's @Samantha_Steele today. She confirms she is engaged to @VikingsFootball quarterback Christian Ponder," Deitch tweeted. Steele...
It turns out Minnesota Fox 9′s Paul Charchian is really pissed. How pissed? So pissed he used his rant time last night after the Vikings loss to the Packers to use "I'm pissed" multiple times on TV. And this rant didn't just come off the top of Charchian's head. He actually wrote the "I'm pissed" editorial. Meanwhile, Christian Ponder, who was Mr. Funny Guy on...
How Many Boos Does Christian Ponder Get? Does he get all the boos? Every single one? Will any of them be directed at Big Leslie or Bill Musgrave? I would think some of them would be, wouldn't you? When will they start? Right away? When the offense runs out on to the field? I bet they'll announce the defense to prevent that from happening. But as soon as the offense takes...
Leslie Frazier said he believes in Christian Ponder as the Vikings' best option at quarterback, for now and for developing long-term. Meanwhile, he said his approach at quarterback is different than other positions.
Vikings News

Delivered to your inbox

You'll also receive Yardbarker's daily Top 10, featuring the best sports stories from around the web. Customize your newsletter to get articles on your favorite sports and teams. And the best part? It's free!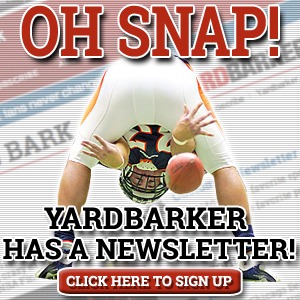 Latest Rumors
Best of Yardbarker

Today's Best Stuff

For Bloggers

Join the Yardbarker Network for more promotion, traffic, and money.

Company Info

Help

What is Yardbarker?

Yardbarker is the largest network of sports blogs and pro athlete blogs on the web. This site is the hub of the Yardbarker Network, where our editors and algorithms curate the best sports content from our network and beyond.