Found November 04, 2012 on NorthWest Sports Beat:
Running wild The Seattle Seahawks began their second half of the season with a big home matchup against the Minnesota Vikings. The game had a lot of meaning for each team as both are fighting to stay afloat in both their divisions and the wild card chase. While it's still a little early to talk playoffs, this game had lots of playoff implications. With both teams coming in at 4-4, it was a must-win as the wild card spots could come down to the Seahawks and Vikings. With a victory comes the tie-breaker in a playoff scenario and the Seahawks took that advantage on Sunday. It was a hard fought game. The Seahawks played well, spreading the ball around the offense. While they game planned for a tough match against Adrian Peterson, I don't think the Seahawks defense knew what they were up against until the game started. There was plenty to love and hate from this game. Let's break it down. Love 'em Russell Wilson Russell Wilson played an almost perfect game. For yet another week, Wilson's stats weren't monumental, but they showed the true marksmanship that he possesses. Wilson used all of his assets to help this offense get going, and he did it well. Russell Wilson was dead on against the Vikings Wilson extended plays and even a drive by using his feet when he came under fire. When the heat came down on him, he scrambled away and picked up positive yardage along the way. It also allowed him to roll out and scramble until his receivers could get open. Once again, Wilson proved that he will take what you give him. Whether it be the receivers actually making catches or an open lane to run through when his options have been taken from him, Wilson has the intelligence and playmaking ability to capitalize most of the time. Marshawn Lynch While his counterpart was able to run wild and free, Marshawn Lynch ran wild, but he was far from free. Lynch rumbled physically for every yard he gained in this game. And after being out for some of last week's game with back spasms, it was a guessing game whether or not he would last through this one. Lynch did in fact make it through, and made it through a hell of a beating. With several defenders hitting him on each play, Lynch was battling all day to pick up yardage. He earned every yard he got, and he left some bruises to prove it. With Lynch being so successful on the ground, it left Russell Wilson more time and better coverage to work with. Receivers I don't want to give each guy his own category here because it would be really long. But as a unit, the receivers really stepped up against the Vikings. With the exception of a couple first quarter drops, the receivers did their part, held onto the ball, and made some pretty huge plays for Russell Wilson and the offense. Sidney Rice caught all 4 passes thrown his way, including the touchdown he got. He battled some physical defenders and ran some great routes, using his veteran intuitions to make some smart plays, too. Golden Tate stepped up as well, after being mostly absent for a couple weeks. Tate used his athleticism again and out-jumped and out-ran defenders on his way to 2 touchdowns. Zach Miller got to play, too, instead of just having to block in the backfield. Point in case, the receivers did their part in this one. It showed with a win. Tate and the receivers made big plays for Wilson – and it paid off with 3 TDs. Hate 'em Run defense The Seahawks knew Adrian Peterson was going to be a problem for them. They didn't even know what hit em, literally. The Hawks at one time possessed a defense that nobody could run on. Now? Running backs have absolutely owned the Seahawks defense. It was no different Sunday as Peterson made the Seattle defense look absolutely stupid several times over the course of the game. Whether it was his huge runs, his big runs, or his short runs, AP could not be stopped. He couldn't be stopped, though, because of poor Seattle tackling. While the Seahawks are known for having a pretty good defense, they have also had some serious flaws. The arm tackling and diving around the field tonight was just an example of some of those flaws. Watching the Seahawks defense try to tackle Peterson was sad, as several Seahawks tried to grab his foot or hit him above the waist to drop him. It was all for naught, though, as Peterson merely ran through them, turning players into human turnstiles. My main point is this…if Seattle doesn't stop premiere running backs, whether it be via run or pass, this team will not go far. You cannot continually allow a team to march down the field on you, be it from the run or from dump passes, and expect to succeed. Their lackluster run defense will hurt them eventually if they do not take care of the issue. YES…the Seahawks avoided dink and dunk plays today by covering the middle of the field. But when Adrian Peterson ran through, there was not much defense to be found. CLICK HERE TO CHECK OUT THE SEAHAWKS BLOG PAGE IN OUR CLUBHOUSE SECTION AT NWSB!
Original Story:
http://www.nwsportsbeat.com/seahawks/...
THE BACKYARD
BEST OF MAXIM
RELATED ARTICLES
Vikings running back Adrian Peterson didn't practice much this week, but he's a full go against a tough Seattle defense.Fantasy Spin:Peterson didn't let major knee surgery get in the way of his season so an ankle sprain wasn't going to stop him. Peterson is averaging 109 ypg rushing over his last five contests.
SEATTLE -- The feet of Seattle Seahawks quarterback Russell Wilson and running back Marshawn Lynch were enough to overcome those of Minnesota Vikings running back Adrian Peterson. Wilson's scrambling and Lynch's rumbling helped Seattle take a 30-20 win over the Vikings on a clear and unseasonably warm afternoon Sunday at CenturyLink Field. The Seahawks (5-4) snapped a...
SEATTLE -- The feet of Seattle Seahawks quarterback Russell Wilson and running back Marshawn Lynch were enough to outcome those of Minnesota Vikings running back Adrian Peterson. Wilson's scrambling and Lynch's rumbling helped Seattle take a 30-20 win over the Vikings on a clear and unseasonably warm afternoon Sunday at CenturyLink Field. Wilson completed 16 of 24 passes...
Leslie Frazier seems like a perfectly nice guy. He is in his second season as the head coach of the Minnesota Vikings and, after a very surprisingly successful start to the 2012 NFL season, it is now looking as if Frazier is afraid of success. He is either afraid of success for both the Vikings as well as Adrian Peterson, or he just has no idea as to how momentum and football both...
Grades Are In The Seattle Seahawks went 2-2 during the first quarter of the season.  As I expected, they split the games in the second quarter of the season as well. After the first half of the season, the 4-4 Seahawks are tied for 7th place in the NFC and are 3rd place in the NFC West. Here is how they got there: At Carolina Seattle won 16-12 Despite having seven penalties and...
The Vikings didn't have much go right for them Sunday in Seattle, but Adrian Peterson accounted for the Vikings' top five gains when the deep passing game once again struggled. Stats and reaction on both those fronts, as well as Percy Harvin's frustration, A.J. Jefferson starting, and Allen Reisner being the most productive tight end against Seattle.
Stopping Peterson & Harvin Likely Key After what was probably the worst defensive outing of the season for the Seattle Seahawks, the team will hope to rebound this Sunday when the Minnesota Vikings roll into town. The job doesn't get any easier for the Seahawks defense, as they will have to shut down a pair of Pro Bowlers in Adrian Peterson and Percy Harvin if they want...
The Minnesota Vikings are listing wide receiver Percy Harvin as day-to-day after he "badly" sprained his left ankle last weekend, reports the Associated Press. Harvin said that he hopes to play, but he's considered very questionable considering the extent of his injury. "I'm just going to go day by day. Like I said, I'm in a lot of pain. There's a lot...
The Seahawks and the Vikings both rely on two of the best running backs. When Adrian Peterson and Marshawn Lynch are workhorses, team success follows. The numbers show it.
There  is no other way to lead a recap of Sunday's games than with a discussion of Doug Martin's effort. I spent the week talking about how the loss of the best guard in football may have an impact on this line (lets give Tampa's o-line some credit, too) and the run game. Martin and his teammates proved me wrong on game day. Oakland fought valiantly to stay in this game, but...
NFL News

Delivered to your inbox

You'll also receive Yardbarker's daily Top 10, featuring the best sports stories from around the web. Customize your newsletter to get articles on your favorite sports and teams. And the best part? It's free!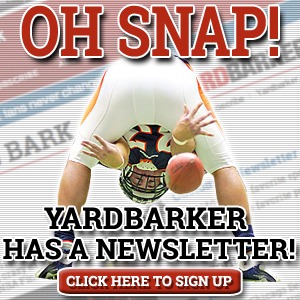 Latest Rumors
Best of Yardbarker

Today's Best Stuff

For Bloggers

Join the Yardbarker Network for more promotion, traffic, and money.

Company Info

Help

What is Yardbarker?

Yardbarker is the largest network of sports blogs and pro athlete blogs on the web. This site is the hub of the Yardbarker Network, where our editors and algorithms curate the best sports content from our network and beyond.