Found February 05, 2013 on NESN.com:
Part of Rob Gronkowski's appeal is that he appears to be a kid who generally enjoys life without breaking any laws or putting anyone at risk. But with the latest video of Gronk body-slamming a friend while dancing shirtless at a club in Las Vegas, it begs the question of whether the Pro Bowl tight end is having too much fun for his own good. As most Patriots fans know, Gronkowski re-broke his forearm early in the team's AFC Championship loss to the Ravens on Jan. 20, and many feel a little uneasy about one of their best players performing wrestling moves with a cast on his left arm. The 23-year-old also spent most of Super Bowl week frequenting the bars and clubs of New Orleans, returning him to the TMZ fame that famously peaked during last year's so-called "Summer of Gronk." At just 23, some may argue that Gronkowski so openly enjoying himself is a breath of fresh air in a sports world that has become too serious. However, others contest that, as a highly paid and highly valuable p...
Original Story:
http://nesn.com/2013/02/vote-should-p...
THE BACKYARD
BEST OF MAXIM
RELATED ARTICLES
WHAT HAPPENS IN VEGAS ...
Unfortunately your browser does not support IFrames. It could be another long offseason for New England Patriots head coach Bill Belichick when it comes to keeping tabs on Rob Gronkowski. The start of the 2013 NFL season may be a full seven months away, but it's no secret that the Patriots like their players to keep a low profile regardless of what time of the year it is. As we...
Rob Gronkowski isn't afraid to show a little skin, so he might as well get paid for his efforts. Gronkowski, who has quickly become one of the biggest names in sports entertainment, was offered a contract with Sex.com, an adult film website, to star in a movie alongside his friend and adult film star Bibi Jones. The kicker in the deal is that the website also offered to match Gronk's...
Well, this is becoming quite the image for Patriots TE Rob Gronkowski – so let's just paint the normal picture. Gronk was at a Vegas nightclub Sunday night – Shirtless, drunk, and dancing, of course – when he converted the dance off to a mock wrestling routine and took his stage-buddy to the ground via body slam, landing right on his twice-broken arm. He got up fine, and...
According to the New York Post, Patriots tight end Rob Gronkowski has been offered $3.75 million to star in an adult film with Bibi Jones. An adult website made the offer to Gronkowski to match his 2013 salary if he agrees to the role with Jones. Between this and the fact that Gronk was doing wrestling moves at a night club in Vegas, the Patriots continue to have their hands full...
According to TMZ, New England patriots tight end Rob Gronkowski body slammed a friend of his on stage at a Las Vegas night club and landed on his broken forearm. As Gronkowski was throwing his friend to the ground, the tight end — who was wearing a protective sleeve on his busted wing — also crashed to the ground and smacked his damaged arm on the stage in the process. Gronk...
New England Patriots star Rob Gronkowski has been offered an indecent proposal. Sex.com is offering Grok $3.75 million to do one scene with Bibi Jones. If you recall, Gronk and Jones had a social media mist storm a few years ago when a photo of the two together was posted online that featured Gronk shirtless and Jones wearing Gronk's Patriots jersey. Jones left the adult film business...
So, remember when Rob Gronkowski was in a couple of twitter pictures with porn star Bibi Jones? Of course you do! This caused kind of an uproar in the media and among Patriots fans. As has just about everything Gronk has done other than catch footballs. The "Summer of Gronk" last year had a lot of Patriots fans upset with the Pro Bowler after he appeared nude for ESPN...
Forbes.com recently conducted a poll of the most liked and least liked players in the NFL. CSNNE.com reports that Patriots TE Rob Gronkowski apparently came in 6th in the voting. Not shocking though, especially considering his on-field dominance is capped by his off-field wildness. His work-hard-party-hard mentality has won over the hearts of fans around the league. Forbes'...
Johnny Manziel is on what seems like an unsustainable pace this offseason, but that's what we all thought during the season too. We all watched him put up 557 yards against Arkansas, and that was going to be it. Then he went for 576 against Louisiana Tech, then won at Alabama, then passed Tim Tebow and Cam Newton and won the Heisman Trophy. It just never slowed down, and neither...
February has always been a transitional month in sports. Once the Super Bowl is over, focus shifts to the NBA and NHL, and eventually to Spring Training, as the Red Sox equipment truck leaves today, and workouts start up officially next week. There will still be football talk…the combine, draft prep, and of course the endless Rob Gronkowski offseason adventures, which will no doubt...
Patriots News

Delivered to your inbox

You'll also receive Yardbarker's daily Top 10, featuring the best sports stories from around the web. Customize your newsletter to get articles on your favorite sports and teams. And the best part? It's free!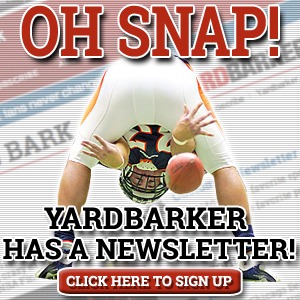 Latest Rumors
Best of Yardbarker

Today's Best Stuff

For Bloggers

Join the Yardbarker Network for more promotion, traffic, and money.

Company Info

Help

What is Yardbarker?

Yardbarker is the largest network of sports blogs and pro athlete blogs on the web. This site is the hub of the Yardbarker Network, where our editors and algorithms curate the best sports content from our network and beyond.