Found January 30, 2013 on Down and Distance:
Warren Sapp is continuing to be one of the harshest critics of notorious kick-thrower Ndamukong Suh of the Lions. This time, it isn't about his growing reputation as a dirty player (which by the way, Suh still denies). Instead, he's criticizing his leadership skills. Sapp voiced his opinion on Suh on NFL Network on Tuesday. Although he swears that the criticism isn't personal, he clearly isn't shying away from telling the world exactly how he feels. He said that both the Rams and the 49ers ran the ball right at Suh which is obviously something that he sees as a problem. are Warren Sapp's comments out of line? or a valid criticism?(Photo credit: businessinsider.com) "I am dumbfounded. You lead that defense and they are running the ball right at you?" Sapp said. "I want to see that game where they ran at Mean Joe Greene, where they ran at me or at any hog on that front line. You run away from us. They run at him because he's a blind dog in a meat house… I don't think I ever said anything about his (auto) accident. I didn't say anything about him stepping on a man two Thanksgivings in a row. I am just looking at his technique and seeing the same things. Until he evolves, I'm going to keep saying the same things."" NFL.com definitely had the best analogy to describe how they see Sapp's criticism of Suh. "Sapp swears his criticism isn't personal, but that's not how it comes off. Former players are hired as analysts to give a perspective only gained from playing the game at a high level. That's his job. But there always seems to be a Suh-doesn't-do-what-I-did element." Last season, Suh challenged Sapp to either be a fan and keep criticizing him or be a mentor and teach him something. Sapp responded by saying that all Suh had to do was ask for Sapp's help and he'd mentor him. The odd thing about all the criticism Sapp is throwing his way is the eerie similarity in their statistics in their first three years in the league. Sapp: 22.5 sacks, 1 INT, 5 forced fumbles, 2 fumbles recoveries, 105 tackles, 31 assists, 1 TD. Suh: 22 sacks, 1 INT, 1 forced fumble, 1 fumble recovery, 99 tackles, 40 assists, 1 TD. On a personal level, sure Suh has some issues. From a football perspective, though, these two players are MUCH too similar statistically at the same stage of their careers for Sapp to be lobbing insults and criticisms at Ndamukong Suh. The post Warren Sapp criticizes Ndamukong Suh… again. appeared first on DOWN & DISTANCE.
Original Story:
http://sports-kings.com/downanddistan...
THE BACKYARD
BEST OF MAXIM
RELATED ARTICLES
Former NFL defensive tackle and current NFL Network analyst Warren Sapp has been critical of Lions defensive tackle Ndamukong Suh over the past couple of years. After another NFL season, Sapp still isn't impressed with Suh. "Players today, when somebody don't agree with how they play or with what they're doing, it's hate and it has to be personal," said Sapp, a former...
Some Detroit Lions fans wanted to blow up the whole team following a 4-12 season, starting with the firing of the coach and general manager. Will you settle for a new playing surface? The Lions announced Tuesday they are replacing the original FieldTurf that was installed at Ford Field when it opened in 2002 with an updated version for the 2013 season. Over the past 11 seasons...
1. Defensive End If the Detroit Lions re-sign Cliff Avril, this becomes slightly less of a need. But regardless of Avril's future with the team, they need to find a replacement for veteran Kyle Vanden Bosch who is well past his prime and was a liability this past season. Bjoern Werner, Damontre Moore and Dion Jordan should all be near the top of the Lions draft board. 2. Cornerback...
The hire of Brian Xanders to the Detroit Lions front office just made the team's offseason more interesting.
Despite his team's glaring needs on defense, Detroit Lions general manager Martin Mayhew has stubbornly stuck to the "Best Player Available" mentality when it comes to making selections in the NFL Draft. At least that's the way he explained decisions such as taking offensive players -- tackle Riley Reiff and receiver Ryan Broyles -- with the team's first two...
Say what you want about him but it looks like Lions defensive tackle Ndamukong Suh is being hailed as a hero today after helping rescue comedian Louie Anderson on the set of the diving reality show "Splash" According to TMZ.com, the Armstrong apparently got fatigued when he was practicing dives off the edge of a pool and couldn't pull himself up a ladder to get out. Seeing...
It's been obvious that throughout his career so far, Houston Texans quarterback Matt Schaub has had a hard time playing well in big games.  He struggles on prime time nationally televised games and looked bad against the Patriots in the divisional round of the playoffs this year. According to Ben Volin of the Palm Beach Post, former NFL defensive tackle Warren Sapp had some interesting...
Warren Sapp rarely misses an opportunity to express his opinions, especially negative the ones. When asked about Pro Bowl defensive lineman Ndamukong Suh during the Super Bowl media day, Sapp didn't mice words. "I want to see that game where they ran at Joe Greene, where they ran at Keith Millard, where they ran at me, where [...] [[ This is a content summary only. Visit my...
For a League that hands out $10,500 dollar fines for wearing your socks too low in a game, you'd think they'd get their own uniform rules right… Wrong. During Sunday's Pro Bowl in Honolulu, the NFL had Lions Pro Bowlers Ndamukong Suh and Don Muhlbach were sporting the NFC jerseys with Lions logo on the upper right chest. The only problem was it was the logo used prior to...
Lions News

Delivered to your inbox

You'll also receive Yardbarker's daily Top 10, featuring the best sports stories from around the web. Customize your newsletter to get articles on your favorite sports and teams. And the best part? It's free!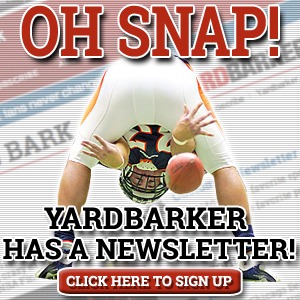 Latest Rumors
Best of Yardbarker

Today's Best Stuff

For Bloggers

Join the Yardbarker Network for more promotion, traffic, and money.

Company Info

Help

What is Yardbarker?

Yardbarker is the largest network of sports blogs and pro athlete blogs on the web. This site is the hub of the Yardbarker Network, where our editors and algorithms curate the best sports content from our network and beyond.