Found December 28, 2011 on Bleed Black & Gold:
There are a lot of people going wild right now about Ike Taylor being snubbed from the Pro Bowl.  I am not sure if I agree.  Yes he had a great season.  He played good ball but I would say he was only snubbed as not being named an alternate.  That is ridiculous. 
The reason I say Taylor was not snubbed as a Pro Bowler is there were others who had just as good if not better seasons who also did not make the list.  Browns Cornerback  Joe Haden should be a starter on the Pro Bowl team and he also did not make the roster.  That is more unbelievable then anything.  This kid is amazing and did not get any love.  He is tied for the league lead in in Pass Defenses with 19.  He is tied with Brandon Flowers and Darrelle Revis in that category.  He does not give up plays.
The person who should put up the biggest beef though is Patriots Kyle Arrington.  He picked off 7 passes this season.  SEVEN.  That leads the AFC and he did not even get a sniff.  He also had another 13 Passes Defended.  There is no reason he should not be on this team. 
We all know Champ Bailey should not be on the squad.  He gets in by name only.  That is just how it works.  Fans vote and people who do not know football see Champ Bailey's name and go I know him.  I will vote for him with the third spot I have to vote for at Cornerback.  Taylor definitely should have made it over Bailey that is a given.
One thing that keeps Taylor out of the Pro Bowl every year is that he does not catch the ball.  Interceptions are a big thing.  It is hard to argue with a corner who has the same amount of interceptions as nose tackle and 350 plus pound man Vince Wilfork.
Was Ike snubbed?  Technically yes.  He was better then Bailey.  I would still have 2 other guys ahead of him though.  So he was snubbed as an alternate but not as a roster guy.  It is not as bad as people make it out to be.  He had a great season but it just was not enough this year.
Original Story:
http://feedproxy.google.com/~r/BleedB...
THE BACKYARD
BEST OF MAXIM
RELATED ARTICLES
Ed Bouchette reports this afternoon that a few more Steelers players were named as 2012 Pro Bowl alternates on Tuesday. We already knew that outside linebacker James Harrison was named a first alternate for the AFC at outside linebacker and that free safety Ryan Clark and outside linebacker LaMarr Woodley were also named as second alternates. Bouchette reports now that left guard...
The Pittsburgh Steelers announced today that rookie right tackle Marcus Gilbert was voted the teams 2011 Rookie of the Year and inside linebacker James Farrior won the Chief Award for his cooperation with the local media. Gilbert was drafted by the Steelers in the second round this past April out of Florida and started 13 games at right tackle this season. Gilbert was thrust into...
The Pittsburgh Steelers are planning on letting Ben Roethlisberger play between 25 and 30 snaps against the Browns this weekend according to Gerry Dulac of the Pittsburgh Post-Gazette.  The Steelers don't want Roethlisberger sitting out 2 straight games and getting rusty before heading into the playoffs.  The Steelers feel they can beat the Browns without Big Ben behind center...
The injury report grew a bit from last week but some good news and some bad news. Full Practice Chris Carter- LB- Hamstring Ben Roethlisberger- QB – Ankle Maurkice Pouncey- C- Ankle Emmanuel Sanders- WR- Foot Limited Practice Mike Wallace- WR- Ankle LaMarr Woodley- OLB- Hamstring Did not Practice: James Harrison- OLB- Neck Troy Polamalu- SS- Knee Doug Legursky- G- Shoulder...
QB Ben Roethlisberger sat out the Pittsburgh Steelers game last week against the St. Louis Rams, but despite his current injury, he wants to play this week against the Cleveland Browns. No one can question Ben Roethlisberger's toughness, but playing this week against the Cleveland Browns should not be an option for the Steelers despite what the quarterback tells reporters...
he Steelers long have talked about December football as if they owned it, which means running the ball well on offense and stopping it on defense, and as they prepare for January football their strengths have switched on both sides to the passing game.
Steelers quarterback Ben Roethlisberger says he'll be on the field Sunday for Pittsburgh's regular season finale against the Cleveland Browns as long as he can deal with the pain of his sprained left ankle.
Twenty days after James Harrison thrust the crown of his helmet into quarterback Colt McCoy's facemask, McCoy was still not practicing with his team. The effects of his concussion have lasted longer than those of any of the other seven...
Maurkice Pouncey and Ben Roethlisberger returned to work, and reported improvement. LaMarr Woodley? Not so much. Read Jim Wexell's complete report from the South Side in this Wednesday notebook.
– The December 26, 2011 episode of the RAW SuperShow garnered a 2.93 (2.9) cable rating, up from 2.92 the week before. It is the fourth consecutive week in which Raw has drawn below a 3.00 cable rating. Monday's show averaged 4,460,000 million viewers overall, up from 4,290,000 the week before. It also snapped an eight week streak of viewership declining during the second hour...
Questions and answers from a Pittsburgh Steelers beat writer.
Steelers quarterback Ben Roethlisberger says he'll be on the field Sunday for Pittsburgh's regular season finale against the Cleveland Browns as long as he can deal with the pain of his sprained left ankle.
NFL News

Delivered to your inbox

You'll also receive Yardbarker's daily Top 10, featuring the best sports stories from around the web. Customize your newsletter to get articles on your favorite sports and teams. And the best part? It's free!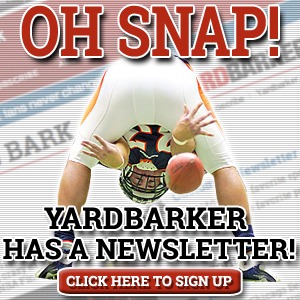 Latest Rumors
Best of Yardbarker

Today's Best Stuff

For Bloggers

Join the Yardbarker Network for more promotion, traffic, and money.

Company Info

Help

What is Yardbarker?

Yardbarker is the largest network of sports blogs and pro athlete blogs on the web. This site is the hub of the Yardbarker Network, where our editors and algorithms curate the best sports content from our network and beyond.