Found December 03, 2012 on Buzz On Broad:
Is the perfect storm brewing that could ultimately keep Andy Reid in town as the head coach of the Eagles? I'm sure nobody really wants to hear this, or even think about it, but there is a scenario brewing that could ultimately keep Reid in Philly... Let's take into consideration the following things: Reid's son passes away during training camp Injuries have decimated the offensive line to a point where any offense would struggle DeSean Jackson out for the year Michael Vick knocked out and probably won't return Juan Castillo was fired Jason Babin released Now Jim Washburn has been fired Nick Foles has progressed each week and is coming off of a good performance in Dallas Bryce Brown looks exciting (sans the fumbles) There are a few ways to look at the recent moves Reid has made.  Reid has either finally admitted to himself the mistakes he made and is correcting them, is under pressure from Jeff Lurie to make changes, is making these moves in a desperation attempt to save his job, or is doing these people a favor by sparing them the carnage at the end of the season. Out of those possibilities, I think the most likely are that Reid is correcting his mistakes while getting some pressure from Lurie behind the scenes.  My question is whether or not Reid and Lurie are forming some sort of "compromise" or agreement. Lurie painted himself in a corner by telling the world that 8-8 would be "unacceptable", which insinuated that Reid would be fired unless the team was "substantially improved."  The key word there is "insinuated." He never said that Reid would be fired and only said that he'd evaluate Reid's contract after the 2012 season.  He also left himself a little loophole by saying that a "rash of injuries could excuse" another 8-8 season (or presumably worse). More after the jump... Well, when you start counting up the injuries, the Eagles have had enough, especially along the offensive line.  A bad OL can derail the best of offenses.  Just look at Green Bay, Aaron Rodgers has looked like a mere mortal behind that line. Then, Lurie could factor in the death of Reid's son and determine it was a likely distraction for Reid all season.  I mean, how could it not be? Furthermore, Reid has a reputation for being a quarterback guru.  While that could actually be debated these days, Lurie likely still sees it that way.  Nick Foles has shown some progress each week so far, even if it's only minor progress. Foles is coming off his best performance yet against Dallas.  If he continues to show this kind of improvement over the last four games, it's quite possible that Lurie could feel as though it would be better for Reid to stay and develop him. It's also possible that Lurie could be telling Reid that he needs to start making some dramatic changes if he wants to stay around.  It could be something along the lines of: "Hey Andy, I know you're a good coach and have had some real problems this season, but I'm under tremendous pressure to fire you.  I don't want to do that but something needs to give, serious changes need to be made." Reid has to admit that hiring Washburn before he hired a DC was a bad move, and then putting his OL coach in charge of the defense was an even worse move.  Those were the two biggest mistakes Reid has ever made in his coaching career and both have been corrected now, to a point. There is one little caveat to the Washburn firing, and that is a report by Jeff McLane saying he had become a "cancer" since the team released Babin.  So, if that's true, Washburn was fired because of that and nothing else (though it's possible that Washburn's attitude was the "last straw"). In any event, this all might be a real stretch at this point and these moves are along the lines of too little, too late.  I still think the most likely thing that will happen is that Reid will be fired at the end of the season. However, considering the things I've listed above, I'm just not as sure as I was a few weeks ago. Follow Dave Stoessel on Twitter for more Eagles news and discussion!
Original Story:
http://www.buzzonbroad.com/2012/12/wa...
THE BACKYARD
BEST OF MAXIM
RELATED ARTICLES
Is Andy Reid making moves in order to remain head coach of the Philadelphia Eagles in 2013?  I'm sure nobody really wants to hear this, or even think about it, but there is a scenario brewing that could ultimately keep Reid in Philly… Let's take into consideration the following things: Reid's son passes away during training camp Injuries have decimated the offensive line...
If the Philadelphia Eagles fire head coach Andy Reid and the Cowboys decide to part ways with Jason Garrett, a Sunday report says Reid could be the next Cowboys coach. According to Mark Eckel of the Times of Trenton, an extremely reliable source, who is close to Reid, says the current Eagles coach could be leading the Cowboys next season. "I know a lot of people think Andy...
Pretty much everyone knows that Andy Reid will not be the head coach in Philadelphia after this season. If the team's owner demanding more than a .500 year before the season began wasn't enough, the Eagles going 3-9 so far and showing new depths of futility on the fumble and injury fronts surely is. The question now is when Reid will be let go. Or is it? As the Eagles prepared...
Categories: BREAKING NEWS Coaching Staff Eagles General News   It's almost a certainty to this point that Andy Reid will be fired as coach of the Eagles after the season. It's only an almost certainty because owner Jeff Lurie said last year that average wasn't good enough and Reid will not survive another average year. The best the Eagles could finish this season before...
Categories: BREAKING NEWS Eagles Front Office NewsTags: Andy ReidHowie RosemanPhiladelphia EaglesJeff McLane of Philly.com reports that Eagles GM Howie Roseman encouraged Andy Reid to hire defensive line coach Jim Washburn.    Roseman was impressed with the success of Washburn during his time with Jeff Fisher and the Tennessee Titans. After Fisher was fired by the Titans...
Following another lost, the Eagles fired another member of the coaching staff. Nope, it's still not Andy Reid. Early Monday morning, the Eagles have announced that they have relieved defensive line coach Jim Washburn of his duties. The team has announced the hiring of Tommy Basher. Basher was the defensive line coach in 1985, and 1999-2005. Updates to come.
Could Andy Reid return to coach the Eagles in 2013? WHAT? Sheil Kapadia examines the possibility. – Birds 24/7 You may not want to read anymore about the Birds' eighth consecutive loss. For those who do, check out Jeff McLane's rewind. – philly.com Nick Foles showed marked improvement in Philadelphia's loss to the Cowboys on Sunday. Kapadia breaks down the film. – Birds...
Former Arizona Wildcat Nick Foles will be the Philadelphia Eagles starting quarterback for the remainder fo the season, according to Jeff McLane of the Philadelphia Inquirer. Andy Reid made the announcement today, and it is effective immediately.
Rassing Frassing 10) He was mean to Juan Castillo, who, as this season has shown, is the greatest coach in the history of the franchise9) It's not everyday you can find someone who has held the same position as the fired guy just hanging around, unemployed8) Washburn teaches the Wide Nine technique, which might make him History's Greatest Monster to Eagle Fans7) The worst...
After last week's dismantling of the Packers on Sunday Night Football, it looked like the bye week had cured the New York Giants ailments and they were well on their way to repeating as NFC East champions. However, with the Redskins victory over them last night on Monday Night Football, it's now a three team race between these two teams and the Dallas Cowboys with the Giants...
NFL News

Delivered to your inbox

You'll also receive Yardbarker's daily Top 10, featuring the best sports stories from around the web. Customize your newsletter to get articles on your favorite sports and teams. And the best part? It's free!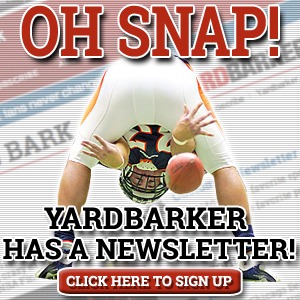 Latest Rumors
Best of Yardbarker

Today's Best Stuff

For Bloggers

Join the Yardbarker Network for more promotion, traffic, and money.

Company Info

Help

What is Yardbarker?

Yardbarker is the largest network of sports blogs and pro athlete blogs on the web. This site is the hub of the Yardbarker Network, where our editors and algorithms curate the best sports content from our network and beyond.