Found November 06, 2012 on Football Nation:
PLAYERS:
Dan Snyder
,
Andrew Luck
,
Mike Shanahan
,
Jim Haslett
,
Albert Haynesworth
,
Kyle Shanahan
,
Donovan McNabb
,
Clinton Portis
,
Rex Grossman
,
Phillip Buchanon
,
Nick Sundberg
,
Donte` Stallworth
,
Pierre Garcon
,
Tanard Jackson
,
Mike Wise
,
Robert Griffin III
TEAMS:
Washington Redskins
,
Indianapolis Colts
,
Minnesota Vikings
,
Pittsburgh Panthers
As of the writing of this article, the Indianapolis Colts are 5-3.Nobody in the world gave the Colts a chance to win at least five games all season.Yet there they stand, quite a lot better than the 2-14 disaster from last year.Quarterback Andrew Luck has been a major reason for Indy's "surprise" record. Another reason?Coaching.Why bring this up in an article about the Washington Redskins? I can't possibly be saying that...No. I am absolutely NOT SAYING Washington's dismal 3-6 record is because of Robert Griffin III.I am saying that in the case of the Redskins and their vast under-performance, the problem is the coaching. Specifically, head coach Mike Shanahan. Is he the ONLY reason for Washington's pile of losses so far in 2012?Not directly, no. There have been an unholy amount of devastating injuries to the best, most crucial players on the Redskins. There has been an obscene number of points as well as offensive yards given up by the defense.Shanahan has ...
Original Story:
http://www.footballnation.com/content...
THE BACKYARD
BEST OF MAXIM
RELATED ARTICLES
You can call him a realist or you can call him a pessimist, but no matter how you look at Mike Shanahan's comments, Redskins fans have to be left disappointed. The Redskins lost at home to the Panthers on Sunday 21-13 to drop to 3-6 on the season. Leading up to the game, coach Mike Shanahan labeled the contest as a "must-win" game. He all but threw in the towel on the 2012...
Washington HC Mike Shanahan told reporters that he and his staff will begin evaluating players for next season, following the team's loss to the Panthers on Sunday. "Now you're playing to see who, obviously, is going to be on your football team for years to come," Shanahan said, via the Washington Post. "Now we get a chance to evaluate players and see where we're at...
The Washington Redskins are heading into their bye week, but head coach Mike Shanahan might have a hard time motivating his players for the second half of the season. It appears that Shanahan has thrown in the towel on this season, saying the remainder of the year will be used to evaluate the team. Shanahan had proclaimed Sunday's game against the Carolina Panthers as a must win...
Mike Shanahan is getting frustrated with his now 3-6 Redskins, so much so that he's already evaluating the team for next year and beyond. After losing their third straight game, Washington's head coach seems to be planning for another year without making the playoffs. The Redskins lost 21-13 to the Panthers in a game that was deemed Washington's &quot...
It's not the norm for an NFL coach to talk about players auditioning for jobs with seven games to go in the season. Yet that's the picture coach Mike Shanahan has painted for the Washington Redskins after falling to 3-6 following a loss to the Carolina Panthers. After the game, Shanahan said he'll use the upcoming weeks ''to see who obviously is going to be...
After today's loss to the Panthers, Washington Redskins head coach Mike Shanahan sounded like he's ready to mail it in and look forward to next season. "Now you're playing to see who obviously is going to be on your football team for years to come," Shanahan said, per Robert Littal of Black Sports Online. "Now we get a chance to evaluate players and see where we're...
Uttering ''disappointed'' or ''disappointing'' no fewer than nine times during his postgame news conference, Washington Redskins coach Mike Shanahan sounded very much like someone ready to write off the season. In what Shanahan insisted beforehand was a ''must-win'' game, the Redskins committed 13 penalties, gave up an 82-yard pass...
After yesterday's loss to the Panthers, Washington Redskins head coach Mike Shanahan indicated that he'll be evaluating his players for next season.  Which pretty much means, he's mailing in the rest of the season now that his team is 3-6. Lorenzo Alexander made it clear that he isn't thrilled about Shanahan's comments. "You have a lot of guys that want to win now, people...
Just three weeks ago, the Washington Redskins were sitting at an even 3-3 with playoff hopes still very much a possibility. Following three consecutive losses and a misplaced offensive identity heading into their bye week, head coach Mike Shanahan sounded ready to throw in the towel. The Redskins and their star rookie quarterback Robert Griffin III were outdueled...
Before the season began Washington Redskins' coach Mike Shanahan was in hot water. In his third season with the team pressure is on to produce some wins. Now more than halfway through the 2012 season, that pot of hot water is now boiling over.At 3-6 overall the Redskins are floundering.They started out the season strong. Preseason reviews of rookie quarterback Robert Griffin...
NFL News

Delivered to your inbox

You'll also receive Yardbarker's daily Top 10, featuring the best sports stories from around the web. Customize your newsletter to get articles on your favorite sports and teams. And the best part? It's free!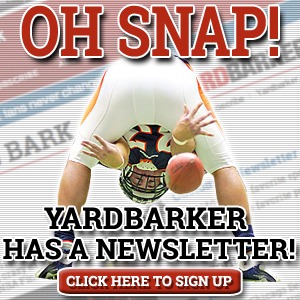 Latest Rumors
Best of Yardbarker

Today's Best Stuff

For Bloggers

Join the Yardbarker Network for more promotion, traffic, and money.

Company Info

Help

What is Yardbarker?

Yardbarker is the largest network of sports blogs and pro athlete blogs on the web. This site is the hub of the Yardbarker Network, where our editors and algorithms curate the best sports content from our network and beyond.