Found November 04, 2012 on isportsweb.com:
The Washington Redskins will head home this week to take on the Carolina Panthers after a long 2 week battle on the road. There will be many interesting things to watch for on Sunday, both on the field and off. The Redskins hope to turn things around and head into their bye week on a positive note. Here are some of the components and matchups that will make for an exciting week 9 game.   It's Homecoming Weekend for the Redskins and they plan to go all out this year to celebrate their 80th anniversary. There will be an alumni parade with the Redskins Cheerleaders and Marching Band at 10 a.m. followed by the alumni photo and other festivities. For the game itself the Redskins will be debuting their 80th anniversary throwback jerseys which are designed as a modern day tribute to those worn in 1937. The Redskins 10 new inductees into the "80 Greats" will be honored as well at halftime. Cam Newton vs. RGIII This has been the most highly debated matchup in the days leading up to this game. And while Robert Griffin III has expressed his dislike for the comparison, one cannot help but draw parallels between the two. Both started their rookie season strong, and both are part of struggling football teams. Recently Cam Newton has not looked like the same man who took the NFL by storm in 2011. And RGIII had a tough day last Sunday. But both are incredibly capable, and both present the challenge to defenses of stopping a QB who can pass and run the ball. Both teams vs. the clock. Both teams have a history of close, down to the wire games and both seem equally frustrated by it. The Redskins have had a tendency to fall apart in the 4th quarter, especially on defense, while Carolina has come away with losses on all of their close games. A crucial part of the matchup on Sunday will be who can play a 60-minute game. RGIII and the offense vs. Panthers defense. One of the biggest challenges the offense will face is the Panthers' front four.  Trent Williams has done a pretty good job of protecting RGIII but will face another challenge against Greg Hardy this week, who has 5 sacks so far this season. Tyler Polumbus will probably cover Charles Johnson, who has 5.5 sacks. A strong performance from the offensive line will allow Griffin more time to throw the ball and Morris enough room to run. RGIII and Morris will need to establish a ground game this week for the offense to find success Carolina has seen success employing disguised coverage, something the Redskins have struggled with in the past. Washington has also been successful with play-action pass, but will need to establish a good ground game early on to combat the defense. Everyone will need to know their assignment and not give up plays by dropping the ball or not turning around in time (as we saw last week). Redskins defense vs. Cam Newton. On defense, the Redskins will have their hands full. Hot or not, Cam cannot be ignored. He could snap out of his slump at any time and they Redskins know very well what he is capable of .His size alone presents challenges for a lot of the smaller guys, and Kerrigan will need to apply as much pressure as possible to limit his opportunities. I say Kerrigan because he seems to be the entire pass-rush, but of course it would be nice if Jenkins and Cofield would help. After an unproductive few weeks, the questions remains of whether they won't step up or can't. They have a lot to prove. The entire defense (and Haslett) vs. their jobs. The defense has undoubtedly been the weakest link in a team looking to move forwards, and no one's job is particularly safe at the moment. Last week we saw tempers flare once again as Hall went off on a ref. Everyone is clearly frustrated but they need to channel it into productivity and not into becoming a liability to the team's success. Mike Shanahan has made it clear that this is a time when the veterans need to step up. We will see how, and if, that plays out. I am hoping for everyone's sake that they take full advantage of this opportunity and redeem themselves after a tough week. Kerrigan will need to apply pressure on Cam Newton to limit his opportunities The defense has allowed 28.4 yards per game, and is ranked towards the bottom of the NFL. They are ranked as the worst passing defense in the league and have given up 2,514 passing yards and 19 passing touchdowns. So essentially, their work is cut out for them.   INJURY REPORT: The Redskins will again be without safety Brandon Meriweather due to his knee injury. Pierre Garcon will also sit out another week. Perry Riley is expected to be a game-day decision. Sav Rocca is listed as probable.    
Original Story:
http://feedproxy.google.com/~r/isport...
THE BACKYARD
BEST OF MAXIM
RELATED ARTICLES
sr_adspace_id = 1000010603807; sr_adspace_width = 180; sr_adspace_height = 90; sr_ad_new_window = true; sr_adspace_type = "graphic"; According to Mike Jones of The Washington Post, Redskins quarterback Robert Griffin III underwent x-rays on his ribs after today's loss to the Panthers. The good news is that the x-rays were negative, which means nothings broken....
There are silly trends in the NFL that sometimes coincide with events that take place. One of those silly rules is called the Redskins Rule which was actually discovered by accident. According to Yahoo Sports, Shutdown Corner,  due to the fact that the Carolina Panthers beat the Washington Redskins, 21-13, at Washington D.C.'s FedEx Field, it appears Mitt Romney will win Tuesday's...
Washington QB Robert Griffin III came out of Sunday's game against Carolina with some bruised ribs, but isn't expected to miss any time.Fantasy Spin:Griffin and the Redskins are on bye for the upcoming week, so he'll have until Nov. 18 to recover.
Cam Newton and Robert Griffin III met on the field for a postgame embrace. Griffin said Newton offered his phone number and said to be in touch.
Washington Redskins quarterback Robert Griffin III had X-rays done to ensure he hadn't broken his ribs following Sunday's loss to Carolina, results were negative. "I'm fine. I'll be ready to go," Griffin said after the game via The Washington Post. "No one is ever going to question the fight I have inside myself to be the greatest and to help this team to victory...
It has always been said that NFL rookies will eventually hit that dreaded "Rookie Wall" at some point during their first season. These rookies are used to playing 12 games throughout high school and college, so between the weekly grind of playing 16 games in the NFL, as well as learning and going through so much both physically and emotionally, you can see why many rookies struggle...
NFL week nine is coming to a close after tonight's game between the Philadelphia Eagles and New Orleans Saints. Fantasy football owners might have seen some of their key players go down with injury on Sunday. Oakland Raiders Darren McFadden and Minnesota Vikings WR Percy Harvin were among some of the key fantasy players which suffered injuries this weekend. Let's take a quick...
Injured Miami QB Ryan Tannehill is expected to start Sunday's game against Indianapolis according to Albert Breer from NFL.com. Tannehill had been classified as a game-time decision after suffering a knee injury in last week's win versus the Jets.Fantasy Spin:We figured this would be the case. While not as celebrated as Robert Griffin III or Andrew Luck, Tannehill has put...
After Robert Griffin III was buried in a pile near the goal line, Cam Newton took over and led a 98-yard drive - bloody thumb and all. His abilities as a leader in question and his team in desperate need of positive morale - not to mention a win - Newton got the better of the first NFL matchup between the last two Heisman Trophy winners Sunday as the Carolina Panthers broke a five...
All of the hype surrounding Andrew Luck's future as a quarterback has taken a bit of a backseat to the spectacle that Robert Griffin III has put on in Washington this season. But on Sunday, Luck reestablished his position as the best young quarterback in the NFL. Luck threw for a rookie record 433 yards -- breaking Cam Newton's previous high of 425...
Redskins News

Delivered to your inbox

You'll also receive Yardbarker's daily Top 10, featuring the best sports stories from around the web. Customize your newsletter to get articles on your favorite sports and teams. And the best part? It's free!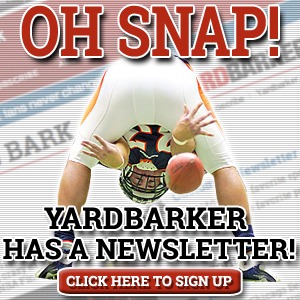 Latest Rumors
Best of Yardbarker

Today's Best Stuff

For Bloggers

Join the Yardbarker Network for more promotion, traffic, and money.

Company Info

Help

What is Yardbarker?

Yardbarker is the largest network of sports blogs and pro athlete blogs on the web. This site is the hub of the Yardbarker Network, where our editors and algorithms curate the best sports content from our network and beyond.