Found April 04, 2012 on isportsweb.com:
22 days, 1 hour, 41 minutes and 44 seconds until the 2012 NFL Draft. (Not that I've been keeping track or anything.) As per usual, the offseason has been full of rumors, speculation and confusion. Peyton Manning, Matt Flynn, and the latest, RGIII. And now the Redskins have officially acquired the second overall pick in the draft, trading their 1st and 2nd round picks in this draft to the St. Louis Rams, as well as their 1stround picks in the 2013 and 2014 drafts.  A move, we can all assume, to acquire the Baylor quarterback and Heisman winner, Robert Griffin III. RGIII Recieves Heisman Award I will admit, I did cringe a little when I heard how much the Skins would have to give up for him. I mean, fans and critics alike have almost been programmed to react with a "here we go again," or "I thought this is what we were trying to get away from" attitude. That's history's fault. But in my opinion this is different; this is worth it. And here's why: The last QB the Skins drafted that even bordered on "successful" was Jason Campbell in 2005. Before I anger any die-hard Colt Brennan fans, let me define my parameters of "success:" you have to have played in regular season games with the team. Whether you believe we should have kept Campbell or not, it's inarguable that he was not the future of our franchise. Last year the Skins had an incredibly productive draft, acquiring new talent and filling roster spots that had long since been filled with a chaotic carousel of players, many of whom were well past their prime.  There are still many holes that need to be filled. But this is not the past, where we have traded an enormous amount for a short-term, superficial fix. Much of the foundation has already been set. The absence of a quarterback, a consistent quarterback, to rally around will continue to hinder the ability for the team to build chemistry and develop as a cohesive unit.  And besides, the front office has never been anything short of aggressive in free agency. Many people have argued that we should wait until next year before making such a huge sacrifice. To me that argument rests on the assumption that we will have a similar position in the draft next year, that this season will be a repeat of previous years. That is the bigger sacrifice. Fans and players have waited long enough. It's been what, 20 years since we won a Super Bowl? We need to get the ball moving now (no pun intended). Still, with Washington being as noncommittal in the QB position as they have been for the last decade or so, giving up so much for a man who hasn't been tested on a professional stage does make me a little nervous. One of the things I keep thinking about is how Mark Rypien, the last Super Bowl caliber quarterback, was drafted in the sixth round of the 1986 draft. But then I remember all the quarterbacks the Redskins have drafted in any round since then who lead the team nowhere.  Times have changed, and it's time the Redskins do so as well. We need a good quarterback. We need a man who can be the face of the franchise, a leader in the locker room and a force to be reckoned with on field. We need RGIII. In loving memory of Lorraine Bialek
Original Story:
http://isportsweb.com/2012/04/04/wash...
THE BACKYARD
BEST OF MAXIM
RELATED ARTICLES
Without a doubt, April 26th will be a very important date for Andrew Luck and Robert Griffin III. While there have been constant rumors that the Indianapolis Colts and their GM Jim Irsay may go after RGIII, the impression that RGIII has given as of late is that he wants to become a Washington Redskin.
On Tuesday, Washington Redskins linebacker Brian Orakpo told the media at the Nike uniform launch in New York City that he wouldn't be happy if the Redskins end up with Andrew Luck, instead of Robert Griffin III. "I would love to get Griffin," said Orakpo, per Yahoo Sports. "Depending on what the Colts do." Orakpo believes the best outcome would be for the Colts to draft...
According to Chick Hernandez of CSNWashington.com, Washington Redskins offensive coordinator Kyle Shanahan visited Baylor quarterback Robert Griffin III in Waco, TX on Thursday night and he'll be visiting him twice a week for the next several weeks. Shanahan is clearly meeting with Griffin, in order to help him get a head start on learning the Redskins' playbook so he'll be...
It's said that in football you are always one play away from what could be your last.  This was never more true as one of the most gruesome moments in NFL History happened on November 18th 1985.  The setting was RFK Stadium on Monday Night Football as the 5-5 Washington Redskins took on the 7-3 New
If everything goes the way we all believe it will, Andrew Luck and Robert Griffin III will be facing off against one another this coming preseason. The NFL has scheduled the Indianapolis Colts to visit the Washington Redskins during the third week of the preseason. Luck will likely be leading the Colts against Griffin III and the Redskins. The game won't mean anything and to...
No matter who drafts whom, Andrew Luck and Robert Griffin III will face off in the preseason Week Three game this August. The gods of the NFL have decreed it. They never miss a marketing trick, do they? The Indianapolis Colts visit the Washington Redskins during the preseason in a contest that has "national broadcast" written all over it. The Colts are expected to draft...
It has been 20 years since the Redskins faithful tasted a championship. The third in franchise history and third for Head Coach Joe Gibbs. Hard to believe that it was been 20 years since that magical 1991 year when the Washington Redskins were able to beat the AFC Champion Buffalo Bills 37-24 at the Metrodome
Jim Irsay and the Indianapolis Colts have confirmed via Twitter that the Robert Griffin III's camp has declined a request for a private workout. Griffin's agent formally turned down the request, and while Griffin himself didn't do the talking, the writing is on the wall. By not working out for the Colts, it ensures Griffin will be selected by the Washington Redskins...
Redskins News

Delivered to your inbox

You'll also receive Yardbarker's daily Top 10, featuring the best sports stories from around the web. Customize your newsletter to get articles on your favorite sports and teams. And the best part? It's free!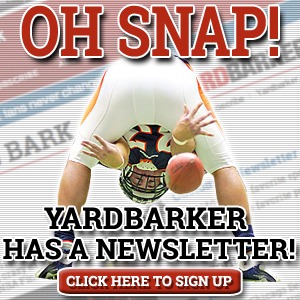 Latest Rumors
Best of Yardbarker

Today's Best Stuff

For Bloggers

Join the Yardbarker Network for more promotion, traffic, and money.

Company Info

Help

What is Yardbarker?

Yardbarker is the largest network of sports blogs and pro athlete blogs on the web. This site is the hub of the Yardbarker Network, where our editors and algorithms curate the best sports content from our network and beyond.