Found August 29, 2012 on WhoDeyFans:
The Bengals lost more than just a game last week vs the Packers as it looks like starting center Kyle Cook is going to miss some extended time. Another big blow to an offensive line already without one starter. The Bengals wrap up their preseason this Thursday night in Indianapolis against Andrew Luck and the new look Colts.
In this week's show:
We look back at the Bengals loss to the Packers
Bengals sign Jeff Faine to replace Kyle Cook
I think we've mentioned it before, but the secondary is struggling.
Shoutouts/Announcments
If you want to join our Fantasy Leagues click here and follow the instructions.
We look ahead to the Colts game
We tried something new tonight and opened up the phone lines. If you'd like to call in to the show next week, join us for a live taping. We record this show every Wednesday night at 9 PM eastern at whodeyfans.com/video. If you don't like the new call in segment, tell us, podcast@whodeyfans.com. Or if you'd like to leave us a voicemail, call us at 404-WHODEY7.
Thank you to everyone who has left us feedback and positive reviews on iTunes. I love the positive feedback we get from EVERYONE. I appreciate the bad feedback too. Will only help make our show better. We do this show for FANS of the Bengals and we love hearing from all of you. WHODEY!!!!!

Want to Subscribe To Who-Dey Weekly?
Or you can enter http://feeds.feedburner.com/whodeyweekly into which ever feed reader you choose to use.
Original Story:
http://whodeyfans.com/2012/08/29/wdw-...
THE BACKYARD
BEST OF MAXIM
RELATED ARTICLES
CINCINNATI (AP) -- Bengals center Kyle Cook has a foot injury that could sideline him for the season, another setback to Cincinnati's offensive line in the preseason. Cook got hurt during a preseason game on Thursday night against Green Bay. He initially thought it was only a sprained ankle, but tests found more significant damage. Cook was wearing a protective boot on his right...
The Bengals have signed center Jeff Faine to replace the injured Kyle Cook, who will miss considerable time - and possibly the season - because of injury. The 31-year-old center started 15 games for Tampa Bay last season. He was released on March 14 and has been a free agent. Cincinnati suddenly needed a center when tests found that Cook had a significant injury to his right foot...
After center Kyle Cook saw a foot specialist early in the week, the Bengals brought in Jeff Faine for a visit as insurance for Cook, whose initial prognosis did not look good. After the Bengals signed Faine, Cook's prognosis isn't looking any better. According to the Cincinnati Enquirer, "indications are" he'll miss a "large amount of time," possibly even the whole...
Between video from practice, preseason games, and media conferences, football fans have seen plenty of Andrew Luck over the past month. Fans should continue to see plenty of him during the course of the football season, but one place you won't see the Colts rookie is in commercials. That's because Luck made the conscious decision to avoid endorsement deals during his rookie season...
Andrew Luck has one more chance to get things right before the games count. The rookie quarterback has looked good in the Colts' first three preseason games, though Saturday afternoon's loss at Washington was clearly the toughest. Against the Redskins, Luck had to contend with a bevy of blitzes, breakdowns along the offensive line and penalties that led to stalled drives...
The Indianapolis Colts are ready to start over. For the first time in 15 years, Peyton Manning isn't around. For the first time in more than a decade, the Colts are not expected to contend for a division title or make the playoffs. Players understand this is reality for 2012, they just don't believe in using the r-word. ''I don't have rebuilding years in me...
The Colts coaches were expected to rest the starters this week. They didn't disappoint. Andrew Luck went out after one series. Wayne was out after one series. Heck, even Drew Stanton was out after one series. The longest any starters seemed to be in was two series. Chandler Harnish got the lion's share of the duties at quarterback, and was able to move the ball when he...
The 2012 NFL Draft will be remembered for the Indianapolis Colts selecting Andrew Luck, and the Washington Redskins pulling a massive trade in order to secure Robert Griffin III. Both of these quarterbacks set the tone for the draft, but why must they get all the attention? While the focus is on Andrew Luck and [...]
Next Sunday when the full slate of games kick off for the start of the regular season, five rookie quarterbacks will be starting for their respective teams, which sets an NFL record by more than doubling the previous record set last season of two.By having a rookie starting at quarterback, it means that most of the teams are in a rebuilding phase, so we don't expect any of these...
A year ago, the Cincinnati Bengals were the odds on favorite to win the Andrew Luck sweepstakes. Their veteran quarterback, Carson Palmer, had sworn never to play for the organization again, leaving the offense to an untested second round pick, Andy Dalton. Their new offensive coordinator, Jay Gruden, had his greates successes in the Arena Football League and was installing a new...
When The Indianapolis Colts opened training camp on July 28th, first-round draft pick, quarterback Andrew Luck, was the most talked about Colt on the field.While the press and fans clamored to Luck like a Beatles rock legend, a few other Colts were getting themselves prepared for a preseason where the hands of fate were completely in control.In the sixth round the Indianapolis Colts...
The Colts came back to beat the Bengals in one of the more boring Colts games in recent memory. Well, Andrew Luck and Drew Stanton didn't see much time on the field. Both saw a total of 3 series. It was Chandler Harnish who got most of the snaps, and actually didn't do that bad. His decision making wasn't great, but he made some great throws and his mobility was pretty...
NFL News

Delivered to your inbox

You'll also receive Yardbarker's daily Top 10, featuring the best sports stories from around the web. Customize your newsletter to get articles on your favorite sports and teams. And the best part? It's free!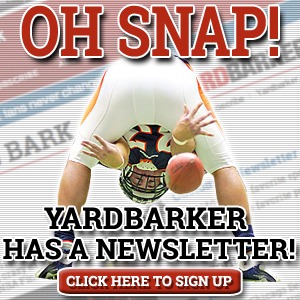 Latest Rumors
Best of Yardbarker

Today's Best Stuff

For Bloggers

Join the Yardbarker Network for more promotion, traffic, and money.

Company Info

Help

What is Yardbarker?

Yardbarker is the largest network of sports blogs and pro athlete blogs on the web. This site is the hub of the Yardbarker Network, where our editors and algorithms curate the best sports content from our network and beyond.