Found November 16, 2012 on Fox Sports Ohio:
PLAYERS:
Brandon Weeden
,
Brad Childress
,
Pat Shurmur
,
Colt McCoy
,
Kelly Holcomb
,
Tim Couch
,
Jeff Garcia
,
Greg Little
,
Josh Gordon
,
Peyton Manning
,
Robert Griffin III
TEAMS:
Cleveland Browns
,
Washington Redskins
That noise in the background? Thats the pressure being ratcheted up on Browns quarterback Brandon Weeden. The Browns no longer treat Weeden as a rookie. They seem to want results, now. Hes our starter, offensive coordinator Brad Childress said at his weekly media gaggle. And hes given a pretty good representation of himself here. Can he iimprove? Hed be the first to tell you that, yeah. I think hes doing OK for a first-year signal caller in this league. Note the qualifier. Coach Pat Shurmur weighed in pointedly when asked what he wants to see of Weeden the final seven games, starting Sunday in Dallas. Dont throw interceptions, Shurmur said. Done, end of story. He added that Weeden has a chance to be an outstanding player, but made his point clear when he said: I think the essence of a quarterback is you have to be a good decision maker. Weeden, then, needs to start making better decisions. Criticism isnt easy, but thats the nature of the position (ask Colt McCoy). It brings high praise and serious criticism. With the Browns, the tone of the words seems to have gained a slight edge, as everyone deals with the reality of a new management team deciding the future of the front office, coaches and players. Jobs could rest on these final seven games, and as the guy under center Weeden will have a large say in how it goes. This more focused critique seems to be caused by several factors: ---The frustration of non-stop and continued losing -- and a 2-7 record. --Weedens bad game against Baltimore, when the Browns scored no touchdowns (one was called back) despite five trips inside the red zone, and lost a game they could and should have won. --Weedens general play. The guy brought in to replace McCoy does not have many numbers better than McCoy -- aside from Weedens ability to throw deep. Weeden has 12 interceptions (tied for second highest in the league) and a rating of 67.9. --The new ownership of Jimmy Haslam and new management run by Joe Banner. They have given not one inkling of their feelings toward Weeden except to say hell be evaluated at seasons end. Even Childress said hed hold off on a complete evaluation. I want to see him grow here in the second half of the season, in the last seven games and play through this Cleveland-Pittsburgh weather, he said. I want to see all of that. I want to see the whole body of work before I venture an opinion of where hes at. If theres a new coach, hell be involved in said evaluation. Which raises the possibility that the Browns quarterback merry-go-round could be turned back on in 2013, with the team starting its seventh different opening day quarterback in the last seven seasons. Weeden said he understands, and he knows he has to walk the fine line between being aggressive to prove himself and making mistakes by being too aggressive. Until the Baltimore game, Weeden seemed to be coming along nicely. That game might have brought a little extreme reaction, which isnt unusual in Cleveland. Kelly Holcomb lost his job because he threw two interceptions on a Monday night when a receiver twice ran the wrong route. The Browns then told Tim Couch he was their guy for years -- then signed Jeff Garcia. AttComPctYardsYdAttTDIntRatingW-LRussell Wilson25315762.11,8277.2215890.56-4Andrew Luck36220857.52,6317.2710979.16-3Robert Griffin III26217265.61,9937.618393.93-6Ryan Tannehill30817958.12,1206.8861170.84-6Brandon Weeden33618555.12,0886.2191267.92-7 Compare Weeden to other rookies starting this season (see chart) and he does not fare well. He has the second highest attempts, lowest completion percentage and lowest yards per attempt by far -- a full yard lower than Seattles Russell Wilson and Indianapolis Andrew Luck. Weeden has more interceptions that the other rookies, and the poorest rating -- ahead of only Matt Cassell and John Skelton in league standings. It would be tempting to say that Weedens numbers would look better had Greg Little not dropped a potential touchdown in the opener that turned into an interception, and had Little not dropped a sure touchdown in Baltimore and had Josh Gordon not dropped an easier touchdown in Indianapolis. Add the last two, though, and Weedens passer rating only jumps to 71.3. Weeden has carried himself with poise. He has NFL arm strength, acts like he belongs, and until this week never used the rookie card to explain his struggles. He is a rookie, and a lot of talented players have struggled in their first season; Peyton Manning had a 71.2 rating with 28 interceptions and a 3-13 record as a rookie. But nobody cares because the NFL is a bottom-line, win-lose league. Weeden has had moments, but it almost seems as if the Browns and the new management are saying the training wheels are off and its time to play, and play well. The Browns believe in Weeden, but the guys who believe in him most were on the management team that might be changed. Like the coaching staff, Weeden has lost his air cover. I got to play better, he said. I know that. Im not a moron.
Original Story:
http://www.foxsportsohio.com/11/16/12...
THE BACKYARD
BEST OF MAXIM
RELATED ARTICLES
URINE TROUBLE
A fan who dunked his head in a bucket of urine at a Browns game in a video that went viral has been identified as a police officer and suspended for his hijinks.
The Browns are done with their bye and they're headed to Dallas. Despite the wishes of some Browns fans, the status is decidedly quo in Berea. Still, the bye week is a good time for teams to get healthy at least, and it appears the Browns just might have done that with Ahtyba Rubin and Phil Taylor being two of the (ahem) biggest beneficiaries. With that, it's time to make your predictions.
Good news for Browns fans, they did not lose last week.  Can they continue this non-losing streak?  Doubtful. After a rough Week 10, I'm sitting at 92-54-1.  Who wants to keep track of a tie. Let's see if I can turn this around this week. Arizona at Atlanta - The Cards need to get some production from the QB position if they want any chance to make playoff...
Cleveland Browns CB Joe Haden did not participate in practice on Friday. Haden was injured in practice on Wednesday and sat out Thrusday with the oblique injury. His status for Sunday's game is certainly in jeopardy. Pat Shurmur said that Haden "felt better" today, but they will wait and make a game-time decision on him. [Related: Haden sits out with oblique injury]
An obviously frustrated Josh Cribbs let loose on the coaching staff and whoever in front of him. He's clearly not in a good place right now. Cribbs sounded off harshly to Mary Kay Cabot of the Cleveland Plains Dealer, and didn't pull any punches. "I've talked to the head coach but there's no point. Obviously they feel like everybody that's in front of me is...
Browns CEO Joe Banner has spent his first weeks on the job assessing, evaluating and questioning. Soon, he'll start making changes - and some of them could be major. Banner, who spent 19 seasons with the Philadelphia Eagles before he was hired by new Cleveland owner Jimmy Haslam, said Friday he remains ''open-minded'' about coach Pat Shurmur, whose future with...
BEREA, Ohio (AP) -- When he was a kid, Browns kicker Phil Dawson worshipped the Dallas Cowboys. In Texas, it's mandatory. "Unless you grow up in Houston," Dawson said. "The rest of the state is Cowboys and that's all you did was follow the Cowboys." And that he did. Like many boys growing up deep in the heart of the Lone Star state, where football and...
Browns cornerback Joe Haden was missing from Friday's practice and will be a game-time decision for Sunday's game against Dallas.Fantasy Spin:The Browns need Haden to play against all the quality receivers the Cowboys can throw at you. If he doesn't play it adds value to Dez Bryant and Miles Austin.
A police offer has been suspened for two days following his actions at a Cleveland Browns game. Those actions included dunking his head into a bucket of urine. As the News-Hearld reports, Patrolman Phil Croucher will be suspended two days, with one day held in abeyance upon completion of an alcohol evaluation, which will be arranged and paid for by the city. The video of Croucher...
We are live on tape from Cleveland, Ohio and your announcers are Michael 'Lebron Fan Club President' Cole and The Miz. Miz mentions that he is Cleveland's favorite son. Michael discusses the tag title match tonight and how Miz was involved with the participants in the match because Miz teamed with Kane to face Cody Rhodes and Damien Sandow. Miz talks about how Daniel Bryan...
MedWish International is a non-profit organization that collects usable medical supplies and equipment from U.S. health systems and distributes it as humanitarian aid to developing countries. Since 2003, MedWish has kept more than 2.75 million pounds of medical surplus out of landfills and has sent much-needed supplies to more than 90 countries all over the world. MedWish was founded...
NFL News

Delivered to your inbox

You'll also receive Yardbarker's daily Top 10, featuring the best sports stories from around the web. Customize your newsletter to get articles on your favorite sports and teams. And the best part? It's free!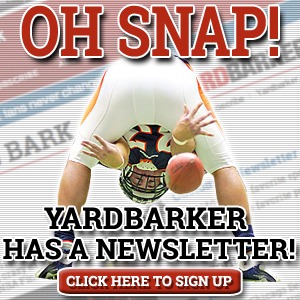 Latest Rumors
The Backyard

Today's Best Stuff

For Bloggers

Join the Yardbarker Network for more promotion, traffic, and money.

Company Info

Help

What is Yardbarker?

Yardbarker is the largest network of sports blogs and pro athlete blogs on the web. This site is the hub of the Yardbarker Network, where our editors and algorithms curate the best sports content from our network and beyond.