Found July 19, 2013 on Waiting For Next Year:
PLAYERS:
Peyton Manning
,
Tim Couch
,
Akili Smith
,
Mike Holmgren
,
Brandon Weeden
,
Tom Heckert
,
Pat Shurmur
,
Russell Wilson
,
Norv Turner
,
Bill Belichick
,
Tom Brady
,
Sean Payton
,
Drew Brees
,
Aaron Rodgers
,
Mike Tomlin
,
Ben Roethlisberger
,
Trent Dilfer
,
Kelly Holcomb
,
Jeff Garcia
,
Charlie Frye
,
Derek Anderson
,
Brady Quinn
,
Jake Delhomme
,
Josh Gordon
,
Greg Little
,
Travis Benjamin
,
David Nelson
,
Jordan Cameron
,
Kellen Winslow
,
Trent Richardson
,
Robert Griffin III
TEAMS:
Atlanta Falcons
,
Seattle Seahawks
,
Carolina Panthers
,
Jacksonville Jaguars
,
Cleveland Browns
,
San Diego Chargers
,
New England Patriots
,
New Orleans Saints
,
Green Bay Packers
,
Pittsburgh Steelers
,
Oakland Raiders
,
Washington Redskins
We are about to enter our 15th season of the "new Browns" era. 15 years. Wow. To paraphrase the great Thornton Melon in "Back To School"- 15 years, seems like yesterday. And you know what a lousy day yesterday was. I've noticed we haven't seen a lot of "15th anniversary" stories floating around. It is not hard to decipher why. To put it bluntly, the Browns haven't won a lot. And it's not as if there has been a lot to get excited about. Sure, the 2002 season spawned a 9-7 record and a wild card playoff run. But if not for some things breaking their way in week 17 and a last second goal line stand against an already-clinched Atlanta Falcons, the new Browns still wouldn't have a playoff appearance since their return. 2007 was as exciting of a season as we have seen in the last 15 years, but we all know that was fools gold and a product of a last place schedule. You can only play the teams in front of you, but the 10-6 Browns beat one over .500 team – the Seattle Seahawks – at home in overtime. You would like to think that there have been some exciting years, but really, these two and 2010 where Colt McCoy came out of nowhere and a tough defense kept the team in games, it has been mostly a boring decade and a half of football. Stability hasn't been the Browns strong suit. One regime after another failed, but possibly the worst thing that happened to the Browns was the quick success of the previous two expansion teams before them – the Carolina Panthers and the Jacksonville Jaguars. Both teams were given significant advantages when they came into the league in 1995 and were in their conference championship games in their second year in existence. Because of this, the NFL made sure the Browns weren't going to come in and fire out of the gates. They were late putting together a coaching staff, had a horrific pool of talent to choose from, and were run by a GM who had no vision in Dwight Clark. Naturally, the Browns returned the year AFTER Peyton Manning was the number one pick. Instead, they were left choosing between Tim Couch and Akili Smith. 14 years later they were picking fourth – a top two pick would have given them either Andrew Luck or Robert Griffin III. They had the ammo to go up and get into the top two via the trade, but now deposed "Football Czar" (aka "check casher") Mike Holmgren didn't pull the trigger. Instead, the Redskins did and RGIII is already the talk of the NFL. Whatever the story was that Holmgren spun about the Rams and Redskins prior relationship aside, the Browns still were searching for a QB and wound up taking a 29-year old Brandon Weeden late in the first round. This was considered a reach by many, but it was clear that then GM Tom Heckert and coach Pat Shurmur were not Colt McCoy guys. Weeden showed flashes as a rookie, but nothing close that would capture the city or the league like fellow rookie QBs Luck, Griffin, and Russell Wilson did. In all fairness, the offense Brandon was handed to run was ill-suited for him. The jury is still clearly out on him and new Browns GM Mike Lombardi was an outspoken critic of Weeden's on the NFL Network. To Lombardi and Joe Banner's credit, they have hired the perfect head coach and offensive coordinator to take advantage of what Weeden does best in Rob Chudzinski and Norv Turner. If Weeden can't succeed in this system, then we will back back at square one, looking for a QB at the 2014 NFL Draft. I saw CBS Sports NFL write Pete Prisco put out a list ranking the 32 NFL coaches. It's not a coincidence to see the QBs attached to the top guys on the list. Bill Belichick has Tom Brady. Sean Payton has Drew Brees. Mike McCarthy has Aaron Rodgers. Mike Tomlin has Ben Roethlisberger. It is easy to see why the Browns have spent the last 14 years near the bottom of the NFL – it's a QB league and they haven't had one. Bad QB play spawns losses. Losses spawn coaching changes. Multiple failed coaches spawn GM changes. The Quarterback is the most important position in all of team sports. You can't be successful without one. Sure, there are anomalies – the Trent Dilfer led Ravens is the most obvious, but we aren't that lucky around here. You look at the list of Browns opening day starting QBs and all you can do is shake your head: 1999 Ty Detmer 2000 Tim Couch 2001 Couch 2002 Kelly Holcomb 2003 Holcomb 2004 Jeff Garcia 2005 Trent Dilfer 2006 Charlie Frye 2007 Charlie Frye 2008 Derek Anderson 2009 Brady Quinn 2010 Jake Delhomme 2011 Colt McCoy 2012 Brandon Weeden Barring injury, Weeden will be the first QB since Charlie Frye in 06 and 07 to start Opening Day in back to back years. Think about that for a second. Keep in mind Frye played one game in 07 before being replaced by Derek Anderson. That is about as depressing as it gets. And it is not exactly like the now 30-year old Weeden is this can't miss QB prospect that is well thought of by GMs, coaches, scouts, and analysts. Hopefully Chudzinski and Turner will be able to get the best out of him and take advantage of his big arm. Weeden was clearly miscast in the Shurmur "4 yard pass" offense and I don't believe we have seen him even close to his best. Weeden has better weapons at his disposal than he did last year with Josh Gordon (post suspension) and Greg Little coming into their own, along with the addition of veteran slot receiver Devone Bess. Speedy Travis Benjamin and former Bill David Nelson should also be contributors. I also expect a big year from Jordan Cameron who should be heavily featured if Chudzinski's track record with Tight Ends precedes him. Don't forget Kellen Winslow III had his best season in 2007 when Chud called the plays as the Browns offensive coordinator. A healthy Trent Richardson toting the ball 20-25 times a game and catching passes out of the backfield certainly won't hurt. One thing is for sure, Lombardi and Banner have done what they can to help Weeden succeed. If he struggles, the Browns will once again be looking at a new QB running the show in 2014.
Original Story:
http://www.waitingfornextyear.com/201...
THE BACKYARD
BEST OF MAXIM
RELATED ARTICLES
Owen Marecic, the only pure fullback on the Cleveland Browns roster, is in jeopardy of losing his spot on the team's roster, reports the Akron Beacon Journal's Nate Ulrich. Marecic, 24, was drafted in the fourth round in 2011 as a fullback/linebacker hybrid out of Stanford. He joined the franchise as a highly regarded and very versatile player with great work ethic. During the...
The Cleveland Browns have signed defensive lineman Armonty Bryant to a four-year contract, the team announced on Friday. Drafted in the seventh round (217th overall), Bryant spent one year at Cisco Junior College in Texas before spending his final three seasons at East Central University (2010-12). He appeared in 30 career games at ECU and registered 165 tackles, 27.5 sacks, nine...
It's no secret that, since returning to the league in 1999, the Cleveland Browns haven't exactly been the NFL's model franchise in terms of on-field success. The team has had only two winning seasons and one playoff appearance since its restoration, a true testament to just how dismal the on-field performance of the team has been. Players, coaches, and entire front office...
The Browns officially kick off their first training camp under Rob Chudzinski and staff on Thursday July 25. We will break down each position in the weeks leading up to the start of camp with the players currently on the roster. We will now take a look at the linebackers. The Browns biggest makeover on the defensive side of the ball was at linebacker. The Browns are switching from...
With Cleveland Browns rookies scheduled to report to training camp Friday in Berea, three draft picks remain unsigned over constant deliberations. The main sticking point between the team and No. 6 overall selection DE/OLB Barkevious Mingo appears to be over offset language in his rookie contract. Here's what The Plain Dealer's Mary Kay Cabot explained: Specifically, the Browns...
When is a ringing endorsement not so ringing? Anytime the Cleveland Browns front office praises quarterback Brandon Weeden. When team CEO Joe Banner says the current Browns starting QB 'has a reasonable chance' of keeping the job, it's not ringing at all. The Browns are not sold on Weeden as a franchise quarterback, but they are determined to find out whether he's a...
The Browns have signed troubled rookie defensive lineman Armonty Bryant to a four-year contract. The seventh-round pick was arrested on drunken driving charges shortly after he was drafted by Cleveland in April out of East Central (Okla.) University. The 6-foot-4, 265-pound Bryant was also arrested on a felony drug charge while in school. The Browns are sticking by Bryant, who...
CLEVELAND (AP) -- First-round draft pick Barkevious Mingo remains the only unsigned Browns rookie after the club finalized four-year contracts with two others Friday. On the day rookies reported for training camp, the Browns reached deals with cornerback Leon McFadden and troubled defensive lineman Armonty Bryant. McFadden, a third-round pick from San Diego State, is expected to...
Browns third-round pick Leon McFadden won't miss a beat in his bid to become the starting cornerback opposite Joe Haden. McFadden, 5-9, 195, signed a four-year contract today on rookie reporting day for the Browns. Terms of the deal were undisclosed. McFadden's signing came hours after the Browns signed defensive lineman Armonty Bryant, the seventh-round pick out of East...
With Browns rookies due to report to Berea on Friday, the team and first-round pick Barkevious Mingo are still at odds over his contract, a league source told The Plain Dealer. Specifically, the Browns want offset language in the deal, and Mingo's side does not. Offset language addresses a player who is released before his fully-guaranteed four-year contract has expired. With...
Hot News for FO Cleveland Browns Organization
NFL News

Delivered to your inbox

You'll also receive Yardbarker's daily Top 10, featuring the best sports stories from around the web. Customize your newsletter to get articles on your favorite sports and teams. And the best part? It's free!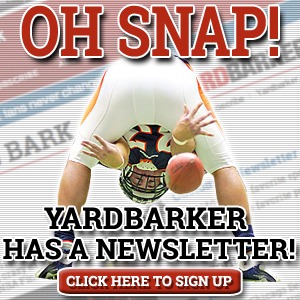 Latest Rumors
Best of Yardbarker

Today's Best Stuff

For Bloggers

Join the Yardbarker Network for more promotion, traffic, and money.

Company Info

Help

What is Yardbarker?

Yardbarker is the largest network of sports blogs and pro athlete blogs on the web. This site is the hub of the Yardbarker Network, where our editors and algorithms curate the best sports content from our network and beyond.