Seahawks keys to victory Three hundred… That is how many days it will have been Sunday since the Seattle Seahawks had one of the greatest comebacks in playoff history only to have Matt Ryan shred Marcus Trufant and Gus Bradley's prevent defense. In three plays, the Falcons' offense moved the ball 41 yards and kicked the game-winning field goal with only a few precious seconds remaining in the Seahawks' season. For a true competitor, that is the kind of thing you cannot forget. That is the type of thing that drives you for 300 days.  The Seahawks' roster has several young competitors, who circled this Sunday's game on their calendar the day the schedule came out. Seattle must find a way to use that fire that has been burning within them for the better part of a year without letting it consume them. They must allow the pain of that disappointing season-ending loss to wake them up in the first half.  Yet they must keep it from forcing them into pressing and making mistakes. This team has not strung four quarters of good football together this season, let alone championship-caliber football.   However, that doesn't mean that they aren't a serious championship contender.  This team is missing a lot of pieces and have yet to take their stride. AAAAALLLLLLLVVIIIIIIIIINNNNN!!!! Pete Carroll says that Alvin Bailey should start seeing more snaps. Alvin Bailey to be exact.  Pete Carroll said that he was going to get more snaps, which could be a very good thing for the offensive line. If Bailey can play at least as well at left tackle as Paul McQuistan has, which isn't asking a lot, then McQuistan can slide back inside to left guard allowing James Carpenter to slide back to the position where he helps the Seahawks the most — the bench. Just don't let Carpenter eat all of Marshawn Lynch's skittles while he's sitting around. This switch should help the team in pass protection, but it may also limit them in the running game a little bit.  Lemuel Jeanpierre will be back in the lineup at center on Sunday with Max Unger sidelined with a confusion. Marshawn Lynch The Seahawks need to get Marshawn Lynch involved early and often.  The Falcons have the 21st ranked rushing defense so Seattle should be able to gain yardage and slow down the pass rush by keeping the defense honest. The Seahawks will be the best rushing offense the Falcons have seen this season with the sixth-highest yards-per-game average in the NFL.  Last week Atlanta gave up 131 yards rushing to the Panthers, who are ranked seventh, just behind the Seahawks. Tight End Game Last week I said the Seahawks needed to keep tight end Timothy Wright from being a factor, which they did during the second half of the game.  This week the defense will face an even tougher task trying to slow down future Hall of Fame tight end Tony Gonzalez. Tony isn't having his best season, but he leads the team in receiving touchdowns and creates mismatches that can break a game open at any moment. In the last matchup, Gonzalez had six receptions for 51 yards against the Seahawks defense. Speaking of players who are past their prime… Throughout Steven Jackson's career, he has had a lot of accomplishments., but reaching the century-mark against the Seahawks is not one of them.  This time, he will be facing his old nemeses with a new team with the hopes of finally getting that monkey off his back.  With the way the Seahawks' rushing defense has been the last couple weeks, he just might accomplish it. Despite the Falcons' 2-6 record, they have a quarterback who can lead their team to victory.  I realize Matt Ryan has thrown seven interceptions in the last two games, but I think he will turn it around this week. As much as I hate to say it, I predict Seattle will drop their second game of the season when the Dirty Birds mop the floor with the struggling Seahawks.  Seahawks lose 35-17 in a game that is never close. I sure hope I'm wrong. Go Seahawks! CLICK HERE TO CHECK OUT THE SEAHAWKS PAGE IN OUR CLUBHOUSE SECTION!
Original Story:
http://www.nwsportsbeat.com/seahawks/...
MORE FROM YARDBARKER
NFL News

Delivered to your inbox

You'll also receive Yardbarker's daily Top 10, featuring the best sports stories from around the web. Customize your newsletter to get articles on your favorite sports and teams. And the best part? It's free!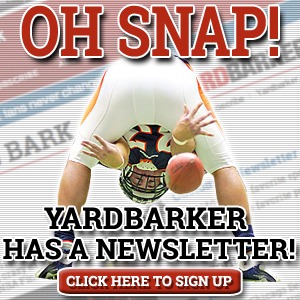 Latest Rumors
Best of Yardbarker

Today's Best Stuff

For Bloggers

Join the Yardbarker Network for more promotion, traffic, and money.

Company Info

Help

What is Yardbarker?

Yardbarker is the largest network of sports blogs and pro athlete blogs on the web. This site is the hub of the Yardbarker Network, where our editors and algorithms curate the best sports content from our network and beyond.