Found November 13, 2012 on The Sports Headquarters:
  Carolina needs so much help it's not even funny anymore. A touchdown in the first quarter, then one for good measure in the fourth. Ho hum. Nothing much to see here except for punt returns which should not have counted and Peyton Manning's inability to throw for more than one touchdown against the Carolina Panthers. I mean, yeah, sure, the Broncos beat the Panthers by 22 points. Manning accounted for six of those points. If it weren't for the defense, special teams, and Carolina's offense/defense/coaching staff/special teams/etc., the Broncos don't win this game. Fact of the matter is Peyton Manning continues to play mediocre football in 2012 while getting praised as an MVP by the mainstream media. If that's what you were hoping to read, you better find a different website because that's not what TSHQ.co is about. *shrugs* Peyton Manning has rebounded better from multiple neck surgeries than I could have ever imagined. I commend him for that. It's not easy to have a doctor tell you that your quality of life could be dreadful down the road and disregaurd his warnings in order to play the game you love. That's respectable. But let's stop with the hyperbole. When the Broncos have faced superior competition this season, they have looked mediocre. And a ton of that falls on the shoulders of Manning. Against Atlanta, Manning was solely to blame as he threw three first quarter interceptions. THREE. While the Broncos only lost that game by six, Manning only accounted for one touchdown. In the Broncos other two losses this season, the game was actually placed on Manning's shoulders as he threw 52 passes against the Texans and 44 against the New England Patriots. When it comes to defenses, the Patriots are the antithesis of the Texans. Yet, Manning accounted for zero turnovers against Houston while he fumbled against New England. Mainly because he pisses his pants any time he faces Bill Belichick, but that's neither here nor there. Almost 100 pass attempts against two top tier opponents. Peyton Manning circa 2004 would love that challenge. 2012? Just can't do it. Sure, he threw for five touchdowns in those two games. But so what? Manning threw two fourth quarter touchdowns against the Texans while his Broncos were down 31-11. Then against New England, Manning added his second and third touchdown passes in the late-third and mid-fourth quarters after being down 31-7. These are the kind of empty stats Manning has made a career out of: putting up big stats in would-be blow out losses. It didn't impress me then and it doesn't impress me now. The Broncos are a complete nonthreat until they beat someone worth a damn in 2012. The Broncos get the luxury of traveling to Baltimore in Week 15. That's legitimately their only test before the playoffs. They lose that game and it's time to call a spade a spade. Manning is a serviceable quarterback. But he's still not winning you any big games.
Original Story:
http://feedproxy.google.com/~r/TheSpo...
THE BACKYARD
BEST OF MAXIM
RELATED ARTICLES
Below is NFL Film's 'SoundFx' footage from Denver Broncos quarterback Peyton Manning's performance against the Carolina Panthers last weekend: Manning is on pace to break several of John Elway's franchise records with 4,808 passing yards and 36 scores through the air.  The Broncos, 6-3, currently lead the AFC West and will take on the 4-5 San Diego Chargers this weekend...
(Eds: Updates with details. With AP Photos.) By EDDIE PELLS AP National Writer It's one thing to block for a quarterback. It's quite another when that quarterback is Peyton Manning, the NFL version of a national treasure. As soon as the Broncos signed Manning in the offseason, the stakes for the Denver offensive linemen rose considerably. For sure, nobody wants to be the...
Ryan Grigson came to Indianapolis with a plan to rebuild the Colts. A little more than eight months after cutting Peyton Manning, Indy (6-3) is in an improbable battle to make the playoffs. One of the reasons has been Grigson's penchant for finding talent. The first-year general manager has made all the right moves: drafting Andrew Luck, surrounding him with young teammates...
Per a report for the New York Daily News Gary Myers, New York Giants head coach Tom Coughlin was so frustrated with his 2-time Super Bowl MVP quarterback Eli Manning that he used "terrible" and "foolish" to describe instances where Manning should have protected the ball better versus trying to make a play. Coughlin typically generalizes his criticism publicly, rarely singling...
Both Peyton Manning and Adrian Peterson are having spectacular NFL seasons in 2012, as both continue to defy the odds and the detractors by proving to modern day medical mysteries. After playing all 13 NFL seasons with the Indianapolis Colts, Manning and his former team parted ways after the veteran signal caller missed all of 2011 with neck and back problem. After multiple surgeries...
The NFL Pro-Bowl is still scheduled to take place after this season the week before the Super Bowl, unless Roger Goodell has anything to do with cancelling the All-Star game that features absolutely no defense and points galore. One special thing about selecting Pro-Bowl players is that it is not strictly up to the fans, so these players are not just the most popular. They are also...
Adrian Peterson has stiff competition for the Comeback Player of the Year award from Peyton Manning. Both are making strong cases for the award that will likely be decided in the final six games of the season.
On Sunday, Denver Broncos quarterback Peyton Manning threw his 420th touchdown pass, moving him into second place behind only Dan Marino for the most all-time.  Earlier in the week on Election Day, Colorado citizens voted in a landmark bill that would allow for the full legalization and sale of marijuana. Coincidence? I think not...
Because he might be the best quarterback that the Patriots will face this year. Or maybe second best, behind Peyton Manning.The Patriots have really had a run of not so great quarterbacks. Really, other than Peyton I guess Joe Flacco's the best one?They've faced Jake Locker, Matt Hasselbeck, Kevin Kolb, Joe Flacco, Ryan Fitzpatrick, Peyton Manning, Russell Wilson, Mark Sanchez...
The word "elite" get thrown around in football a lot, but no one really knows what it refers to. Does it mean that player is currently Top 5 among their position? Does it mean they're Top 10 at their position all time? Or does it mean that they're a future hall of famer? To Phil Simms, it may be an even higher honor. Simms created some controversy on Monday when he said that...
That was a helluva efficient day from Peyton Manning, the quarterback of the Detroit Lions. No INTs? This guy is on a roll. Anyway, the Broncos are 6-3 and should go 6-1 to finish the season. Yet to come on the schedule: Chiefs (twice) and Browns. More NFL tidbits: How many weeks until Andy Reid is fired? No way he gets through the end of the season. The Bears are the biggest frauds...
In my early years of being an NFL fan, one of the things that was a constant part of life was hating the Indianapolis Colts. The only reason I did so was because I was a New England Patriots fan and they were the biggest obstacle to my team being the best. Having started to follow the NFL (& Patriots) in the 2000 season and really beginning to pay attention in 2002; that was...
NFL News

Delivered to your inbox

You'll also receive Yardbarker's daily Top 10, featuring the best sports stories from around the web. Customize your newsletter to get articles on your favorite sports and teams. And the best part? It's free!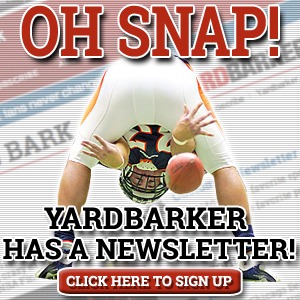 Latest Rumors
Best of Yardbarker

Today's Best Stuff

For Bloggers

Join the Yardbarker Network for more promotion, traffic, and money.

Company Info

Help

What is Yardbarker?

Yardbarker is the largest network of sports blogs and pro athlete blogs on the web. This site is the hub of the Yardbarker Network, where our editors and algorithms curate the best sports content from our network and beyond.