Found November 22, 2012 on Cippin on Sports:
PLAYERS:
Aaron Rodgers
,
Robert Griffin
,
Tom Brady
,
Drew Brees
,
Matt Ryan
,
Peyton Manning
,
Tony Romo
,
Eli Manning
,
Charles Woodson
,
Matt Schaub
,
Carson Palmer
,
Philip Rivers
,
Chad Henne
,
Jay Cutler
,
Robert Griffin III
TEAMS:
Green Bay Packers
,
New England Patriots
,
New Orleans Saints
,
Atlanta Falcons
,
Dallas Cowboys
,
New York Giants
,
Houston Texans
,
Oakland Raiders
,
San Diego Chargers
,
Jacksonville Jaguars
,
Chicago Bears
,
Washington Redskins
,
Baylor Bears
Our Week 12 Fantasy Football Rankings are here from our resident fantasy football guru. We're ranking the quarterbacks here, but check out the other positions as well. Read below to check out where guys like Colin Kaepernick are ranked in Week 12. 1. Aaron Rodgers vs. NYG: Can't imagine Rodgers won't be playing for his pride after last season's devastating loss to New York in the playoffs last season. 2. Robert Griffin III vs. Dal: Pretty hard to not love a quarterback who has run for over 70 yards in half of his games and has racked up a hefty 6 TDs on the ground this season. 3. Tom Brady vs. NYJ 4. Drew Brees vs. SF: Killed them in the playoffs last year and when he's on it doesn't matter who he's up against. 5. Matt Ryan vs. TB: I won't downgrade Ryan even a smidge for the five interceptions he threw last week (3 of which weren't his fault at all), since he has made a name for himself over his NFL career as someone who protects the ball extremely well. 6. Peyton Manning vs. KC: Peyton Manning very well could put up all the stats you need within the first half of play, the Chiefs are that bad. 7. Tony Romo vs. Was 8. Andrew Luck vs. Buf: Andrew Luck is putting together one of the more memorable rookie campaigns of recent memory and should continue his dominance against a middling Bills defense. 9. Matthew Stafford vs. Hou 10. Cam Newton vs. Phi: The Eagles have little to nothing to play for at this point, which is always a good thing for opposing quarterbacks. 11. Josh Freeman vs. Atl: Tony Romo lit up the Falcons a week ago so it's not hard to imagine Freeman doing the same. 12. Eli Manning vs. GB: Playing at a very non-elite level recently, but a Green Bay unit without studs Charles Woodson and Clay Matthews could be just what the doctor ordered. 13. Andy Dalton vs. Oak 14. Matt Schaub vs. Det: Hopefully Schaub builds off last week's record setting performance against Detroit's very shaky defense. 15. Carson Palmer vs. Cin: Hard to argue against the amount Carson Palmer throws the ball. 16. Colin Kaepernick vs. NO: The highly versatile Nevada product really stuck it to the Bears this past Monday, so there is no telling what he'll be capable of against New Orleans' miserable bunch. 17. Philip Rivers vs. Bal 18. Chad Henne vs. Ten: I was as surprised as any last week when Henne almost led the Jaguars to a victory over Houston (a 15-point favorite), but I have to admit he looked damn good. 19. Joe Flacco vs. SD 20. Jay Cutler vs. Min
Original Story:
http://feedproxy.google.com/~r/Cippin...
THE BACKYARD
BEST OF MAXIM
RELATED ARTICLES
The Dallas Cowboys' season is as done as everyone's Thanksgiving turkey. After losing an important divisional tilt at home to the Washington Redskins, 38-31, on Thanksgiving, the Cowboys are left with the same issues that they are always left with: terrible play-calling, terrible game management, bad offensive production, porous secondary production. Robert Griffin III, the rookie...
ASHBURN, VA.-- Dallas Cowboys quarterback Tony Romo is as useful as any calendar. He makes it obvious when its November. It started for us two weeks back, Romo told reporters at Redskins Park on a conference call Tuesday. Weve been putting our head down and grinding, going forward and trying put together win after win. Romo enters the Thanksgiving Day matchup against the Washington...
As it stands right now, there are eight teams in the NFC with a realistic chance of making the playoffs, with six weeks left in the season. The problem is; there will be a maximum of four spots available for those eight teams.Just two weeks ago, I would have said the New York Giants were a lock to win the NFC East, but with consecutive losses to the Pittsburgh Steelers and Cincinnati...
As it stands right now, there are eight teams in the NFC with a realistic chance of making the playoffs, with six weeks left in the season. The problem is; there will be a maximum of four spots available for those eight teams.Just two weeks ago, I would have said the New York Giants were a lock to win the NFC East, but with consecutive losses to the Pittsburgh Steelers and Cincinnati...
Dallas Cowboys defensive coordinator Rob Ryan faces a tough task Thursday in trying to stop Washington Redskins quarterback Robert Griffin III. "He is a special player," said Ryan via The Dallas Morning News. "That's why they traded half a team to get him. Obviously, he's a tremendous athlete and they say he is a hell of a kid. I don't like him, but I know he is very...
ARLINGTON, Texas When the Cowboys led the Redskins, 3-0, in the first quarter Thursday, the skies were blue through the open roof at Cowboys Stadium. Then dark clouds rolled in and a light rain began. Even if you're not into omens, it was pretty spooky that the darkness coincided with the Redskins taking the control of the game. Washington scored 28 points in the second quarter...
One of the great traditions we have here at Idiots on Sports is wishing our readers a Happy Thanksgiving the only way we know how - by celebrating the great Les Nessman Turkey Drop episode from WKRP in Cincinnati. So dear friends, may you eat too much, drink too much and fall into a turkey coma while Tony Romo throws wildly into coverage in the fourth quarter of a close game. It...
(Eds: Updates with quotes, details. With AP Photos.) By STEPHEN HAWKINS AP Sports Writer Tony Romo will spend much of his extended weekend trying to figure out how the Dallas Cowboys can get off to better starts. Jason Witten knows they have to do that and fast - if it's not already too late. Dallas (5-6) has fallen behind by 10 points or more before halftime in each of its...
Hey, let's play Predictions! Last week's winner is Donk Donkerson, who accurately predicted the Redskins-Eagles blowout. A reminder on how it works, for the uninitiated: Our Redskins-loving "staff" makes predictions in the post, readers make predictions in the comments, and the commenter who comes closest to predicting the final score gets to make a guest post. Hip-hip! Chris...
When is the Thanksgiving Day game between the Washington Redskins and the Dallas Cowboys? The game is scheduled for 4:15 PM EST and will be played in Cowboys Stadium located in Arlington, TX. You may be wondering what is the line for the game? The latest lines have the  Cowboys favored by three points with a over/under of 47. Team Statistics Passing Yards Rushing Yards...
Last week I walked away unscathed after going 2-0 along with the Steelers push at +3 so that goes as a non-pick basically, but I'll take 10-1-1 on the year, and this week I'm making six picks, three for Thursday and three for Sunday, because it's Thanksgiving folks! Home Team in CAPS DALLAS COWBOYS -3 vs. Washington Redskins Tony Romo has now gone three straight games without...
NFL News

Delivered to your inbox

You'll also receive Yardbarker's daily Top 10, featuring the best sports stories from around the web. Customize your newsletter to get articles on your favorite sports and teams. And the best part? It's free!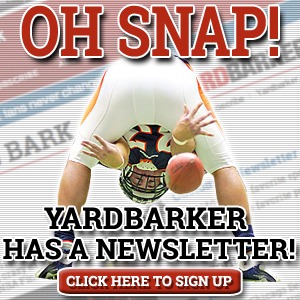 Latest Rumors
Best of Yardbarker

Today's Best Stuff

For Bloggers

Join the Yardbarker Network for more promotion, traffic, and money.

Company Info

Help

What is Yardbarker?

Yardbarker is the largest network of sports blogs and pro athlete blogs on the web. This site is the hub of the Yardbarker Network, where our editors and algorithms curate the best sports content from our network and beyond.