Found December 18, 2012 on BroncoTalk:
PLAYERS:
Knowshon Moreno
,
Ed Reed
,
Chris Harris
,
Kate Winslet
,
Joe Flacco
,
Champ Bailey
,
Von Miller
,
Peyton Manning
,
Wesley Woodyard
,
Jack Del Rio
TEAMS:
Denver Broncos
,
Baltimore Ravens
Broncos 34, Ravens 17 – You know what a victory means! Time for BT's Week 15 Game Balls. Knowshon Moreno: During this game, I started getting this odd feeling inside of my head. No longer was I expecting and waiting for Moreno to fumble, or have 5 runs in a row produce zero net yards. No, instead, I started wanting to see him run. I wanted to see what was next. I stopped saying "please don't fumble, please don't fumble" when he got hit. Yes BroncoTalk faithful, I started trusting Knowshon and started thinking "we NEED him". Add on top of that a RIDICULOUS hurdle of a Hall of Fame safety in Ed Reed, combined with 118 yards on 22 carries (5.4ypc) and a TD, and stellar pass blocking, and it's easy to see why Knowshon Moreno receives the first gameball this week. Chris Harris: I am still shaking my head at how all 32 teams passed on this kid for 7 rounds. Yes, I'm a KU guy, but man, Chris Harris isn't just an undrafted gem, he's looking like that big Hope Diamond hanging down the middle of Kate Winslet's chest. That pick 6 at the end of the half totally changed the landscape of the game. Not only was it a 14 point swing, but it completely crushed the will of the Ravens. You could see it in their eyes and in how they came out to play in the 3rd quarter. They were finished, and they had lost confidence in Joe Flacco. What is more crazy than that is that Chris Harris is playing so good, that teams are actually throwing at Champ Bailey!!! How insane is that? I have a funny feeling that Harris is going to get a shiny new contract at one point in the offseason. He better get one anyways, because the longer we wait, the more he's going to cost us. Chris Harris, you my man, get a gameball. Jack Del Rio:  I'm almost at a loss for words when trying to write about the job JDR has done for this team. He took a train wreck of a coordinator position, and emerged from the rubble like a pheonix. He transformed a bottom dwelling defense into the #3 defense in the entire NFL. Unlike in 2005, this defense isn't a bunch of smoke and mirrors. When Mike Shanahan was asked if his Redskins blitz pressure plan was the best plan for the Broncos to beat the Ravens, Shanahan said that the Broncos didn't have to blitz him, because we can generate that type of pressure in our base defense. How prophetic does he look now? I have also noticed an upswing trend of people wanting to watch the defense on the field. While everyone loves seeing Manning on the field, when the defense trots on, it is no longer an opportunity to grab more beer or head to the bathroom. The defense is what makes our team so dangerous and good. Sure, we can hang points on anybody, but when our defense dominates everybody game after game after game, and can score with decent frequency, it is no wonder why we are 1 of 2 AFC teams predicted to make the super bowl. Honorable Mentions: Von Miller will always have a spot on the gameballs list. Without him, our entire defense would start falling apart. Peyton Manning was |thisclose| to a few more long scores. Our entire defense once again played lights out, and welcome back Wesley Woodyard, you are a difference maker on this team.  
Original Story:
http://broncotalk.net/2012/12/43453/b...
THE BACKYARD
BEST OF MAXIM
RELATED ARTICLES
On Sunday, Denver Broncos running back Knowshon Moreno carried the ball 22 times against Baltimore, gaining 118 yards on the ground against the Ravens defense. In addition to his touchdown run, Moreno's 20-yard run seen below was his most impressive carry of the afternoon The Broncos went on to defeat the Ravens, 34-17.  Moreno has rushed for 100 plus yards in back-to-back games...
After turning heads—and jumping over them—on Sunday, Denver Broncos running back Knowshon Moreno has been nominated for the Week 15 FedEx Ground Player of the Week award on NFL.com. Against the Baltimore Ravens, Moreno rushed 22 times for 118 yards and a score.  His competition in the voting this week is Houston's Arian Foster and Minnesota's Adrian Peterson—he's in...
Knowshon Moreno hurdles Ed Reed in Baltimore in a 34-17 Broncos win. (Ben Hays/Denver Broncos) THIS is the statement we needed to make this season! It hardly matters that we allowed a ridiculous garbage time TD (I mean, 4 missed tackles, are you kidding me?), we still put this game away before halftime! Heck, we even had a Brock Osweiler sighting, but more importantly is that the...
Knowshon Moreno sees your voracious defense, Baltimore, and he's going to — well, he's going to hurdle it. Moreno showed no fear in the face of safety Ed Reed on Sunday as the Broncos staked an early lead. When the legendary Baltimore defender came into his path as Moreno was taking off down the field, Moreno used his legs to jump over Reed and just kept on going. Check it...
Denver Broncos running back Knowshon Moreno displayed his athleticism by hurdling right over Baltimore Ravens safety (and future NFL Hall of Famer) Ed Reed during Sunday's NFL game at M&T Bank Stadium. As of this writing, Moreno has 13 rushes for 74 yards, including that impressive run. H/T Big Lead. Visit us at holdoutsports.com and follow us on Twitter @HoldoutSports.
Peyton Manning enjoyed his 9th straight victory over the Baltimore Ravens, his first in a Broncos uniform, and winning their 11th victory of the season 34-17. He wasn't perfect, going 14/28 and just throwing for 204 yards with 1 TD, but the team as whole was able to manage whatever Baltimore threw at them. RB Knowshon Moreno came up big, rushing for 118 on 22 carries and...
Denver Broncos players watched as the San Francisco 49ers beat the New England Patriots Sunday night moving the Broncos into AFC's No. 2 seed for the playoffs.  But the Players know they still need to win two more games before anything is set.   The Houston Texans (12-2) presently hold the AFC's No. 1 playoff spot while the Broncos (11-3) hold the No. 2 spot giving both...
((HT: NFL on CBS/youtube)) Denver Broncos running back Knowshon Moreno, now seemingly healthy, gets to do things a lot of NFL people thought he would be doing all along... Like this to Ed Reed... For those of us based near the HQ this is old news... We've seen it before... and so did Central Michigan... FOSG Bob Rathbun on the call... ((HT: FSN/youtube))
Broncos RB Knowshon Moreno hurdled Baltimore Raven Ed Reed. **Follow us on Twitter. Subscribe, or Return to BobsBlitz.com.Follow us on Twitter. Subscribe or Return to Bob's Blitz. Full story at Bob's Blitz ~ http://www.bobsblitz.com
NFL News

Delivered to your inbox

You'll also receive Yardbarker's daily Top 10, featuring the best sports stories from around the web. Customize your newsletter to get articles on your favorite sports and teams. And the best part? It's free!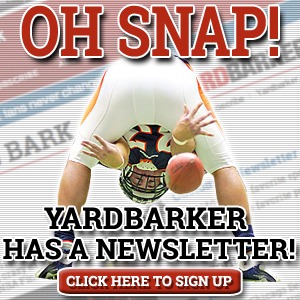 Latest Rumors
Best of Yardbarker

Today's Best Stuff

For Bloggers

Join the Yardbarker Network for more promotion, traffic, and money.

Company Info

Help

What is Yardbarker?

Yardbarker is the largest network of sports blogs and pro athlete blogs on the web. This site is the hub of the Yardbarker Network, where our editors and algorithms curate the best sports content from our network and beyond.