Found September 14, 2012 on 60 Max Power O:
I've written and re-written the intro for this week's flex rankings at least twenty times now, and the best I can come up with is the very simple but truthful: week one did not disappoint.
Unless you were a Wes Welker owner.
Or Chris Johnson..
But, for the most part the NFL kickoff week provided us with plenty of breakout performances, confirmation of pre-draft fantasy speculation, and exciting finishes. Some of these performances were indicative of serious player concerns while others were nothing more than a blip on the radar, one of those "Remember when…" weeks, where you'll soon forget the painful performance as the offending player carries your team to victory and laurels and so on and so forth.
Which is which? Let's have a look at the rankings…
MY MISSION STATEMENT
What frustrates me above all else are so-called fantasy advice columns that fit into one of two categories:
1) They refuse to stray from conventional wisdom, often until it's weeks too late to save or help your season or
2) They only offer rankings commentary on the "big-name" guys that everyone knows to play anyway. Gee, Adrian Peterson will have a bounce back week and I shouldn't bench him for D. Woodhead? Thanks!
Each week I will examine what I consider to be the most pressing issues facing fantasy owners. I will try to focus only on issues that you may actually be concerned with, namely: marginal flex players, tough matchup decisions, and above all else, how to assimilate new information from the previous week. This is a column of the people, by the people, for the people. And as long as I'm offering oaths, I promise to always tackle the difficult questions as I see them, not be chained by conventional wisdom, and not allow traditional or draft-position bias to affect my weekly rankings.
Week 2 Top-75 Flex Plays
1. Arian Foster
2. Ray Rice
4. LeSean McCoy
5. Adrian Peterson
6. Matt Forte
8. CJ SPiller
9. Jimmy Graham
10. Rob Gronkowski
11. Calvin Johnson
12. Jamaal Charles
13. Julio Jones
14. Brandon Marshall
15. Alfred Morris
The Big Boys
I'm moving McFadden ahead of McCoy for purely arbitrary reasons. Obviously, if you have them both you're playing them both. I think the RB tiers at the moment are: 1) Foster/Rice 2) McFadden, McCoy, Peterson, Forte, Murray 3) Spiller, Charles 4) everyone else. I was really low on Marshawn Lynch coming into the season and he hasn't done anything yet to show me otherwise. Spiller averaged over 100 total yards/game and scored in 5 of 6 games to end 2011. I'm not too worried about Calvin Johnson's foot, but it does drop him out of the top-10. Murray looked like a beast last Wednesday and will find the endzone. I'm buying Alfred Morris for this week- love the matchup, and he should still get the majority of the touches. Ride Peterson while you can, and good job drafting him if you did.
16. Doug Martin
17. Frank Gore
18. Andre Johnson
19. Larry Fitzgerald
20. Marshawn Lynch
21. Percy Harvin
22. Stevan Ridley
23. Ahmad Bradshaw
24. Steven Jackson
25. Reggie Bush
26. AJ Green
27. Steve Smith
28. Chris Johnson
29. Demaryius Thomas
My Zone
This is where you "earn your salt", so to speak. This year, 16-30 looks to me to be about as subjective as possible. Many of these guys could put up another dud week. I'm looking at you, Chris Johnson. If CJ0K doesn't produce this week, I'm seriously concerned. Last week, it was pretty clear the Chargers game plan was to give Palmer/McFadden the underneath stuff literally all game long and contain them. If Johnson gets the same number and kind of looks and does nothing with them, I'm worried. Really worried. With Daniel Thomas Banged up, I like Reggie Bush a lot this week. Fitz gets a downgrade with Skelton out, and Harvin has a dream matchup. I think he'll do well for you in week two. I really like Demaryius Thomas, and this game has shootout potential if Denver's defense wasn't so good. Even so, playing indoors against a fast Atlanta O? Could be fun.
31. Brandon Lloyd
32. Roddy White
33. Jordy Nelson
34. Wes Welker
35. Hakeem Nicks
36. Victor Cruz
37. Dez Bryant
38. Trent Richardson
39. Darren Sproles
40. Marques Colston
41. Mike Wallace
42. Reggie Wayne
43. Pierre Garcon
44. Steve Johnson
45. Miles Austin
Patriots and Cowboys and Giants, Oh My!
…and Saints. Garcon hasn't practiced this week, but I am assuming he will play. Both Giants receivers should bounce back this week and I expect their offensive approach as a whole to be more aggressive. Colston was targeted 11 times, he'll be fine. Reggie Wayne is the apple of Andrew Luck's eye and looks much more like the Reggie Wayne of a few years ago than he does 2011's version. Steve Johnson should benefit somewhat from David Nelson going down for the season, at least in number of targets. While I'm not too worried about Wes Welker, I'd still like to see him have one nice week before moving him back into the top-30.
46. Michael Turner
47. Willis McGahee
48. Antonio Brown
49. Donald Brown
50. Johnathan Dwyer
51. Shonn Greene
52. Vincent Jackson
54. Eric Decker
55. Antonio Gates
56. Jeremy Maclin
57. Torrey Smith
58. Dwayne Bowe
59. Randall Cobb
60. Desean Jackson
I Believe…
…That Johnathan Dwyer and Donald Brown will score the most points of any running back on their respective teams- for this week and the rest of the season. …That Jermichael Finley will continue his dominance of the Chicago Bears, who still haven't significantly upgraded their safety position. …That Antonio Gates' ribs will be fine. …That Randall Cobb will see a lot of short, underneath stuff that the Bears love to give up. …That Shonn Greene will be serviceable for at least one more week. …in the new-look Ravens offense. …That Michael Turner will soon slip out of my top-50. …That Dwayne Bowe will soon creep into my top-50. …That this Eagles season might be pretty ugly.
61. Johnathan Stewart
62. Malcom Floyd
63. Vernon Davis
64. Vincent Jackson
65. Lance Moore
66. Aaron Hernandez
67. Kevin Smith
68. Michael Crabtree
69. Peyton Hillis
70. Nate Washington
72. Anquan Boldin
73. Alshon Jeffery
74. Kevin Ogletree
75. James Jones
Upside, for the win!
Towards the end of my list I always tend to look for high-upside plays. If I'm using a guy at flex or WR-3 in deeper leagues, I don't want a consistent 4-catch 50-yard performance: I want the chance for this guy to win me my week. Welcome to the spotlight, then, Alshon Jeffery, James Jones, Kevin Ogletree, and yes, to a lesser extent, Nate Washington. Tennessee is full of question marks, but Washington has been fairly consistent and at least will play (which we aren't sure on for Kenny Britt). Obviously, with Greg Jennings unranked, I don't think he plays, which bodes well for James Jones in what could be a Thursday night shootout. Again, I buy the Ravens. I like Anquan and Torrey a lot. You know who else looked surprisingly good last week? Malcom Floyd. That's who.
Best of luck in week 2! I went 3-0 in week one, including a 157-153 shootout in our own Knuckleheads week against our very own Kurt Turner. As always you can follow me: @petethegreekff on twitter.
Be sure to check out other great articles at Fantasy Knuckleheads.
Original Story:
http://www.60maxpowero.com/patriots/c...
THE BACKYARD
BEST OF MAXIM
RELATED ARTICLES
Drew Brees thinks New Orleans' usually prolific offense will return to normal soon, even without suspended coach Sean Payton. The Saints quarterback remains confident that he and the rest of the unit are going to put up the type of numbers they have for most of the past six years - even if Payton's season-long bounty penalty keeps him from helping to correct mistakes made...
New Orleans Saints linebacker Jonathan Vilma spent Monday afternoon having a ''very frank, very truthful'' meeting with NFL Commissioner Roger Goodell about his suspension that was temporarily lifted. Vilma was one of four players suspended by Goodell in the bounty scandal. But an appeals panel earlier this month said Goodell must clarify his rulings to ensure no...
During the course of the Saints defeat to the Washington Redskins last Sunday, it was obvious that this team needs its head coach Sean Payton. When New Orleans was forced to make the type of situational decisions that change the outcome of football games, the team's direction missed Payton's signature flair. What makes him so dangerous is that he is a master playcaller that knows...
Saints linebacker Jonathan Vilma will meet with commissioner Roger Goodell separate from the other three players who were suspended in the bounty case. Vilma is scheduled to meet with Goodell on Monday while Saints defensive end Will Smith, Browns linebacker Scott Fujita and free agent defensive lineman Anthony Hargrove remain on Goodell's schedule for a Tuesday meeting. ...
St Johnstone manager Steve Lomas had to cancel training on Thursday morning after seven players were hit with a virus. The Saints, due to play Celtic at McDiarmid Park in the Scottish Premier League on Saturday, were due to train at Stirling University but after fielding calls at the campus the Northern Irishman called off the session. He said: "We've had to cancel training...
If and when Jonathan Vilma meets with Roger Goodell, the Saints linebacker should ask the commissioner a simple question: What is more dangerous, a symbolic, thousand-dollar bounty system or the Baltimore Ravens opening the season playing four NFL games in 17 days? The elimination of bounties will not stop one NFL defensive player from curb-stomping an opposing player if given...
New Orleans Saints @ Carolina PanthersNew Orleans:  Well, the season without offensive guru Sean Payton didn't start out as planned, as the Saints ended up getting run over by the RGIII hype train in their own backyard.  Drew Brees started out slow, but ended up with his fairly standard good numbers as the Saints staged a furious comeback that fell just short.Now, Brees and the...
The four players who were suspended for their alleged role in the New Orleans Saints bounty program are scheduled to meet with NFL commissioner Roger Goodell on Tuesday, CBSSports.com reported on Wednesday. The four players - Jonathan Vilma, Anthony Hargrove, Will Smith and Scott Fujita - had their suspensions overturned on Friday by an appeals panel, allowing them to play for...
Well, Saints fans, it's finally time for the real games of the regular season to start the 2012 football year off right. The New Orleans Saints will host Robert Griffin III and the Washington Redskins this Sunday, September 9 in the Mercedes-Benz Superdome. More importantly, the Saints and the entire Who Dat Nation will officially welcome RG3 into the NFL! Below is the current...
Anytime you give up 40 points to anyone, it's safe to assume the defensive grades won't be good. The major concerns after this week are a non existent pass rush and poor coverage. The really bothersome thing is that while I'm convinced the offensive woes can be cleaned up pretty quickly by eliminating penalties, I'm not sure the defensive problems have a quick...
Saints News

Delivered to your inbox

You'll also receive Yardbarker's daily Top 10, featuring the best sports stories from around the web. Customize your newsletter to get articles on your favorite sports and teams. And the best part? It's free!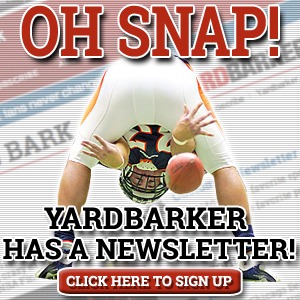 Latest Rumors
The Backyard

Today's Best Stuff

For Bloggers

Join the Yardbarker Network for more promotion, traffic, and money.

Company Info

Help

What is Yardbarker?

Yardbarker is the largest network of sports blogs and pro athlete blogs on the web. This site is the hub of the Yardbarker Network, where our editors and algorithms curate the best sports content from our network and beyond.