Found September 26, 2012 on NorthWest Sports Beat:
PLAYERS:
Pete Carroll
,
Doug Baldwin
,
Russell Wilson
,
Matt Flynn
,
Bruce Irvin
,
Roger Goodell
,
Doug Free
,
Aaron Rodgers
,
Chris Clemons
,
Brandon Mebane
TEAMS:
Seattle Seahawks
,
Arizona Cardinals
,
Dallas Cowboys
,
Green Bay Packers
Proving the doubters wrong, one sack at a time When Pete Carroll took over as the head coach of the Seattle Seahawks the mantra painted on the wall was "Always Compete."  With that competing philosophy in place, it has opened the doors for the young guys to leap up the depth charts during the offseason. Last season we witnessed the arrival of undrafted free agent Doug Baldwin, who led the Seahawks in receiving.  It's that type of underdog story that the Seahawks have relished — if you compete, you'll play, and a certain third round pick in the 2012 draft has embodied all that is, Pete Carroll. Russell Wilson has been the epitome of what Carroll wants out of this team on a daily basis.  Wilson outworked Matt Flynn throughout the preseason and it showed in his on-field play, which earned him the starting spot.
While Wilson has been a pleasant surprise this season, leading the Seahawks to a 2-1 record, the guy that is seemingly being overlooked for his spectacular play is controversial first round pick, Bruce Irvin.
In a new series that we'll feature here at NWSB, I'll examine the Seahawks' most outstanding rookie on a week-to-week basis.   Hopefully its not the same guy each week… With the 15th pick in the first round Seattle selected…. (photo seahawks.com) Arriving on the Scene With the 15th pick in the first round, Roger Goodell announced that the Seahawks had selected: Bruce Irvin, Defensive End, West Virginia. Mel Kiper, ESPN's so-called draft expert, called the pick "mind boggling" and ridiculed the team's selection.  Kiper insisted that the Seahawks, for the second year in a row, took a play way too high. After the draft however, several teams just behind the Seahawks admitted that they really liked Irvin and considered taking the uber-talented pass rusher. Just hours after becoming the newest Seattle Seahawk, Irvin posted this on Twitter:
"@BIrvin_WVU11: I will work my butt off and the rest will take care itself #12thman I wont let you down I promise!"
It wasn't until the final game of the preseason against the Raiders that Irvin recorded his first sack but against the Arizona Cardinals he made his presence felt by creating constant pressure off the edges. Then the Dallas Cowboys came to town and Irvin began destroying right tackle Doug Free.  Constantly in Romo's face, Irvin showed how much hard work he has put in and got his first sack in his young and promising career. Coming out Party In arguably the wildest and most controversial Monday Night Football games in NFL history, the Green Bay Packers fell victim to the Seattle Seahawks on a last second hail mary.  Whether it was a touchdown or an interception, or whatever it was, it doesn't matter, the Seahawks won and the Packers lost. The guy who started first obliterated Mr. Discount Double Check was the Seahawks' rookie defensive end, Bruce Irvin. What the national media has yet to acknowledge, however, is how dominating the Seahawks defense played especially in the first half. Not only did the defense hold a potent Packers offense off the scoreboard in the first half, they sacked Aaron Rodgers an impressive eight times in the first half — the second most sacks in a half in NFL history.  Chris Clemons, the Seahawks' sacks leader the past two seasons with 22, had four sacks and Brandon Mebane added two of his own. But, the guy who started first obliterated Mr. Discount Double Check was the Seahawks' rookie defensive end, Bruce Irvin.  He quickly followed suit with another sack in the second quarter to bring his season total to 2.5 sacks which leads all rookies. The Future Looks Promising His speed is unquestionable but there is no doubt that his mechanics are still raw. The fact that he's taken down two of the more mobile quarterbacks in the league against two of the strongest and biggest offensive lines he'll see all season should speak volumes about the future that Irvin has as a pass rusher in this league. When he was drafted, he was compared to Von Miller and Javon Kearse if he was able to put it all together.  It's early — very early, but so far, so good.
Bruce Irvin is becoming the defensive end that no national media pundit wanted to give him the benefit of the doubt to be.  He was a drug dealing, gun yielding, high school dropout that was going to stumble at some point down the line and lose everything.
But as of right now, the only one stumbling is the tackle he's lined up against on his way to punishing opposing quarterbacks, which is "mind boggling," right? CLICK HERE CHECK OUT THE SEAHAWKS BLOG IN OUR CLUBHOUSE AT NWSB! © Britton Ransford for North West Sports Beat, 2012. | Permalink | No comment | Follow NWSB on Twitter or join US on Facebook for real-time updates OR... | Share This on Twitter | Share NWSportsBeat.com on Facebook Post tags: Aaron Rodgers, Arizona Cardinals, Bruce Irvin, Dallas Cowboys, Green Bay Packers, NFL, Pete Carroll, Seahawks, seattle, Seattle Seahawks, Seattle Seahawks Blog
Original Story:
http://www.nwsportsbeat.com/seahawks/...
THE BACKYARD
BEST OF MAXIM
RELATED ARTICLES
As the saying goes, those who fail to learn from history are doomed to repeat it. Against the Green Bay Packers on Monday night, the Seattle Seahawks must have felt like stars of the Twilight Zone. The Master of Suspense, Sir Alfred Hitchcock himself could not have crafted a suspenseful thriller such as the one that saw Aaron Rodgers and the Pack fall to rookie QB Russell Wilson...
Seahawks head coach Pete Carroll commented on his team's controversial win Monday night. In Carroll's book a win is a win, even if everyone else is the country is screaming otherwise. You have to love that he answers with a straight face, and he actually may believe the stuff he is spinning. Anyways, Carroll has the win against the Packers and he's not going to let anybody...
Pete Carroll says he doesn't care about sentiments that the Seattle Seahawks' win over the Green Bay Packers is a tainted victory because of a disputed call on the final play of the game. During his weekly radio appearance Tuesday morning on KIRO-AM in Seattle, Carroll said he understands why there is so much outrage about the call that awarded Golden Tate a 24-yard touchdown...
The Seattle Seahawks won Monday night's game against the Packers due to the fans. Suck on that Wisconsin. Why not click the Google +1 & the retweet buttons? **Follow us on Twitter.... Full story at Bob's Blitz ~ http://www.bobsblitz.com
Coach Pete Carroll expresses his gratitude to the 12th Man for their support during the Seahawks' 14-12 win on Monday Night Football on Sept. 24. "The 12th man was frickin awesome!"
Someone Please Just Kill Him 10) It looks like the Seahawks are going to win this Bruce Irvin bet 9) Shockingly, a running game with Cedric Benson has failed to be electric 8) If you know someone who went all-in for Aaron Rodgers or Greg Jennings in his fantasy draft, please make sure the gas line to their oven isn't connected 7) In case you haven't been informed of this...
What have we NFL fans learned over the past 72 hours? We've learned that once Golden Tate touches something, he owns it. (Word to Sean Lee.) We've learned that T.J. Lang ain't never scared. We've learned, again, that Pete Carroll is indeed Mr. Brightside. We've learned that corporations are in fact people, and the NFL is a cold-blooded pimp. [...]
Golden Tate, Russell Wilson, Pete Carroll and the Seattle Seahawks stole one from the Green Bay Packers. There is no disputing that, anyway you try to cut it. Seattle fans are not ignorant. They understand their team won when it shouldn't have. But they don't care. A win is a win. And for a city that has been on the receiving end of controversy so many times in the past decade it...
Green Bay Packers offensive lineman Josh Sitton is more upset with Seattle Seahawks head coach Pete Carroll and wide receiver Golden Tate, than the replacement officials. Sitton appeared on the Jim Rome Show, via Deadspin. "Calling it a good call, and Golden Tate saying he caught it and there was no push in the back, I mean, be a man. [...] Admit that it was a bullcrap call, stand...
NFL News

Delivered to your inbox

You'll also receive Yardbarker's daily Top 10, featuring the best sports stories from around the web. Customize your newsletter to get articles on your favorite sports and teams. And the best part? It's free!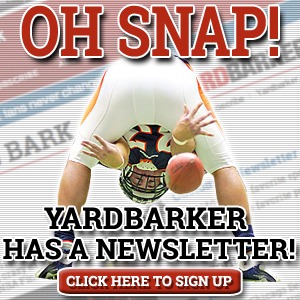 Latest Rumors
Best of Yardbarker

Today's Best Stuff

For Bloggers

Join the Yardbarker Network for more promotion, traffic, and money.

Company Info

Help

What is Yardbarker?

Yardbarker is the largest network of sports blogs and pro athlete blogs on the web. This site is the hub of the Yardbarker Network, where our editors and algorithms curate the best sports content from our network and beyond.