Found November 05, 2012 on RotoAsk:
PLAYERS:
Josh Freeman
,
Doug Martin
,
Matt Schaub
,
Joe Flacco
,
Ray Rice
,
Bernard Pierce
,
Trent Richardson
,
Mikel Leshoure
,
Joique Bell
,
DeSean Jackson
,
Donald Jones
,
Angelo Williams
,
Steve Smith
,
Owen Daniels
,
Christian Ponder
,
Adrian Peterson
,
Chris Johnson
,
Fred Jackson
,
C.J. Spiller
,
Miles Austin
,
Kevin Ogletree
,
Hakeem Nicks
,
Eli Manning
,
Titus Young
,
Calvin Johnson
,
Jermichael Finley
TEAMS:
Oakland Raiders
,
Tampa Bay Buccaneers
,
Houston Texans
,
Baltimore Ravens
,
Cleveland Browns
,
Detroit Lions
,
Philadelphia Eagles
,
Buffalo Bills
,
Minnesota Vikings
,
Dallas Cowboys
,
New York Giants
,
Green Bay Packers
In this short post I go over the Sit 'em & Start 'em picks that I made before the weekend. I also go over players who had a breakout game and could be worth a waiver wie pickup. Get a hold of me on Twitter: @Blackie_Mike Start 'em: Freeman had another solid fantasy performance as his Buccs scored more than 40 points against the Oakland Raiders and is looking like a top-12 QB (TB) Josh Freeman vs. (OAK): – 18/30 248 yards 2TD, 5 rush 22 yards – Another solid effort from the young Buccaneers quarterback, Freeman was two yards short of having his 20th fantasy point in the game. Doug Martin absolutely decimated the Raiders defense, limiting the amount of throws Freeman was required to make, but he was still able to throw for a pair of touchdowns. Doug Main is currently the hottest running back in the league, I ma thinking they might need to plan around him more, forcing more from Freeman. (HOU) Matt Schaub vs. (BUF): 19/27 268 yards 2TD – Schaub had a very similar game to Freeman, throwing for about 20 more yards, but rushing for 20 less. These are the types of matchups that I try to exploit from quarterback likes Schaub; he has much harder matchup next week vs. the Bears but has another good one after that against the Jaguars. (BAL) Joe Flacco vs., (CLE): 15/24 153 yards TD – Flacco didn't do a whole lot in this game as Ray Rice and backup running back Bernard Pierce each rushed for a touchdown while combining for 32 rush attempts compared to only 24 pass attempts from Flacco. I think I would be more comfortable owning Freeman or Schaub moving forward. (CLE) Trent Richardson vs. (BAL): 25 carries 105 yards, 6 catches 31 yards – A solid 130 total yards from Richardson in the loss to the Ravens, unfortunately though no touchdown to top it off. Richardson also has some beatable matchups coming up against the Cowboys, Steelers and more so the Raiders. Leshoure scored three of his teams four rushing touchdowns on Sunday, which should help sate frustrated fantasy owners. (DET) Mikel Leshoure vs. (JAX): 16 rush 70 yards 3TD – Leshoure had a fantastic day, taking three of his 16 carries across the goal line for pay dirt and a monster fantasy day. The matchup against the Jaguars was a great one, but it seems as though the Lions do have a much more balanced offence now; backup RB Joique Bell was still able to add 73 yards on his 13 carries with a touchdown. (PHI) DeSean Jackson vs. (NO): – (BUF) Stevie Johnson vs. (HOU): 3 catches 29 yards – Donald Jones ended up leading the Bills in targets with nine as they played from behind against the Texans. I had hoped despite being a little banged up the Bills would basically need a big game from Johnson, but that was not the case. The Bills were held to just three field goals. (CAR) Greg Olsen vs. (WAS): 5 catches 48 yards – With LaFell not available, Olsen was the number two option for Newton, but was unable to cash in as Newton carried the ball himself for one of the Carolina touchdowns while DeAngelo Williams rushed for the other. Neither Steve Smith nor Olsen was particularly great in this game, but Smith was able to come up with his first touchdown catch of the season, hopefully the first of many. Daniels had been a fantasy darling, catching touchdowns in five of his last six starts. (HOU) Owen Daniels vs. (BUF): 4 catches 62 yards – Daniels got things started off early with a 39-yard touchdown catch, and while he didn't do much the rest of the game, his 12 point fantasy effort is his 4th in his last five starts. Daniels is looking like one of the best, at least the most consistent tight ends in football.   Sit 'em: Weedon wasn't able to do much against a Ravens defence coming off the bye week and has another tough matchup in week ten. (CLE) Brandon Weedon vs. (BAL): 20/37 176 yards, 2INT, 2 rush 11 yards – A another very rough game from the rookie Weedon, throwing for less than 200 yards despite 37 attempts, while adding a pair off interceptions. I don't expect much more next week against the Cowboys, one of the toughest teams in the league against the pass. (MIN) Christian Ponder vs. (SEA): 11/22 63 yards INT, 5 rush 23 yards – Ponder was outmatched by Russell Wilson on the weekend, with Wilson completing 16 of his 24 attempts, with three of them going for touchdowns. In the loss, the Vikings depended on Adrian Peterson to keep them alive, in which he tried his best, finishing the game with 182 yards and 2 touchdowns on only 17 carries. (TEN) Chris Johnson vs. (CHI): 16 rush 144 yards TD, 2 Lost Fumbles – Johnson's fantasy day was saved by a 80-yard touchdown run in a lost cause, when the touchdown was scored the Bears were already up by more than 30 points. Johnson was being shutdown until this point and did lose two fumbles, but it is nice to see him breaking big plays like this and against a defense like the Bears. (IND) Donald Brown / Vick Ballard vs. (MIA): Ballard; 16 rush 60 yards, 3 catch 38 yards – Donald Brown suffered another injury early in the game after getting only one touch of the ball and was forced to leave the game while backup Vick Ballard got the rock 16 times but was only able to total 60 yards rushing, he did however add 38 yards in the air. If you can get a week or two of Ballard on his own, I would feel good about starting him as he seems to be capable of 100 yards when given the ball enough times. (BUF) Fred Jackson / C.J. Spiller vs. (HOU): Jackson; 35 total yards / Spiller; 102 total yards – Both players got 6 carries but neither topped 40 yards rushing, Spiller however was able to have himself a pretty good day by catching 5 catches for 63 yards, giving him just over 100 yards all purpose. It is nice to see Spiller have a good game against such a stellar defense, but life would be easier if we knew who would get the bigger role each week. I still prefer to own Jackson. (DAL) Miles Austin vs. (ATL): 7 catches 76 yards – Kevin Ogletree is back on the tongues of fantasy football owners as it was he who caught the lone Cowboys touchdown on Sunday night; Miles Austin, while more than doubling Ogletree's targets (9-4) ended the game with just 76 yards. Miles should be able to do more next week against the Eagles. (NYG) Hakeem Nicks vs. (PIT): 1 catch 10 yards – As someone who owns Eli Manning in more than one league I can tell you that the Giants passing game is not at the level it has been in the past. It also doesn't help that Nicks doesn't seem to be healthy still; how else to explain Cruz getting 11 targets while Nicks only has four, the same as TE Bennett. Nicks and the Giants do have some good matchups coming up however against the Bengals, Packers and Redskins. After being the most picked up player in many formats last week, Young came back to earth with just two catches against the Jaguars. (DET) Titus Young vs. (JAX): 2 catches 20 yards – As I predicted this game was all about the Detroit running game and Calvin Johnson. Mikel Leshoure and Joique Bell combined for more than 140 yard rushing and four touchdowns, while Calvin added just under 130 yards in the air; in the end Young was left with just 20 catches for 20 yards. (GB) Jermichael Finley vs. (ARZ): 1 catch 6 yard – Not really much to say here; Finley only had two targets in the game, catching one. Until Finley is healthy and more involved in the Packers game plan again, you need to look elsewhere to fill you starting line up.
Original Story:
http://rotoask.com/fantasy-football/w...
THE BACKYARD
BEST OF MAXIM
RELATED ARTICLES
We face the same challenge every week with our power rankings. The elite of the league seem to be pretty well entrenched, the top 10 is holding strong, but, when you get down through teams 11-20 it becomes increasingly complex.  This season, more than any I can remember, it feels like these middling teams are competing to fail, rather than to win. Whenever a team has an opportunity...
The Tampa Bay Buccaneers are looking to get to a .500 record Sunday as they head into Oakland to face the Raiders. The Bucs had an October filled with good defense and great offense and look to continue their strong play in week nine.  Josh Freeman needs to continue impressing Since the bye week, Josh Freeman has had three straight games with three touchdowns. In that span, he has...
After a sluggish start that included a blocked Connor Barth field goal, the Buccaneers relied on a rookie to get them going. Running back Doug Martin would set team records in route to a 42-32 victory over the Oakland Raiders. The Bucs would jump ahead of Oakland 7-3 in the second quarter after Josh Freeman hit Vincent Jackson in the end zone from 20 yards out.But with under two...
Last season the Tampa Bay Buccaneers lost their last ten games in a row to finish the season with a 4-12 record which eventually led to the firing of then head coach Raheem Morris. One of the problems in the 2011 season was lack of offense.Quarterback Josh Freeman finished the season only completing 62 percent of his passes, while throwing only 16 touchdown passes and 22 interceptions...
NFL News

Delivered to your inbox

You'll also receive Yardbarker's daily Top 10, featuring the best sports stories from around the web. Customize your newsletter to get articles on your favorite sports and teams. And the best part? It's free!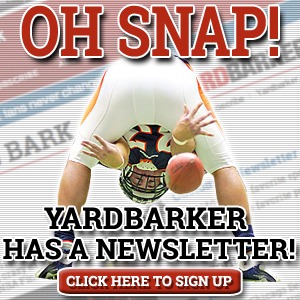 Latest Rumors
Best of Yardbarker

Today's Best Stuff

For Bloggers

Join the Yardbarker Network for more promotion, traffic, and money.

Company Info

Help

What is Yardbarker?

Yardbarker is the largest network of sports blogs and pro athlete blogs on the web. This site is the hub of the Yardbarker Network, where our editors and algorithms curate the best sports content from our network and beyond.