Found September 06, 2012 on 60 Max Power O:
The curtain-raising matchup for the 2012 NFL season between the Dallas Cowboys and New York Giants could serve as metaphor for the renewal of hostilities between Steven and me as we once again pit our prognosticating prowess against each other. On the one hand, you have an underachiever hoping that 2012 will be different than the disappointing 2011 effort (That would be Steven). On the other, you have a champion (Yours truly). 
  Before we begin, let's go over the ground rules for our new readers. Our picks are based solely on game outcomes. No point spreads are considered. We also discourage our readers from using our picks for wagering. If you'd like to give your money away, Steven and I are far more worthy recipients than your bookie.    So without further ado:   Dallas at New York Giants- Steven:
Cowboys
– "Tony Romo is going to find the Giants a little easier to face without a constant pass rush coming after him. An improved secondary helps seal an opening victory over the defending champs." Chuck:
Giants
- "The Cowboys will regret letting Laurent Robinson go all season. Romo will make some big plays, but he'll chuck up a couple of ducks that will put the G-men over the top."   Indianapolis at Chicago- Steven:
Colts
– "Why wait to get that first victory? Andrew Luck won't blow the doors off anything, but he's facing a defense that has Aaron Rodgers to worry about on short notice in week two. Let the real rookie hype begin." Chuck:
Bears
- "As much as I'd love to go with the Colts, that first win will have to wait a week. Luck is ahead of the curve, but Lovie Smith will have a few curves of his own to throw at the rookie. And until the Colts show me they can contain the run, I'm not picking them against a back like Matt Forte."   Jacksonville at Minnesota- Steven:
Vikings
– "With no rushing attack to worry about, Minnesota should use its own by pounding Adrian Peterson at will. Sure, he may get hurt by the third quarter, but that was going to happen sooner or later." Chuck:
Vikings
- "It's a shame when these key matchups happen so early in the season. This game could decide the next year's number one overall draft pick. Later in the season would be more dramatic. Vikings win simply because they're at home."   Buffalo at New York Jets- Steven:
Jets
– "I do believe the Jets are better than the preseason showed, and this week that will be good enough. Tim Tebow also scores a goal line touchdown and all seems right with the world." Chuck:
Jets
- "I think the Bills will be better than the Jets by the end of the season, but not on the road in week one."   Miami at Houston- Steven:
Texans
–"A healthy Arian Foster is dangerous for the rest of the league. The Texans had possibly the top defense in the NFL last year, and a mostly one-dimensional Dolphins attack will help start to get back to that standing this year." Chuck:
Texans
- "Biggest mismatch of the week."   New England at Tennessee- Steven:
Titans
– "Tennessee will be a surprise team this season, but a brutal schedule in the first half will wear them out. This is week one though, and an early upset is brewing." Chuck:
Patriots
- "The Titans are good enough to upset the Pats, but inconsistent enough to lose by three touchdowns. Jake Locker meet Tom Brady. Take notes."   St. Louis at Detroit- Steven:
Lions
– "How exactly will Calvin Johnson be stopped this year?" Chuck:
Lions
- "Steven has started the season picking the Lions. See, he learned from last year."   Washington at New Orleans- Steven:
Saints
– "Bounties, hurricanes and whatever else is over for the Saints. Finding a pass defense though hasn't ended yet, but the Robert Griffin III will have to use his legs to try and make it work this year." Chuck:
Saints-
"The Saints are in disarray and RGIII will put some numbers. Drew Brees will put up more. Take the over in this game."   Philadelphia at Cleveland- Steven:
Eagles
– "This one feels closer than it looks, but how can you trust the Browns? I weep for you, Cleveland." Chuck:
Eagles
- "Another rookie QB makes his debut. Brandon Weeden won't be hearing any love from disgruntled Browns fans after the Eagles secondary rudely welcomes him to the NFL."   Atlanta at Kansas City- Steven:
Falcons
– "As far as road wins go, this will be impressive. I think Matt Ryan has a terrific season." Chuck:
Chiefs
- "An early matchup of my two darkhorse Super Bowl teams. Matt Ryan is to to break out, but Kansas City is never an easy place to get a win. Ask Green Bay last year."   San Francisco at Green Bay- Steven:
Packers
– "Not so quick anointing Green Bay on top of the NFC this year, but they pull out a close one in the best game of the opening week." Chuck:
Packers
- "This game should live up to its hype. Packers in a close one."   Seattle at Arizona- Steven:
Seahawks
– "From the best game to the worst. Did the NFC West get banned from television yet? In any case, the Seahawks plan appears to involve blinding its opponents this season." Chuck:
Seahawks
- "If Brandon Weeden has the worst matchup for rookie quarterbacks, Russell Wilson has one of the best. The Seahawks could surprise some folks this year."   Carolina at Tampa Bay- Steven:
Panthers
– "Can Carolina outscore everyone it faces? Tough schedule probably means it has to." Chuck:
Buccaneers
- "The Bucs were busy this off season. No NFL squad improved itself more than Tampa."   Pittsburgh at Denver- Steven:
Broncos
– "Welcome back to football Peyton Manning. This just has a feeling of it finally being a down year for the Steelers." Chuck:
Broncos
- "Peyton Manning has a tough road ahead with the schedule. A home game against an aging Steelers defense is as good a place as any to start."   Cincinnati at Baltimore- Steven:
Bengals
– "Cincinnati, not Baltimore is the favorite in the AFC North this year. A win on the road could lead to a 6-0 start to the year." Chuck:
Bengals-
"These two will battle for AFC North supremacy and meet to kick off and end the season. In between, it should be a good battle. The Ravens will miss Terrell Suggs and Jarrett Johnson (not to mention Cory Redding and Tom Zbikowski… and a guy named Pagano).   San Diego at Oakland- Steven:
Chargers
– "Close call, but a slight edge goes to San Diego here as Oakland relies on too many big plays." Chuck:
Raiders
- "I'll have to find out who won this game on Tuesday, not because it's on too late. Chris Berman is doing the play-by-play. Can't ESPN bring back the games with no announcers?"  
Be sure to check out other great articles at Sports Media 101.
Original Story:
http://www.60maxpowero.com/patriots/c...
THE BACKYARD
BEST OF MAXIM
RELATED ARTICLES
The Seattle Seahawks are not sure whether running back Marshawn Lynch will be able to play in Sunday's regular-season opener against the Cardinals because he has had back spasms, ESPN.com reported. Lynch did not practice Monday and has not played since the second week of the preseason. Lynch rushed for 1,204 yards last season, when he started 15 games for Seattle. The one...
Seattle Seahawks RB Marshawn Lynch has been suffering back spasms this preseason and his status is uncertain for Sunday's game against the Arizona Cardinals. If Lynch is unable to go, rookie RB Robert Turbin will start in his place according to 710 ESPN Seattle. In deeper leagues, Turbin is worth owning this season. I have watched every Seattle Seahawks preseason game this summer...
Marshawn Lynch sat at his locker on Wednesday as Seattle's star running back talked for the first time since the start of training camp. The Seahawks hope Lynch is on his feet and on the field come Sunday in the season opener at Arizona and not just a spectator on the bench. ''The goal is to (play). But I stay ready,'' Lynch said. ''So if I do, I do...
Seahawks press conference notes from today. From Liz Mathews (710) and Curtis Crabtree (KJR) on Twitter. Golden Tate OUT on Sunday. Marshawn Lynch practiced today is a gametime decision, listed as questionable, DB Byron Maxwell is doubtful, DE Greg Scruggs won't play, James Carpenter is also out. Per John Boyle on Twitter (@johnpboyle) Seahawks captains voted by teammates Offense...
Game 1 is here… That's right, at long last regular season football is upon us! It's Season Preview time. Part 1 & Part 2 251 long days since the Seattle Seahawks season ended, it starts again in the same place; Arizona's University of Phoenix Stadium. On that day, the Seattle Seahawks suffered their ninth lose on the season, but it was an exciting season, a season that...
It's the first week of the NFL regular season and before I begin talking about it, why don't we take a moment to be thankful that football is back. Now I know college football started last week and I'm aware that the preseason started over a month ago, but for an NFL guy like me, Wednesday night was the beginning of the best time of the year. The Giants and Cowboys already...
TEMPE, Ariz. When the Seahawks signed free agent quarterback Matt Flynn this summer, some assumed they were grooming their franchise quarterback a guy who would eventually take the reins from Tarvaris Jackson (now with Buffalo). Then Seattle drafted Wisconsin standout Russell Wilson in the third round and the game changed. After an impressive preseason, Wilson was named the starter...
According to Liz Mathews of 710 ESPN Radio in Seattle, Seahawks wide receiver Doug Baldwin "is ready to go," according to head coach Pete Carroll, after missing the entire preseason with a hamstring injury. #Seahawks WR Doug Baldwin is "ready to go" per Carroll. — Liz Mathews 710 ESPN (@Liz_Mathews) September 5, 2012
Seattle halfback Marshawn Lynch (back) returned to practice on a limited basis Thursday, according to the Tacoma News Tribune.Fantasy Spin:There's really no way of predicting whether Lynch will be available Sunday. Even if he doesn't have back spasms for a few days the spasms could always return prior to Sunday's game. Lynch owners should be ready to plug in another option...
The Seattle Seahawks may be without their starting running back when they open their season in Arizona on Sunday.Marshawn Lynchhas had troubles with chronic back spasms this week, putting his status for Sunday's game in question and possibly in doubt. The trickle down affect in fantasy football leagues is great, as this could put more on the shoulders ofRussell Wilson. The Cardinals...
These teams have strong defenses.In a division won by the 49ers last year because of defense, this should come as no surprise. Teams often wind up mimicking their divisional rivals (the Ravens are built around defense, power running, and a developing quarterback with a big arm and big body, just like the Steelers), and the NFC West is no exception.Both teams have considerable continuity...
Seahawks News

Delivered to your inbox

You'll also receive Yardbarker's daily Top 10, featuring the best sports stories from around the web. Customize your newsletter to get articles on your favorite sports and teams. And the best part? It's free!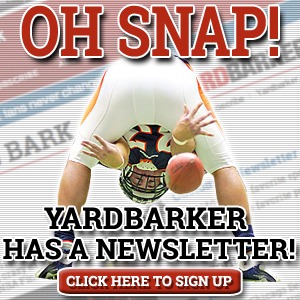 Latest Rumors
Best of Yardbarker

Today's Best Stuff

For Bloggers

Join the Yardbarker Network for more promotion, traffic, and money.

Company Info

Help

What is Yardbarker?

Yardbarker is the largest network of sports blogs and pro athlete blogs on the web. This site is the hub of the Yardbarker Network, where our editors and algorithms curate the best sports content from our network and beyond.