Found November 20, 2012 on RotoAsk:
PLAYERS:
Eli Manning
,
Russell Wilson
,
Alex Smith
,
Colin Kaepernick
,
Vernon Davis
,
Jalen Parmele
,
Rashad Jennings
,
Shane Vereen
,
Tom Brady
,
Darren Sproles
,
Hakeem Nicks
,
Titus Young
,
Ryan Broyles
,
Matthew Stafford
,
Mohamed Sanu
,
Andy Dalton
,
A.J. Green
,
Andrew Hawkins
,
Jermaine Gresham
,
Justin Blackmon
,
Matt Schaub
,
Matt Cassel
,
Peyton Manning
,
Dwayne Bowe
,
Mikel Leshoure
,
Reggie Bush
,
Shonn Greene
,
Bilal Powell
,
Brandon Lloyd
,
Josh Gordon
,
Darrius Heyward-Bey
,
Carson Palmer
TEAMS:
New York Giants
,
Seattle Seahawks
,
Miami Dolphins
,
San Francisco 49ers
,
Jacksonville Jaguars
,
New England Patriots
,
New Orleans Saints
,
Detroit Lions
,
Cincinnati Bengals
,
Houston Texans
,
Kansas City Chiefs
,
New York Jets
,
Cleveland Browns
,
Pittsburgh Steelers
,
Oakland Raiders
Week Twelve (12) Sit 'Em & Start 'Em for the 2012-2013 Fantasy Football season by Koopafantasy. Have questions? Find me on Twitter: @Blackie_Mike Start 'em: I am banking on Manning and the Giants playing much better now that they have had their bye week. (NYG) Eli Manning vs. (GB) – Going to be quick with this one. Eli had been terrible before the bye week and there were reports about him suffering from a sore and tired arm. This week I am hoping that Eli comes out and has a big week since he had the extra week of rest and has a nice matchup in the Packers. (SEA) Russell Wilson vs. (MIA) – The Miami Dolphins defense tends to be pretty forgiving to opposing quarterbacks, allowing wide receivers to burn them regularly. Russell Wilson will have a good chance this week to have 200-300 yards with a touchdown or two while hopefully adding some more points with his legs since the Dolphins are pretty solid against opposing running backs. (SF) Alex Smith / Colin Kaepernick vs. (NO) – This one of course depends upon who gets the start for the '49ers, but with such an inviting matchup, I would look to start whomever San Fran decides to roll with. I am actually hoping that Kaepernick gets the start since he looked so good last week against a great defense and seems to throw to Vernon Davis more. Parmele looks to be one of the most added players off the wire this week and deserves a start against the Titans. (JAX) Jalen Parmele vs. (TEN) – Rashad Jennings has been relegated to the Jacksonville bench, giving 3rd stringer Jalen Parmele to show the world what he can do. He carried the ball 24 times last week for 80 yards against a very good Texans defense, so he should be able to make a run at 100+ against the Titans. (NE) Shane Vereen vs. (NYJ) – Even though the Jets are at home I still think Tom Brady and the Patriots are going to put a hut on them, putting up at least 30 points. The Patriots backfield has been very good and I think there is more than a good chance than Shane Vereen gets in on the fun against the Jets and hopefully gets some carries in the red zone. (NO) Darren Sproles vs. (SF) – Sproles was held out last week so this pick is a little risky, but I do believe he will be ready to go for week 12 against the '49ers. While this may look like a tough matchup for Sproles it actually works in his benefit as the Saints usual look to swing the ball and give short passes to Sproles when going up against teams with solid run stopping units. (NYG) Hakeem Nicks vs. (GB) – As with Eli, Hakeem Nicks has been very frustrating for fantasy owners this season missing time and playing poorly at times, likely due to injury. This week I am putting my eggs in the Giants basket, expecting them to come out firing against the Packers. The Giants have received criticism for their poor play going into the bye week, but a big home win over the Packers would help silence them. The talented Broyles should see some additional targets with Titus Young not playing this Thursday against the Texans. (DET) Ryan Broyles vs. (HOU) – Broyles made a splash in the fantasy market a few weeks ago posting back to back touchdown weeks, but been kept out of the end zone the last three weeks, not seeing many targets from quarterback Matt Stafford in general. This week though should be different for Broyles as the Lions have ruled out wide receiver Titus Young for the Thursday afternoon matchup do to misconduct. The Jaguars just put up massive numbers on the Texans, so Broyles will definitely have the chance to grab his third touchdown this week. (CIN) Mohamed Sanu vs. (OAK) – Andy Dalton has been on fire lately, connecting on touchdown passes to A.J. Green in nine straight weeks, while filtering the ball to a slew of other receiving options as well. Andrew Hawkins and Jermaine Gresham each have three touchdowns on the season, while rookie wide receiver Mohamed Sanu has a pair, both in the last two weeks. This weekend against an Oakland secondary full of holes, I like Sanu's chances of making it three in three. (JAX) Justin Blackmon vs. (TEN) – After seeing what Justin Blackmon did to the Houston Texans secondary last week you have to suddenly like his chances for another good game against the Titans, a team that has been much worse than the Texans against the pass. Trusting Henne as Blackmon's quarterback is not something I would want to do but if you are really needing some wins to get into the playoffs, Blackmon might be able to help you do so.   Sit 'em: Schaub will be hard pressed to get even half of his fantasy points from last week against a much stronger Lions secondary. (HOU) Matt Schaub vs. (DET) – Schaub put up monster numbers last week in an overtime win against the Jaguars, but will have a much harder time duplicating that effort against the Detriot Lions defense. The Lions have a solid secondary with an even better pass rush, I don't expect Schaub to crack the 250 yards mark, and might only throw one touchdown. (KC) Matt Cassel vs. (DEN) – The Chiefs are one of the worst teams in the league at the moment, and have another tough matchup against Peyton Manning and the Broncos this coming weekend. Of course Dwayne Bowe is a super talented wide receiver but can't be trusted eek to week; and besides Bowe, who else does Cassel really have to go to with confidence? Sit Cassel against a Broncos team only that has only allowed eight passing touchdown all season. (DET) Mikel Leshoure vs. (HOU) – This was an easy selection; Leshoure is a running back that I targeted in all of my drafts, many of which I was able to grab him, and I consider him one of the best matchup plays in fantasy football, and even a good every week starter for those who are desperate. This week is a bad matchup for Mikel though, as the Texans come to town, a team that still has not allowed an opposing running back to rush for a score. After putting up just 35 yards against the Bills, I am not trusting Bush this weekend against the Seahawks. (MIA) Reggie Bush vs. (SEA) – Bush had a dream matchup last week against the Bills but only came away with an extremely disappointing 35 yards. This week against a much tougher Seahawks defense I am letting Reggie Bush ride the pine if given the chance. (NYJ) Shonn Greene / Bilal Powell vs. (NE) – It is being reported that the New York Jets plan on using both Shonn Greene and Bilal Powell fairly evenly going forward, meaning I likely won't trust either one of them. That is enforced this week against The Patriots, one of the better teams in the league this season against the run, not only because they routinely play with the lead, but also because the front seven has played great so far. (NE) Brandon Lloyd vs. (NYJ) – Most people knew Lloyd had the potential to be a boom or bust player this year, and so far he has been the latter, scoring just three touchdowns on the season, two of them coming in one game. I didn't draft Lloyd in any of my fantasy leagues this season, but if I did I might be looking for someone to replace him with. (WAS) Pierre Garcon vs. (DAL) – Garcon is as eager to come back and play as his fantasy owners are to have him finally have a big game, but I don't see that happening this weekend against the Eagles. His injury is obviously a very lingering and annoying one, so owners will likely be disappointed if they are expecting him to all of a sudden burst back onto the scene. Gordon is likely to remain scoreless in the Browns week twelve game against the Steelers. (CLE) Josh Gordon vs. (PIT) – Josh Gordon has been very quiet since scoring his first four NFL touchdowns over a three week span, and has a very tough chance of grabbing his fifth when the Pittsburgh Steelers defense comes to Cleveland in week twelve. I would be hesitant to start any Cleveland receiver this weekend. (OAK) Darrius Heyward-Bey vs. (CIN) – The Bengals secondary has been surprisingly effective so far in 2012, with only the '49ers allowing less touchdowns via the air so far. Carson Palmer and the Raiders get to play the Bengals next, and on the road as well, I do not like Heyward-Bey's chances of hitting pay dirt.
Original Story:
http://rotoask.com/fantasy-football/w...
THE BACKYARD
BEST OF MAXIM
RELATED ARTICLES
DENVER -- Peyton Manning got some help from his defense in shrugging off an early mistake. Manning overcame a first-quarter interception that was returned for a score to throw for three touchdowns, and the Denver Broncos beat the San Diego Chargers 30-23 Sunday to complete the first series sweep of their AFC West rival in seven years. "Certainly our defense created some...
For the first time since he moved into their neighborhood, the Chiefs will face the Denver Broncos with quarterback Peyton Manning. Only 10 games into the season and Manning's influence over the Broncos has been very apparent as they lead the AFC West with a 7-3 record. The Chiefs are six games behind at 1-9. When Manning became available back in March, the Chiefs were one...
DURHAM, N.C. -- Duke has agreed to a contract extension with coach David Cutcliffe, who has the Blue Devils bowl eligible for the first time in nearly two decades. The school announced the agreement Wednesday. It will run through June 2019, though contract terms were not released. The fifth-year coach -- who was Peyton Manning's offensive coordinator at Tennessee and Eli...
Focus man, that's what Justin Tuck is saying in a nutshell. The two time Super Bowl champion knows a little about the art of second half football, and the Giants are in a good position this time around. The team is usually fighting down to the wire, but this year they have a chance to take it all off the table earlier than previous years. The key is always health, and a healthy...
Peyton Manning isn't the only player the Denver Broncos brought in to make things happen. Von Miller got the call from Denver, too, and the second-year linebacker is becoming as big of a headache for Broncos opponents as Manning is. On a day Manning threw three more touchdown passes, Miller added three sacks and two forced fumbles to his tally to make it a miserable afternoon...
Green Bay Packers (7-3) at New York Giants (6-4) What's wrong with the Giants? That's what everyone is asking. Well, they do this every year. Since Tom Coughlin took over, the Giants are 53-19 in the first 8 games of a season and 27-39 in the last 8 games of the season, including these last 2 losses. Eli Manning has been the main problem of late and not just in the 2 losses....
As the St Louis Rams' record continues to slide following a heartening 3-2 start to the season, Sam Bradford's progression on the "elite quarterback growth curve" is receiving increasing scrutiny. Whether he has a strong game (275-2-0 versus the 49ers) or a weak one (170-2-1 vs the Jets), unless the Rams win the criticism will always be there. It's just a matter...
GREEN BAY, Wis. -- This is not going to be just another regular-season game. No, the Packers' upcoming matchup with the New York Giants means far more to coach Mike McCarthy's group than the win or loss that will come from it. It was the Giants who ended what was nearly a perfect season from Green Bay in 2011. A dominant Packers offense that led the NFL in scoring could muster...
Andrew Luck is not Tom Brady, Drew Brees or Aaron Rodgers — yet. But after Sunday's shellacking at the hands of the New England Patriots, Luck still has plenty of room left to grow and develop. While his numbers have brought comparisons to all the aforementioned quarterbacks, he is still nowhere near the same caliber of player that each of those developed NFL stars is today....
It was an odd sight when the Denver Broncos took to the field in hosting the San Diego Chargers in a key AFC West battle in mid-November. Instead of a somewhat typical November day with cold, possible snow and other inclement weather, the temperature at game time was 62 degrees and sunny. For Denver, they wanted to extend their winning streak to five and take complete control in...
NFL News

Delivered to your inbox

You'll also receive Yardbarker's daily Top 10, featuring the best sports stories from around the web. Customize your newsletter to get articles on your favorite sports and teams. And the best part? It's free!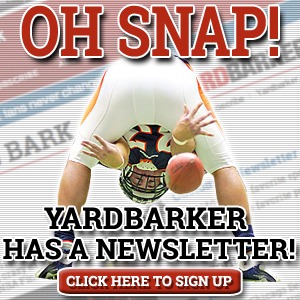 Latest Rumors
Best of Yardbarker

Today's Best Stuff

For Bloggers

Join the Yardbarker Network for more promotion, traffic, and money.

Company Info

Help

What is Yardbarker?

Yardbarker is the largest network of sports blogs and pro athlete blogs on the web. This site is the hub of the Yardbarker Network, where our editors and algorithms curate the best sports content from our network and beyond.