Found May 02, 2012 on WhoDeyFans:
You know the Bengals have some questions at Wide Receiver. You also knew they were going to address that at some point in the draft. The Bengals went out and got a great possession receiver in Mohamed Sanu. What this guy also brings to the table is the ability to decleate guys when making blocks for the offense. Watch the video below, for every catch there is a shot of Sanu laying the wood on some unsuspecting defender.
CBS Draft Profile:
Release: Too big and strong for most defenders at this level to test him in press coverage. Good hand placement and upper body strength to fight off the jam when he gets it and is a threat to beat the defender over the top due to good acceleration and better straight-line speed than he's often credited with possessing. Eats up the cushion, showing better agility and precision as a route-runner than most receivers with his bulk. Hands: Sanu has several outstanding qualities but none more impressive than his natural receiving skills. Possesses very reliable hands and a wide catch radius due to his long arms, impressive flexibility, and hand-eye coordination. Extends and plucks the ball away from his frame when
he senses the defender near. Quickly secures the ball and carries it tight to his frame. Very good jump-ball candidate due to strong leaping skills, long arms and timing. Route running: Quick burst off the line of scrimmage perhaps masking a lack of elite straight-line speed. Has enough speed to challenge vertically. Throttles down quickly, sinks his hips and has good burst left and right to generate separation on underneath routes. Used from a variety of positions, lining up inside in the slot, outside and put in motion. Courageous over the middle, often pulling away on drag routes and quick posts. After the catch: Exciting blend of size, strength and speed once the ball is in his hands. Strong receiver capable of ripping free of arm tackles and shucking off defenders with a stiff-arm. Lacks elite lateral agility to make defenders miss in tight quarters, but has good flexibility, balance and vision to weave through the defense. Rushed for 653 yards and nine touchdowns over his career and isn't opposed to cutting back inside amidst the big bodies if he sees a lane. Some question about his true timed speed but has an explosive burst to accelerate through gaps and separate. Blocking: Takes his role as a blocker seriously. Shows good strength and very good effort blocking downfield, locking up the corner and working to seal his opponent from the action. Often sent in motion so he can provide a crack back block on an unsuspecting defensive end and looks to peel back and knock out the trailing defender when a teammate has a chance for a big play. Intangibles: A selfless player who head coach Greg Schiano raved about when Sanu announced that he was leaving early.
• Great height / bulk with long arms / big hands
• Athletic with good balance, agility and a burst
• Strong, reliable hands to snatch ball out of air
• Superb leaping ability, ball skills, body control
• Crafty route runner knows how to get open
• Runs hard and can pick up yards after catch
• Impressive vision, instincts and awareness
• Tough and is not afraid to sacrifice his body
• A fantastic blocker who will give great effort
• Offers versatility and can line up all over field
• Very productive with a lot of quality experience
NFL Draft Profile:
Sanu is excellent working drive routes and across the field to read coverages and sit down in the holes of zones. He is a natural at shielding himself from defenders and giving the quarterback a clear throwing lane. He is a reliable hands catcher who is very technical at the top of his routes and when competing with corners to give himself space to secure the catch. Sanu is a throwback receiver who sees the ball when going across the middle. He is fearless in all aspects.
Original Story:
http://whodeyfans.com/2012/05/02/welc...
THE BACKYARD
BEST OF MAXIM
RELATED ARTICLES
What a draft by the Cincinnati Bengals! By most accounts from some of the bigger "draft experts" around the league, the Bengals had one of, IF NOT, the best drafts in all of football. Timm couldn't make it this week so filling in for us is Sean O'Donnell from StripeHype.com and helping us break down the draft is Shane P. Hallam from DraftCountdown.com. In this week's show...
As the old adage says, the game of football is won in the trenches. And in the past few years, as the Bengals have improved their drafts, they have done a better job of selecting those trench warriors who move earth and make the skill players we like look good. Yesterday I looked through the guys currently on the roster on the defensive line, the pivot point of the team. Today I...
According to Joe Reedy of the Cincinnati Enquirer, there's a good chance that Cincinnati Bengals rookie cornerback Dre Kirkpatrick could end up starting at left corner right away. Everything will depend on whether or not the Bengals are willing to pay Clements $5.5 million in 2012.  If they feel like Kirkpatrick can start as a rookie, Clements could be cut before June 1st. The...
17. CB Dre Kirkpatrick BI liked Kirkpatrick a little better at 21 for the Bengals (26th on my board) and I'm not sure any team from 18-20 would have taken him and if they had, that's not too bad because this was a very, very deep cornerback class. This isn't a terrible pick, however, because it at least fills a need.27. G Kevin Zeitler C-I really don't like this pick. There's...
After looking at the offensive and defensive lines, it is time to look at the most important position on the field: Quarterback. Even though there is no question who the starter will be, there will be important decisions to make regarding this position. The biggest decision will be how many QBs to carry on the roster. The Bengals typically carry three, but last year they opted to...
Wide receiver Mohamed Sanu slipped to the Cincinnati Bengals in the third round of the 2012 NFL Draft. Fantasy Spin: Sanu may lack speed, but the Rutgers standout displays soft and reliable hands, sharp route-running skills with the toughness to go after the ball in traffic. And should serve as an excellent wingman for stud A.J. Green in Cincinnati. Solid fantasy appeal here as a...
Marvin and the PBS war room did the nearly impossible: they have elicited praise from the national sports media for their draft. High praise. And they deserve it. From everything we can know at this point, they did an outstanding job, matching need with value with pick after pick. With all of these great picks to choose from, which one are you most excited about seeing play at PBS...
Hot News for C Marvin Lewis
Over a month ago, ESPN released their offseason power rankings for NFL squads and many Bengals fans were surprised that the team was ranked at No.19 on the list. Coming off of a playoff appearance with young players getting another year and full offseason with their coaches and teammates made one think that they'll be a better squad in 2012 than they were last season. Throw...
When the NFL released the 2012 season schedule for each team a couple of weeks ago, nearly every Bengals fan had their eyes on one particular game. Call it the "Carson Bowl", the "PBS Battle", or whatever you like; but on November 25th (Week 12), quarterback Carson Palmer will be making his return to Cincinnati. This date marks the first time that Palmer will...
Soon after the completion of the 2012 NFL draft, teams jump on the phone to sign the undrafted free agents that they liked during the predraft process. Sometimes this process can be maddening because many of the sources are somewhat obscure and we're always bound to miss one. Still we charted it the best we could, charting a total of 14 players. The Cincinnati Bengals officially...
Bengals News

Delivered to your inbox

You'll also receive Yardbarker's daily Top 10, featuring the best sports stories from around the web. Customize your newsletter to get articles on your favorite sports and teams. And the best part? It's free!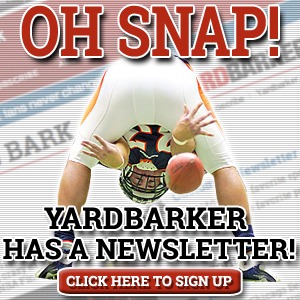 Latest Rumors
Best of Yardbarker

Today's Best Stuff

For Bloggers

Join the Yardbarker Network for more promotion, traffic, and money.

Company Info

Help

What is Yardbarker?

Yardbarker is the largest network of sports blogs and pro athlete blogs on the web. This site is the hub of the Yardbarker Network, where our editors and algorithms curate the best sports content from our network and beyond.