Found May 17, 2012 on Pro Football Zone:
Getty Images
New England Patriots wide receiver Wes Welker has come out and said that since he signed his franchise tender, contract talks between his representatives and the Patriots have only gotten worse.
"There have been talks, but nothing that's brightened anything at all," Welker said. "It's actually gotten worse."
Welker admitted that he went against the advice of others and decided to sign the tender because that's the type of person he is.
"(Organized team activities) are about to start. The team's all getting together. You get all these months off and everything else. I don't know, you're just kind of bored," Welker said. "You want to be up on the field. You want to be up there competing and trying to get better. You kind of miss it. You want to be out there. It's kind of hard. You're getting told to do this, this, or that. You're getting all this information. You don't really know who to believe or what to go with. I think at the end of the day for me, if I go out there and keep playing great football like I have been for the past five years, eventually, it'll pay off.
"If they see me out there at OTAs and minicamps and everything else, and I'm still out there winning and doing what I need to do to help the team win, you know what, the ball's in their court to make something happen," Welker continued. "That's kind of my mindset. To go out and show them I deserve it."
Welked said that he knew holding out wouldn't have been a good solution, since it wouldn't work with the Patriots like it does with other teams.
"I think those techniques work better with other teams. I think the best thing you can do, as far as the Patriots, is be there and let them make the decision if they want to do something longterm or not," said Welker, who indicated he planned on being at OTAs late next week. "Obviously, I want to be there. I want to help the team win. I want a championship and all those things. I'm trying to do everything to make that happen, and I'll let everything else take care of itself."
Now that Welker has lost all of  his leverage, he can only sit and hope that the Patriots sign him to a long-term deal.
"The ball's in their court. I just want to play," he said. "At the end of the day, if it's one year, $9.5 million, it's one year, $9.5 million. I'm good with that."
Original Story:
http://profootballzone.com/nfl/wes-we...
THE BACKYARD
BEST OF MAXIM
RELATED ARTICLES
The New England Patriots have been known to be shrewd in their dealings with players. They are not shy to let greats go when they have determined they are done with them. Yet, in the case of the Wes Welker contract negotiations they are going the wrong way. Wes Welker is not just another wide receiver. He is the go-to-guy on one of the most explosive offenses the NFL has ever seen...
One would've never thought the day would come that Wes Welker's relationship with the Patriots was so strained that he could possibly be on his way out of New England. Yes, there are contract issues, but that's pretty normal in the world of professional sports. The athlete thinks he's worth one thing and the team thinks he's worth another. That's just the way it works...
Wide receiver Wes Welker has proven once again that he's one of the most team-oriented players in Patriots history. Welker signed his franchise tender Tuesday, which fully guaranteed his $9.5 million salary for the 2012 season, and it means he'll be able to report for offseason workouts at Gillette Stadium, if he chooses to do so. That's timely because the Patriots start...
Last year, the Patriots offered Wes Welker a lot of money for a slot possession receiver. This year, they franchised him and he signed the one-year tender for $9.5 million. When he received his offer a year it ago, it was for 2-years and $16 million, so when you think about it, he is getting [...]
Wes Welker revealed Thursday that contract talks with the Patriots have "gotten worse," and it may have something to do with a decision the receiver made a few weeks ago. According to The Boston Globe, a league source has indicated that the Patriots are unhappy with Welker's decision to go public about their contract negotiations. Welker made some appearances on ESPN...
Wes Welker said Monday that he's got 9.5 million reasons not to miss any games this season. He reaffirmed that in a big way on Tuesday. Welker has decided to sign his franchise tender with the Patriots, which means he'll earn $9.5 million this season after the Pats placed the franchise tag on him this offseason. The news was first reported by The Boston Globe's Greg Bedard...
Getty Images According to Greg Bedard of the Boston Globe, New England Patriots wide receiver Wes Welker has signed his franchise tag, which will pay him $9.5 million for the 2012 season. Welker was just on WEEI Radio in Boston yesterday and stated that he had 9.5 million reasons to play this year and ultimately not hold out.  He said that at he moment he wasn't sure what he was...
New England Patriots four-time Pro Bowl wide receiver Wes Welker has signed his $9.4 million franchise tender. Welker made the announcement via his official Twitter account.
Report: Wes Welker reveals contract talks with Patriots getting worse
Many movie moments could symbolize Wes Welker's decision to sign his $9.5 million franchise tender Tuesday and return to the Patriots for the 2012-13 season. Perhaps the Hulk destroying enemy ships in The Avengers. Or Dean Portman showing up at halftime of the JV-Varsity game at the end of Mighty Ducks 3. Really, any clip of someone returning from somewhere and then going on...
The Celtics look to keep things going in Philadelphia tonight as they take on the 76ers in game four of the Eastern Conference Semifinals. Tonight's game is on ESPN at 8:00 p.m. The Red Sox are also in Philly tonight as they get ready to take on former teammate Jonathan Papelbon for the first time. (NESN, 7:10 p.m.) See all of Friday's Viewing Picks. A few of the big stories...
Wes Welker said Tuesday that he was taking a leap of faith in signing the franchise tender. However, it was more of a push from the New England Patriots front office. Passing camps start soon and Welker knows all to well that if he's out of sight, he's out of mind. In the 2012 off-season, the Patriots restocked their diminished wide receiver position. Brandon Lloyd, Jabar...
Patriots News

Delivered to your inbox

You'll also receive Yardbarker's daily Top 10, featuring the best sports stories from around the web. Customize your newsletter to get articles on your favorite sports and teams. And the best part? It's free!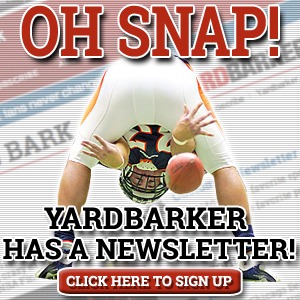 Latest Rumors
The Backyard

Today's Best Stuff

For Bloggers

Join the Yardbarker Network for more promotion, traffic, and money.

Company Info

Help

What is Yardbarker?

Yardbarker is the largest network of sports blogs and pro athlete blogs on the web. This site is the hub of the Yardbarker Network, where our editors and algorithms curate the best sports content from our network and beyond.