Found January 02, 2013 on isportsweb.com:
First and foremost, it means that the Detroit Lions own the fifth pick in the 2013 NFL Draft. Unfortunately, it also means that Detroit has taken a monstrous step backward in 2012.  A year removed from a 10-6 season that ended in the playoffs, the Lions now find themselves drafting in an all-to-familiar position. How did 4-12 happen?  Who is to blame for the 2012 season?  How can the Lions return to the 10-6 form of just a year ago? I must start by saying that the 2011 team probably didn't deserve their 10-6 record.  They were aided by several miracle comebacks that should have been losses.  Call it karma, or whatever you like to call it, but this year's team didn't deserve their record either. An ill-advised challenge flag, a missed Jason Hanson field goal, last-second heroics from Andrew Luck and a boneheaded snap by Dominic Raiola have gotten the Lions to 4-12. In one sentence, I just changed three losses into possible wins for Detroit. But hypotheticals are exactly that, and that's not what I'm here to discuss.  There are more relevant things to talk about than how a few plays could have been changed or how the results could have been different. 4-12 isn't where the Lions thought they would be after 17 weeks of football.  In the NFL, the win-or-go-home school of thought prevails over all, and Head Coach Jim Schwartz knows this.  He has declined comment about his job status and contract, but he knows that his job is in jeopardy.  Since the Lions extended his contract for an undisclosed number of years in July, I don't believe he'll be fired this offseason.  But should the offseason problems of last year resurface, Schwartz's job will be under heavy scrutiny.  Regardless of offseason problems, if the Lions begin the 2013 campaign with a few straight losses, don't be surprised when Schwartz is ushered out of Detroit. Coaches are easy scapegoats, but that's not my style.  They call the plays and are responsible for keeping the team motivated and prepared, but the players are the ones who play the games. Can we blame the coaching staff for Detroit's horrendous turnover margin this year?  At -16, the Lions rank 30th in the NFL, better than only Philadelphia and Kansas City. Who deserves blame for Detroit's dismal return game?  The Lions rank 31st in yards per kick return and 22nd in yards per punt return and failed to score a special teams touchdown all season.  They were one of only four teams that failed to record a kickoff return of more than 40 yards and one of only five teams that didn't have a single return play of more than 50 yards. Why the lack of explosive plays?  How come the Lions had the second-best passing attack in the NFL but were one of just four teams that failed to complete a pass of 60 yards or more?  Some of that is defensive game plan, yes.  I'm not putting too much stock into that stat, but with the best receiver in the NFL, I was surprised by it. Stafford's numbers were down from last year, especially his wins Clearly, the play of Matthew Stafford was not as good this year as it was last year.  Sure, he managed to throw for nearly 5,000 yards, but his 20 touchdown passes are less than half of what he had last year (41), and his 17 interceptions are up from 16 last year. His yards-per-attempt of 6.83 ranked him 21st among qualifying quarterbacks; right between Philip Rivers and Ryan Tannehill.  His quarterback rating of 79.8 ranked 22nd; just barely better than Nick Foles. But the stat that tells the most about Matthew Stafford's season is the one immediately under the W column.  Four wins is not enough.  Like it or not, quarterbacks will be judged by the games they win for as long as the NFL exists. So do I blame Stafford for the Lions' disappointing 2012?  Not entirely.  He deserves blame along with every other player, and more so because he's the quarterback.  But that doesn't mean he's my only target. The Lions have plenty of targets for me to take aim at, and the receiving corps is one of them.  Detroit led the NFL this season with a whopping 45 drops, just under three per game.  Calvin Johnson was the main culprit with ten drops, followed by Brandon Pettigrew who finished with eight (on 22 fewer targets). Injuries played a huge part in the dropped passes this season.  Anytime a team is bringing up players from the practice squad and starting them, a la Kris Durham, it spells disaster.  The Lions lost Nate Burleson, Titus Young and Ryan Broyles this season, making it very tough on the receiving corps.  Combine the injuries with a record-setting season for Stafford in terms of attempts, and the drops are put in perspective. A problem for sure, but was it the biggest problem? I say no.  The reason the Detroit Lions finished at 4-12 is complicated, but the losses were driven by turnovers. Here's a telling stat: the Lions finished 13th in total defense, giving up a respectable 341 yards-per-game.  But the defense finished 27th in scoring defense at 27.3 PPG. Why the disparity?  The Lions' season finale against the Bears is as telling a game as any, and typified Detroit's season in many ways. In the game, which at 26-24 was yet another close loss for the Lions, Detroit turned the ball over four times.  All four of the turnovers gave the ball to Chicago inside Lion territory, and the Bears were able to score 16 points as a result.  The defense did a nice job to hold the Bears to three field goals, but the offense's blunders were too much to overcome; the drives still ended in points for Chicago. I won't kid you: this defensive unit is not built to win championships.  They are an improving unit, yes, but they're no steel curtain.  It is the offense that is built to win games for Detroit, and they simply didn't do so. So how can the Lions return to 10-6 in 2013? Well, I'm not sure that's very realistic.  It's tough to go from not winning a single divisional game one year and then going 10-6 the next.  If the Lions can't beat anyone in their division, 8-8 would be a good result. That said, the Lions were very close to winning all three of their divisional home games in 2012.  The Bears loss I have discussed, and the Packers loss was just as tight.  It took a late Randall Cobb touchdown for the Packers to top the Lions.  The Vikings game was one of Detroit's worst of the year, a 13-20 game in which the Lions gave up two special teams scores. Now the offseason begins, and with it the speculation.  What will the Lions do with their 5th overall pick?  Will the team finally give Cliff Avril the big-time deal he wanted a year ago?  Detroit has already fired their running backs and wide receivers coaches; will more firings ensue? What I'm sure of is this: the Detroit Lions need to change drastically if they want to return to their winning ways.   Follow me on twitter @ScottPeceny Subscribe to Detroit Lions email notifications here  
Original Story:
http://feedproxy.google.com/~r/isport...
THE BACKYARD
BEST OF MAXIM
RELATED ARTICLES
With a 4-12 season in the books, Lions GM Martin Mayhew has opened up on various topics regarding the Detroit Lions. His future with the team This past Monday according to Anwar Richardson of Mive.com, Martin Mayhew had a sit down with the Ford family where they voiced their displeasure over the disappointing results of the season. However the Fords also informed Mayhew that they...
Detroit Lions general manager Martin Mayhew says as far as he knows, both he and coach Jim Schwartz will be back next season. Mayhew adds he's spoken with ownership and discussed his plans going forward. The Lions lost their final eight games and finished 4-12. Mayhew spoke with reporters for about 45 minutes Wednesday night. He says he's taking a wait-and-see approach...
ALLEN PARK, Mich. -- Detroit Lions general manager Martin Mayhew regrets that he failed to have a backup plan in place this season in case running back Jahvid Best wasn't cleared to play. As a result, the Lions lacked the type of playmaker in the backfield who could produce explosive running plays. "Probably the biggest mistake that I made last year was counting on Jahvid...
Normally, I see these stories and read them because they are uplifting. However, normally these type of feel good stories come with media attention, cameras and press. Now, I do not want to sounds like a cold hearted, pessimist who only thinks teams bring in people with life threatening diseases or conditions to look good, but it is true that the media is often asked to attend these...
Chandler McBride of Three Rivers (MI) High School was a two-sport standout before his athletic career was instantly taken from him after he severed his spinal cord this past summer diving into the shallow end of a friend's pool.  The six-foot, 190 tight end/defensive end became paralyzed from the chest down. And while his high school career was supposed to end this year, the Detroit...
Jim Schwartz is 1-0 in Senior Bowl games as a head coach, his last win coming in 2010. For the second time in Jim Schwartz's head coaching career, he and his staff will get the opportunity to coach some of the  top college prospects ahead of this year's NFL draft in the Senior Bowl. Last time Schwartz and his motley crew of Gunther Cunningham and Scott Linehan coached the Senior...
Lions fans had hoped to capitalize on the momentum of a 10-6 season and a playoff berth in 2011. Instead, a tumultuous off-season , full of arrests and player misconduct set the tone for what would come. The Lions finished the 2012 season 4-12 , including an unacceptable 0-6 record against their NFC North division rivals. The frustrating part of it all , was that when the Lions were...
PONTIAC, Mich. (AP) Crews renovating the Pontiac Silverdome have deflated the roof ahead of the start of work to return the former home of the Detroit Lions to use. Silverdome events coordinator Alex Loewy says stadium owner Triple Investment Group LLC will begin renovations this spring and summer. He says work will include a new roof with solar panels. Loewy tells The Oakland...
The Senior Bowl will be played on Saturday, January 26th this year. On Thursday, the coaching staffs were revealed, with a familiar face on the sidelines once again. Detroit Lions head coach Jim Schwartz returns this year in order to coach the South squad in Mobile, Alabama. The North team will be coached by Oakland Raiders head coach Dennis Allen. Coaching at the Senior Bowl helps...
Lions News

Delivered to your inbox

You'll also receive Yardbarker's daily Top 10, featuring the best sports stories from around the web. Customize your newsletter to get articles on your favorite sports and teams. And the best part? It's free!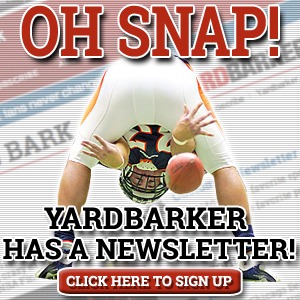 Latest Rumors
Best of Yardbarker

Today's Best Stuff

For Bloggers

Join the Yardbarker Network for more promotion, traffic, and money.

Company Info

Help

What is Yardbarker?

Yardbarker is the largest network of sports blogs and pro athlete blogs on the web. This site is the hub of the Yardbarker Network, where our editors and algorithms curate the best sports content from our network and beyond.