What do the Eagles do with Nick Foles now?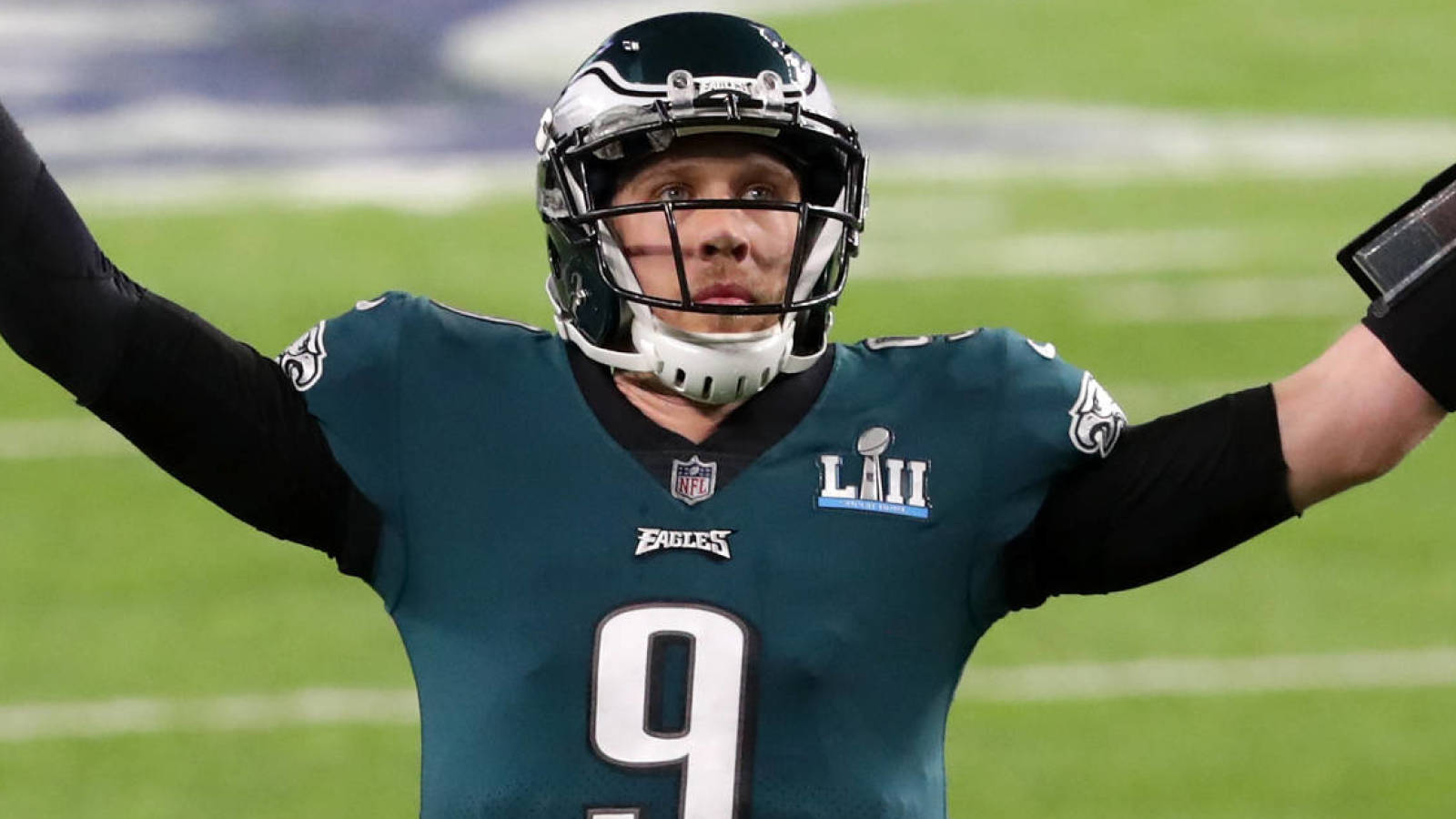 Streeter Lecka/Getty Images
When Nick Foles took over for an injured Carson Wentz in early December, few expected that he would go on to lead the Eagles to the franchise's first Super Bowl win. Even fewer expected he would do it the way he did: with back-to-back virtuosic performances in the NFC Ghampionship Game and the Super Bowl itself. It still feels like a fever dream that the Eagles won a Super Bowl over the Patriots in a historic shootout in which their defense did relatively little.

The perceived value of the average NFL player can dramatically rise and fall on the strength of one standout regular-season game, and that effect is amplified when that singular great performance occurs in the Super Bowl. One need look no further than the likes of Larry Brown and Dexter Jackson, Super Bowl MVPs with otherwise middling careers who reaped the windfall of big outings on the grandest stage. And those were defensive backs. As always with the NFL, reason and nuance go out the window when you're talking quarterbacks.

The Eagles made Foles the highest-paid backup in the sport when he returned to the team last March. Some snickered at the time, especially given Foles' mostly mediocre output the preceding three seasons, but it looks like an incredibly savvy investment now. That it was a multiyear deal not only gave the Eagles some security behind their franchise passer for a couple years, but it now means the team has an incredibly valuable bit of trade bait, should it elect to use it.

If Foles was about to become an unrestricted free agent, it's quite possible that he would instantly become the most prized quarterback on the market, even when Kirk Cousins is available and a remote chance that Drew Brees and Jimmy Garoppolo are as well. Taking in the full breadth of their careers, that seems like lunacy. Cousins has better career numbers and more consistent success while only being about five months older than Foles. Brees is a sure-fire Hall of Famer, but he just turned 39 and is likely to re-sign with the Saints anyway. Garoppolo would be the only potentially available QB who could rival Foles on the market right now, but it's also a slim chance the Niners let that happen after trading a second-round pick for him months prior.

Sure, Foles only had two great games all year, but they were the two games that every team sets out to win each season. Postseason success goes a long way, and Cousins has exactly none of it.

But Foles isn't about to be a free agent. In fact, the Eagles have him under contract through the 2018 season. Technically, they have him signed for an additional three years after that, except the language of the deal states those last three seasons are automatically voided if Foles is on the Eagles' roster 23 days into the 2019 league year. So why even have them at all? I don't know. What do I look like, an agent?

So with some enticing options, what do the Eagles do with Foles now? For better or worse, there's no easy answer. Unsurprisingly, there are a few hot take artists making the case that it should be Foles who is Philadelphia's default starter going into the 2018 season. If I'm being generous, that's a purposely provocative but not a wholly unreasonable argument. Wentz will be returning from an ACL injury that typically sets players back for a year after recovery, if not longer. It's rare that a quarterback is as good the season after suffering a season-ending ACL injury, which is certainly distressing news for fans of both Wentz and Deshaun Watson. Even Tom Brady, who suffered an ACL injury in the first game of the 2008 season, saw his numbers dip a little the following season compared to several before and after recovery.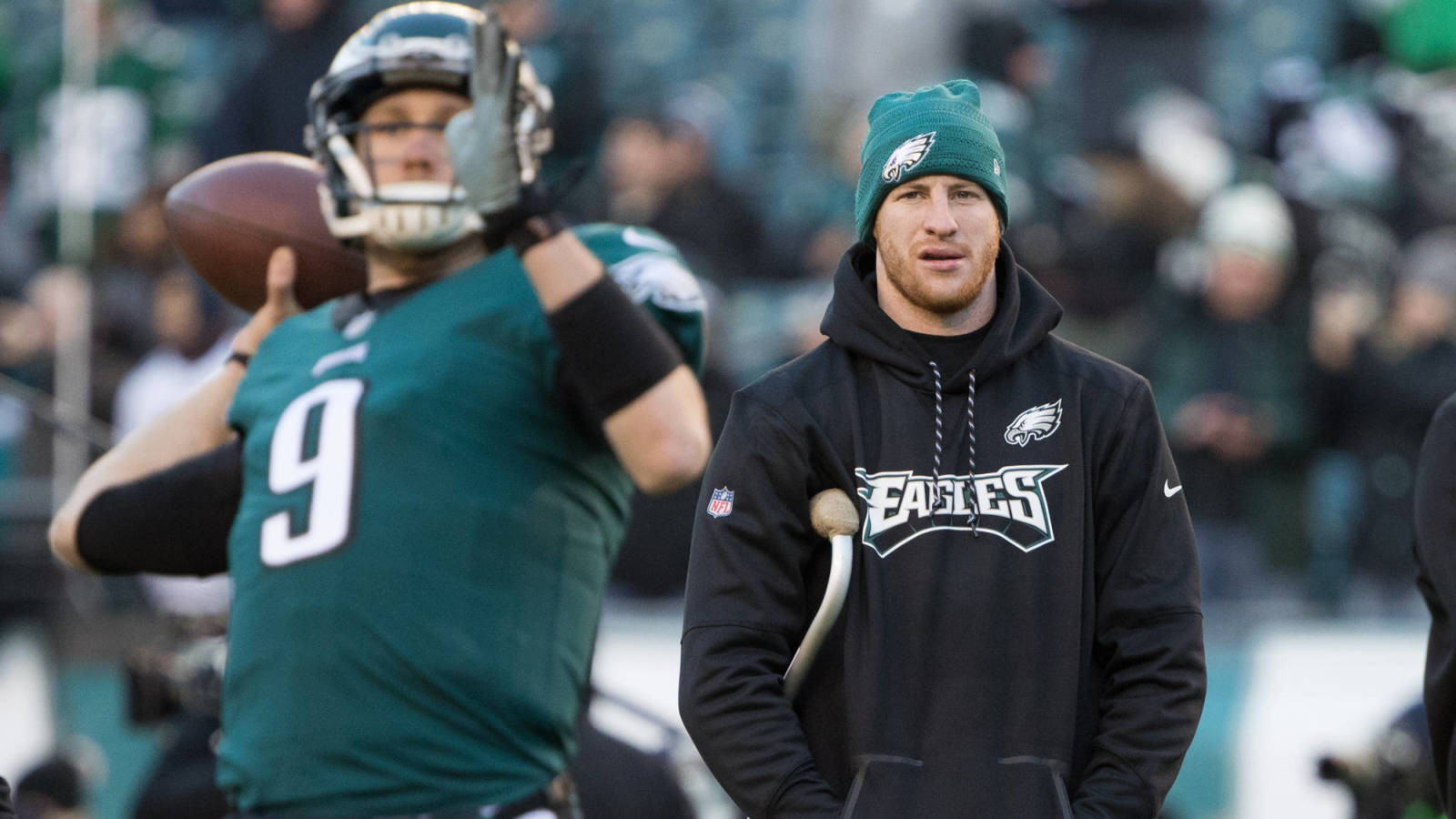 Bill Streicher-USA TODAY Sports
That said, if Wentz is still the future, you'd rather him work through that year than put it off for later. Also, what assurance does anyone have that the last two, albeit great, games weren't an aberration for Foles? You can't say it was just scheme and play-calling because Foles made some amazing pinpoint throws, but that kind of performance is largely the exception over his career.
Eagles general manager Howie Roseman deserves a ton of credit for turning the franchise around following the end of the Chip Kelly era. Not only did he quickly unload a bunch of burdensome contracts in early 2016, allowing Philly to get to work on reshaping the roster right away, but he was able to fleece the Minnesota Vikings in a trade for Sam Bradford, which should show just how much the team could get in a trade involving Foles. While the Vikings were desperate at that time, having just lost incumbent starter Teddy Bridgewater to a devastating knee injury weeks before the start of the regular season, it's not unreasonable to think the Eagles might be able to swing another first-round pick for Foles, even with a quarterback-heavy draft class coming in.
Even as defending champs, the Eagles could use the draft picks in 2018. Due to trades that netted them Wentz and cornerback Ronald Darby, the team doesn't have a second- or third-round pick in the upcoming draft. You'd think if any team can afford to be complacent, it's the defending champs, except every team is always striving to get better. Standing pat seldom results in good things in the NFL.
That said, Foles' triumphant work in the playoffs demonstrates the value of a good backup quarterback. There's no way to know what will happen with Wentz in the 2018 season, but it would be a tremendous luxury to have a backup the team knows for sure can carry the load if Wentz goes down again or unexpectedly struggles to regain his form. The Eagles are in an enviable position, as they are now not only the champs, but in a position to improve the roster in many ways. They might lose breakout linebacker Nigel Bradham in free agency as well as running back LeGarrette Blount. If the team feels comfortable replacing them with a first-round pick and slew of mid- to late-rounders, so be it. That's not an unreasonable stance. It's something of a gamble either way.
For now, it's choosing between the best chance to repeat and the best chance for sustained success for years to come. That's a decision most franchises wish they had, and no matter what Philadelphia chooses to do, the Super Bowl champs are in an enviable, win-win situation.
Eagles News

Delivered to your inbox

You'll also receive Yardbarker's daily Top 10, featuring the best sports stories from around the web. Customize your newsletter to get articles on your favorite sports and teams. And the best part? It's free!
MORE FROM YARDBARKER
Eagles News

Delivered to your inbox

You'll also receive Yardbarker's daily Top 10, featuring the best sports stories from around the web. Customize your newsletter to get articles on your favorite sports and teams. And the best part? It's free!