Found April 02, 2013 on Ravens Football Machine:
Out of sight but not out of mind, guard/tackle Jah Reid is quietly rehabbing the turf toe he suffered in Week 17 causing him to miss the playoffs--- but an injury which inspired the Bryant McKinnie plug-in at left tackle and the move of Michael Oher to right tackle. WIth rookie Kelechi Osemele then sliding over to left guard, the transformation of the Ravens O-Line was complete. They ran the table from there. The big question now is--- with Jah Reid expected to be ready to play again, do you mess with the formula at guard and tackle?         But if the Ravens don't re-sign McKinnie this offseason, Reid could be a leading candidate to regain a starting position somewhere along the line. According to eyewitness Ryan Mink of the Ravens NFL.com website, the 2011 third-round pick is at the Under Armour Performance Center working his way back from that toe injury in hopes of making an impact once again either at left guard, where he left off, or at tackle. "I'll be a good football player for this team," Reid vowed. "I'm just looking to get healthy and for a spot to play." Reid had started the final seven games of the regular season at left guard. According to Pro Football Focus, Reid had up and down performances, including strong showings against Pittsburgh and Denver and tough games in San Diego and Cincinnati. "I felt like I was improving," Reid said. "It's a tough sport; you go out there and take your licks. You've got to learn and improve, and that's what I was doing." Then the injury happened, and in a flash Reid's season was done. "The timing, as far as for last season, sucked. Not being in the playoffs and the Super Bowl, it couldn't be any worse for me," Reid said. The silver lining, Reid said, is that the injury allowed him enough recovery time to get back for this season and most or all of the offseason camps. He said he feels ahead of schedule and that his recovery has been all positive so far. Reid was a right tackle in college, and the Ravens valued him so much that they traded up in the third round to grab him. They liked his size (6-foot-7, 335 pounds) and athleticism, especially his ability to bend well and drive. Reid said he's comfortable either playing guard or tackle. And there's the rub... You've got a weird scenario if Bryant McKinnie doesn't return at left tackle, and the Ravens don't sign or draft anyone to start at tackle, Michael Oher would presumably move back to the left side, Osemele to right tackle and Jah Reid would be up for another shot at left guard. Or the Ravens could keep Osemele at guard and Reid could work at right tackle. In my opinion, that scenario would be a step back for the Ravens O-Line. And it has nothing to do with Jah Reid's abilities---- it just predicates moving Michael Oher to left tackle, which is not the best position for Oher or for the team. Michael Oher is not at his best as a left tackle at this level. He needs to stay at RT and leave Marshal Yanda and Osemele at Guard positions. If McKinnie doesn't come back to play LT,  Reid would be a productive backup and could possibly do spot starting, but the Ravens really need to get LT figured out and solidified before the season. Jah Reid is better served to play right tackle. I don't think he is ready to play the LT position as a starter. As far as Reid at a guard position----remember, the Ravens will have a new center this year (Matt Birk retired).  Gino Gradkowski (or whoever the new center is) will be best supported with Osemele on his left and Yanda on his right-- two outstanding guards. Ozzie will not trade up high to draft one of the top rookie LTs out there, but there are serviceable LTs in later rounds. I think most Ravens fans are in agreement--keep Oher on the right side and draft a left tackle. After all, when you think about it, the Ravens in effect have the first pick of the 2nd round. Nice if Bryant McKinnie decides to give the Ravens one more year at LT to buy them time to develop his replacement---but don't count on that happening.  
Original Story:
http://www.ravensfootballmachine.com/...
THE BACKYARD
BEST OF MAXIM
RELATED ARTICLES
Baltimore Ravens special teams player Christian Thompson has been suspended without pay for the first four games of the 2013 season for violating the league's substance abuse policy. The suspension was announced Monday by the NFL. Thompson played in seven games as a rookie last season before being placed on injured reserve on Nov. 17 with a knee problem. The 6-foot, 211-pound...
THE BACKSTORY
A report says John Harbaugh really didn't want Ed Reed back with the Ravens even though appearances suggested otherwise.
According to the Baltimore Sun, the Ravens were happy with Dannell Ellerbe's work ethic, but were ultimately hesitant to pay him because of his party habits. Miami got a good, young player when it signed linebacker Dannell Ellerbe to a five-year, $35 million contract earlier this offseason, but there has to be some concern within the organization. Ellerbe improved his work ethic...
The Baltimore Ravens took a few crucial blows this offseason with not only Ray Lewis and Matt Birk retiring, but the loss of Ed Reed, Paul Kruger and Dannell Ellerbe hurt. With all the losses, the Ravens have to get the 2013 NFL draft right more than ever to continue on the right path. Here is a look at what the Baltimore Ravens 2013 mock draft through the first four rounds could...
There may have been a reason why John Harbaugh and Ozzie Newsome seemed to have no problem blowing up a Super Bowl-winning team. The Ravens' head coach had no problem with star safety Ed Reed leaving town, according to Mike Preston of the Baltimore Sun. In fact, Preston writes Harbaugh "wanted Reed back as much as he wants a root canal." There were reports of a "near mutiny"...
There was no citation, and it's a little unclear whether this was being reported as fact or whether this was merely an opinion, but in any case the Baltimore Sun's Mike Preston wrote on Monday that Ravens coach John Harbaugh was happy to see safety Ed Reed leave for Houston. "It was interesting to see how the national media made it seem like the Ravens were in a bidding...
The Ravens continue to clean house of veterans. The team has released linebacker Brendon Ayanbadejo, according to reports. Ayanbadejo is a standout special teams player, but he will be 37 in September and the Ravens are trying to get younger. Ayanbadejo is also an outspoken advocate for same sex marriage.
From all accounts, the Houston Texans seemingly beat out the Ravens in a bidding war for the services of Ed Reed. But according to Mike Preston of the Baltimore Sun, that certainly wasn't the case.According to Preston, the Ravens out of respect for Reed bid up his price to allow him to make more money, but they had no interest in re-signing him. And the decision to not to re-sign...
The Ravens' 2012 fourth-round pick is suspended for the first four games next season, according to reports. Safety Christian Thompson ended the 2012 season on injured reserve, but would have been looked at to play more this coming season with the departures of Bernard Pollard and Ed Reed. Thompson was suspended for a violation of the substance abuse policy.
Ravens News

Delivered to your inbox

You'll also receive Yardbarker's daily Top 10, featuring the best sports stories from around the web. Customize your newsletter to get articles on your favorite sports and teams. And the best part? It's free!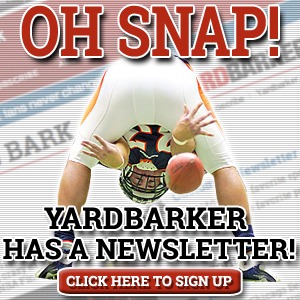 Latest Rumors
Best of Yardbarker

Today's Best Stuff

For Bloggers

Join the Yardbarker Network for more promotion, traffic, and money.

Company Info

Help

What is Yardbarker?

Yardbarker is the largest network of sports blogs and pro athlete blogs on the web. This site is the hub of the Yardbarker Network, where our editors and algorithms curate the best sports content from our network and beyond.