Found April 04, 2013 on Thoughts from the Dark Side:
Last week I posted a piece about the Raiders options with Carson Palmer. Since then, the Raiders have traded for a new QB, former Packer and Seahawk Matt Flynn. They also traded Palmer to Arizona, effective yesterday. Since the trade, I've received a lot of questions about why Palmer counts against the cap and how the "dead money" works. Here is text from last week's piece on his contract: "When a player is cut, their guaranteed money accelerates into the current season. Therefore, if the Raiders cut Carson Palmer this year, all of the remaining guaranteed money from the $11,675,000 signing bonus signed last year would come into 2013's cap. The Raiders paid 1/5 of that money last season as part of the prorated amount so four years' payments of $2,335,000 remain, or $9,340,000." In the case of trades, the same accleration of the previously prorated signing bonus occurs . Because Palmer's signing bonus was spread out over 5 years and only the first fifth was paid last year, the remaining $9.34M accelerates into 2013's cap. If Palmer had stayed on the team, his $13 million base salary would have combined with 2013's allotment of the prorated signing bonus, $2,335,000 to give him a cap number of $15,335,000. When the team traded Palmer, again, it accelerated the remaining 4 sections of the signing bonus into 2013, leaving $9,340,000 in dead money under 2013's cap. So, by trading Palmer the team still realized a cap savings of $5,995,000 in 2013 ($15,335,000 - $9,340,000 = $5,995,000). Before trading for Palmer, however, the Raiders had already made a move to secure themselves the most likely candidate to be their starting QB in 2013 – former Green Bay backup Matt Flynn. The Raiders traded for Flynn and then restructured Flynn's contract.  The team made the rare choice of restructuring Flynn's contract to a higher number – moving his contract from the $5.25 million he would have made in his original contract with Seattle to $6.5 million in Oakland in 2013. Teams restructure contracts all the time but I don't recall hearing about a team moving a player's cap number up in the coming year because most teams are struggling to make it under the cap. So why would the Raiders make this move? By putting more money in 2013 they were able to put less money in 2014 – Flynn and the Raiders moved $1.25 million from 2014's salary (which was initially to be $6.25) into 2013's base salary and then decreased 2014's base salary to $5 million. The Raiders also put all of the guaranteed money into 2013 – so Matt Flynn's $6.5 million in 2013 is fully guaranteed. But that's almost meaningless for this year.  It's not as if Reggie McKenzie spent the draft picks to trade for him only to cut him. Plus, Flynn (having accrued than four years in the NFL as an active player) is now a vested veteran.  As soon as he was on the Raiders roster at the beginning of week 1 of the regular season, as a vested veteran, his 2013 base salary became fully guaranteed anyway.  So this provision meant nothing to the Raiders – it cost them nothing they wouldn't already be paying. Why would the Raiders take the steps to do it, then, you ask? I can think of only one reason.  The Raiders put all of the guaranteed money in 2013 so that Flynn's 2014 salary is not guaranteed.  The only reason I can think that they would do that is so they have the freedom to cut Flynn in the offseason of 2014 without having any dead money go against the cap. It's likely this is was the provision that Flynn didn't like as much when the Raiders were negotiating with his agent prior to the trade.  However, the team solved this issue by giving Flynn a bit more money in 2013 – a year they aren't expected to do much anyway – so they could have full flexibility next year. Flynn now has a year to prove that he should be the team's long term quarterback.  Next year, Reggie McKenzie can evaluate his options and make the best determination without being tied to any particular player. Because the Raiders saved slightly under $6 million when they cut Palmer ($5,995,000 to be exact) and because the team restructured Flynn's contract to be $6.5 million in 2013, the team's cap number is actually $505,000 higher in 2013 than it would have been had they simply kept Palmer. But McKenzie was looking to the future.  Palmer would have counted for a lot of dead money against the cap in 2014 if he were still on the roster at this time next season, too, and McKenzie likely determined it was better to take most of the cap hits in 2013 to free up as much money as possible in 2014 so that he can start to build a team of which he can truly be proud. For more Raiders news and analysis, follow me on Twitter @AsherMathews
Original Story:
http://www.tfdssports.com/2013-articl...
THE BACKYARD
BEST OF MAXIM
RELATED ARTICLES
Unlike the Great Fleecing of 2011 (aka the trade of Carson Palmer to the Oakland Raiders for a 2012 1st round pick and a 2013 2nd round pick) the trade that happened yesterday involving Palmer seems to work out for all parties involved. On Tuesday Palmer was involved in a deal between the Oakland Raiders [...]The post Somehow the Carson Palmer trade wasn't so bad for either side...
The trade is completed; and Carson Palmer and the Arizona Cardinals seem to both be happy with the match. While I am not keen on the idea of Palmer in Cardinal red, the price was cheap, the risk is low, and the reward is… well to be determined. What Carson Palmer brings to Arizona is a guy who is comfortable dropping back deep in the pocket, hitting his last step in the drop and...
Carson Palmer traded from Oakland to Arizona. That may be a decision that a lot of Cardinals fans could be asking themselves about.What really lies behind the truth on the trade of Carson Palmer to the Arizona Cardinals? Most would say that Palmer is done and doesn't have anything left as a quarterback. Is this true?Or could it have been the lack of discipline and talent from his...
With the announcement of the trade to Seattle for QB Matt Flynn this comes as really no surprise. Oakland announced on Tuesday that they have traded QB Carson Palmer to the Arizona Cardinals. The deal includes switching 2013 draft picks … Continue reading → This has been read 1 times
Seahawks! Time to search for a replacement for Flynn! When your team's main focus is a second string quarterback, you're usually sittin' pretty. The Seattle Seahawks recently sent former backup Matt Flynn to the Oakland Raiders for a fifth round pick in 2014, and a conditional pick in '15. http://www.nwsportsbeat.com/seahawks/seattle-must-find-matt-flynn-backup-qb-replacement...
In episode 8 of the Raiders Blog Podcast, Christopher Hansen (@ChrisHansenNFL) and Taylor Armosino (@tarmosino) discuss all impacts of the Matt Flynn/Carson Palmer saga and the signing of Tracy Porter. or other podcast clients: http://raidersblog.com/feed/podcast
With a two-time Pro Bowl selection now under center in Arizona, standout Cardinals wide receiver Larry Fitzgerald will be in "prove it mode" in 2013. Handcuffed by an atrocious collection of quarterbacks since Kurt Warner retired in 2009, the 6-foot-4, 217 pound Fitzgerald has caught 764 balls for 10,413 yards and 77 touchdowns in 140 games as a Cardinal. "I'm coming off...
In Carson Palmer -- whom coach Bruce Arians described as "our starter" earlier this week at Palmer's introductory press conference -- the Cardinals have their quarterback. Their quarterback for now, anyway. Palmer, 33, is on a reworked two-year deal that includes a club option for 2015, and the only other quarterbacks on the roster are backup Drew Stanton -- a six...
How bad were the Arizona Cardinals last season? Larry Fitzgerald, the Cardinals star wide receiver called it the worst season of his career. What spurned this confession, the introduction of Carson Palmer as his new quarterback. Palmer will be Fitzgerald's eight QB since Kurt Warner left in 2009.   .@larryfitzgerald on Carson Palmer: "I'm coming off the most disappointing...
Carson Palmer is just one of the quarterbacks on this year's Bad QB Carousel (csnbayarea.com) Have you ever seen that episode of "The Simpsons" where Bart gets placed in the remedial class? There's a very funny scene in which they play musical chairs, but there are far more seats available than players. In essence, every round the same people stayed in the game while...
NFL News

Delivered to your inbox

You'll also receive Yardbarker's daily Top 10, featuring the best sports stories from around the web. Customize your newsletter to get articles on your favorite sports and teams. And the best part? It's free!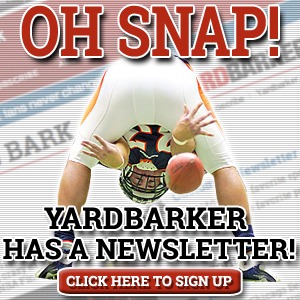 Latest Rumors
Best of Yardbarker

Today's Best Stuff

For Bloggers

Join the Yardbarker Network for more promotion, traffic, and money.

Company Info

Help

What is Yardbarker?

Yardbarker is the largest network of sports blogs and pro athlete blogs on the web. This site is the hub of the Yardbarker Network, where our editors and algorithms curate the best sports content from our network and beyond.