Found March 09, 2012 on Turn On The Jets:
Is there anything more simultaneously entertaining and sad than hearing about the New York Jets shopping Wayne Hunter for a trade? I didn't think it could get any worse than trying to get a team to trade for Bart Scott, an aging linebacker who can't be on the field on passing downs, can't tackle and is owed 4 million dollars…well it can when you are trying to trade a right tackle who simply can't block for 2.5 million guaranteed.
Can you hear Tannenbaum's pitch on the phone?
"Listen, I know this guy almost got our quarterback killed last year and was repeatedly beat like a drum every single week but there is potential there. What? Yes…I know Andre Carter, Jason Babin, Jarret Johnson, and Von Miller all won Defensive Player of the Week because of Wayne, you see he is a giver! C'mon now, he yelled at Santonio Holmes in the huddle for us at least. How about a 5th rounder? A 6th rounder? A conditional 7th?. Fine. Bye"
I think the Jets could probably get Justin McCariens in return for Hunter, if he un-retired and joined the Titans again. They might be able to get Ray Lucas from SNY to backup Mark Sanchez. They could always trade him to us here at TOJ, we could use an enforcer, I'll send back a signed picture of me catching a 6 yard out route in college for our Division III team.
Original Story:
http://turnonthejets.com/2012/03/what...
THE BACKYARD
BEST OF MAXIM
RELATED ARTICLES
The New York Jets rewarded quarterback Mark Sanchez with a three-year contract extension worth $40.5 million after a 31-22 record over his first three years. But coming off the heels of their pursuit of Peyton, how does this move effect the team next season? Mark Sanchez came out of his safe house Friday with a fistful of cash and an optimistic outlook. After enduring his most trying...
from Jeremy Rutherford of the St. Louis Post-Dispatch, There was an unlikely visitor on the Blues' bench at today's morning skate. New York Jets coach Rex Ryan watched the team practice and spoke with Blues coach Ken Hitchcock. "I said, 'Man, you coach this team like a football team ... and that's the truth," Ryan said. "He spent a lot of time around football coaches...
Forget all that Peyton Manning talk. The Jets are sticking with Mark Sanchez. No hard feelings, either. Sanchez's ego is just fine - and so is his wallet. After New York ''looked into'' pursuing Manning, Jets general manager Mike Tannenbaum announced Friday night that the team extended Sanchez's contract by three years. The move ended speculation the Jets...
It's been fairly well established that the Jets really don't need Peyton Manning at this point. The Dolphins on the other hand? Well, they're desperate for their first saving grace since Dan Marino. Check out this Dolphin fan's stirring rendition of "My Heart Will Go On" with a parody, "Your Career will Go On". If this doesn't convince Peyton Manning to sign with...
When most of us heard about the NY Jets extending Sanchez's contract, this is the face we made. As most of the football world was trying to decide if the Washington Redskins gave up too much to the St. Louis Rams to move up to the 2nd pick and grab Robert Griffin III, the Jets surprised everyone by extending their QB Mark Sanchez's contract by 3 years and 40.5 million dollars...
Mark Sanchez. Peyton Manning. Mark Sanchez's feelings. Peyton Manning's neck. Mark Sanchez's attitude. Peyton Manning's flights. Chad Henne. Jason Campbell. And so the cycle continues, let's talk about the New York Jets quarterback position - 1. It certainly sounds like the New York Jets are just about out of the Peyton Manning sweepstakes. Is it over? Of course not but...
Fans that were itching to see the Peyton and Eli Manning compete for the love of the Big Apple are going to be a little disappointed. The New York Jets effectively took themselves out of the running for the elder Manning's services by giving their current quarterback, Mark Sanchez, a contract extension. "To find out that I could come back for three more years means the world...
News came out late Friday night that New York Jets quarterback signed a three-year contract extension. It has $20.5 million guaranteed. How does that impact the talks for Baltimore quarterback Joe Flacco? The short answer is Flacco and his agent will want more than the Jets gave Sanchez. And they should. Flacco is a more accomplished quarterback than the Jets' third-year player...
While veteran wide receiver Randy Moss reportedly turned in an impressive workout for the New Orleans Saints on Tuesday, it didn't pique the curiosity of the New York Jets. ESPN New York, citing sources, said the Jets have zero interest in the mercurial Moss, who is attempting a comeback after retiring and taking last season off. The website reported that the Jets had enough...
Former New York Giants running back Brandon Jacobs told the New York Post that he wouldn't mind finishing his career with Rex Ryan and the New York Jets. "I got about three good ones left in me, no question … guaranteed three more years left in me," Jacobs told the Post. "I would love to do that,'' Jacobs said. "It would be an opportunity for me to not have to relocate...
Over the past few weeks, the New York Jets were counted as one of the teams that would go after Peyton Manning upon his release from the Indianapolis Colts. Manning started making the rounds on Friday, first in Denver to meet with the Broncos, with an expected visit with the Cardinals and possibly Chiefs. Many thought the Jets would still make an effort, but nothing, no word from...
NFL News

Delivered to your inbox

You'll also receive Yardbarker's daily Top 10, featuring the best sports stories from around the web. Customize your newsletter to get articles on your favorite sports and teams. And the best part? It's free!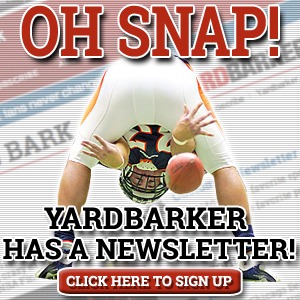 Latest Rumors
Best of Yardbarker

Today's Best Stuff

For Bloggers

Join the Yardbarker Network for more promotion, traffic, and money.

Company Info

Help

What is Yardbarker?

Yardbarker is the largest network of sports blogs and pro athlete blogs on the web. This site is the hub of the Yardbarker Network, where our editors and algorithms curate the best sports content from our network and beyond.