Found June 15, 2012 on Purple Jesus Diaries:
Did you remember Father's Day is just around the corner? "Oh, ****, no!" Yeah, well ... I'll give you like 20 seconds to go send a card but you done messed up already, you know that right? Regardless, Father's Day holds a special place in our hearts at Purple Jesus Diaries because it helps us be reminded of our favorite father, namely, whichever deity you worship that helped spawn the great Purple Jesus. But enough about us. Let's look at YOU.
Chances are - if you're not a total bag of asshole - you bought your father a present for Father's Day. There is also a slight chance that it is a Minnesota Vikings gift. If that's the case, that was probably a bad choice. A football novelty item on Father's Day? Why not a fine bottle of Lagavulin 16, or a prime cut steak, or a roasted pig on a pike. Do something AWESOME for your dad, like Purple Jesus does every time he's on the football field. Instead, you bought a crappy Vikings present, and that says something about you. Something bad.
QB Sneak New Era Vikings Hat:
Hey, I know what you're thinking here. It's a baseball cap! That's innocent enough, right? People always wear baseball caps! And you would be right, except that you apparently keep thinking that a baseball cap means a baseball style cap with a football team's logo on it. That is not what it means. This hat means that your father is the worst kind of white trash that is going to bend this bill until it looks like a cannoli, and stain it up with sweat rings fit for an undershirt. Also, keep in mind it's ugly as ****. It has the most visually complex team logo on the front portions of the hat likely up to THREE times, with two of those times where it's appearing as see-through. Gross. So now you have a mesh trucker hat for your white trash father, all for $30 which would have instead bought him at least a lap dance at the Seville. You are a horrible child.
Vikings Pint Glasses:
Well, this has to be better! Instead of having your father wear his trash on the outside, now he can just sit at home and be an alcoholic out of the public eye! How did you imagine the conversation going when he opened this gift? "Here dad, I bought you a 16 ounce pint glass to fit your pilsner beer you like to drink before you bruise my face." "Thanks son, now shut the **** up while I fill this glass with tears." This should go over well. There's nothing like being an enabler to really make you shine on your father's big day. He'll remember that later on, when he wakes up from his drunken Hulk rampage the next afternoon.
First and Ten Wooden Sign:
Maybe your dad doesn't fit the bill from either of the above. He's not really white trash, and while he certainly likes to drink, it's not pilsner beer out of a Vikings pint glass. Hey, we're in Minnesota so he probably enjoys fishing, hunting, cabins, canoes, snow shoes, caribou finger banging, and open fields of wheat. The outdoorsy "First and Ten" sign seems perfect for that dad! Except that it's a lie. Reminding him about when the Vikings get the ball after a kickoff when they are already down 7-0 and then go three and out. You think that's a thoughtful gift? Do you also always give him North Korean helmets to remind him about his buddy that died in the war? That's super nice of you, dick.
Sideline
Power Vikings Tee:
Here we are, your last option. A simple t-shirt. You can't go wrong with that, for sure. He can wear it on the weekends, to the gym even, maybe on Friday's to work during casual days during the NFL season. It's fine! It's cheap (on sale, too, down to below $15!) and it's a sideline style shirt that all the pros wear during the game! Oh, he will DEFINITELY look just like them, standing there with his beer gut, before he sits down in his favorite chair because his legs are too tired from holding his ass up, and then ultimately laying down and passing out on the carpet because he's so day drunk. But at least then you'll be able to read the moronic sideways writing on the shirt in that ugly font. Always have to stay positive!
So what's the lesson here? First, don't ever have kids. They will only ruin your life with ****** presents. Second, if you do have kids, tell them for every present they get you that sucks on Father's Day you will murder one of their pets. It's only fair.
[follow]
Original Story:
http://www.purplejesusdiaries.com/201...
THE BACKYARD
BEST OF MAXIM
RELATED ARTICLES
EDEN PRAIRIE, Minn. When the Minnesota Vikings traded back into the end of the first round of April's NFL draft to select Harrison Smith, it was widely believed the team had a certain starter at one of its two safety positions. Minnesota gave up its early second-round pick and a fourth-round slot to ensure it wouldn't miss the change to acquire Smith. A day later, coach...
EDEN PRAIRIE, Minn. The sight of Kyle Rudolph all 6-foot-6, 258 pounds of him split out wide in the Minnesota Vikings' offense is striking, a stark contrast to the slighter receivers typically lined up in the same area.Rudolph, the team's second-round pick in 2011, has found himself in the spot often during organized team activities the past three weeks. It's also...
EDEN PRAIRIE, Minn. Intentional or not, the Minnesota Vikings had a recurring theme during free agency this offseason, taking chances on reclamation projects by signing players coming off significant, sometimes season-ending, injuries. The approach brought Minnesota around to Chris Carr in early April to help the beleaguered secondary. Carr was coming off an injury-riddled 2011...
Vikings linebacker Chad Greenway will continue to host a Father's Day fundraising 5K run despite tending to the health of his own father. Plus, the new Stadium Authority has been named and next week's minicamp schedule is set.
Hosts Steve Bennett and Don Russ interview the biggest names in sports media and pop culture each week on Football Nation's The Sports-Casters podcast.   Their guest this week is Ian Rapoport, writer and television personality for NFL.com and the NFL Network.    Ian gives Steve and Don a first hand account of the now legendary "hill races" between Adrian Peterson...
The Vikings lost for winnning last season as their week 16 meaningless victory in Washington was very costly in multiple ways. Minnesota lost all everything RB Adrian Peterson to an ACL/MCL injury and dropped to the #3 draft spot (one spot behind St Louis which got multiple picks from Washington in the RG3 sweepstakes). Despite playing in the loaded NFC North, 2nd year QB Christian...
The Vikings added a veteran presence when they signed CB Chris Carr, but the 29-year-old is getting used to Minnesota's zone coverages after playing primarily man with the Baltimore Ravens. See what Carr had to say about the differences, working with the Vikings' young CBs and more.
Scheduling plays a huge role in the outcome of every NFL season. So the Athlon NFL editors will spend the next month dissecting each and every week...
Joe Webb could be a hidden gem for Dynasty Fantasy Football owners. Editor's Note:  Our newest writer, Thomas Casale, runs a fantasy football blog at www.ThePigskinGuy.com. His column, "The Fire Sale," is featured on CNN/SI every week during the NFL season. Thomas started writing about fantasy football in 1998 and his work has been published on a number of different...
By TIM YOTTER VikingUpdate.com The Vikings and free-agent linebacker Brian Banks are trying to schedule to a workout, but it won't be today, according to a source. Vikings coach Leslie Frazier confirmed the Vikings' interest in Banks Tuesday, saying, "I know in talking to (general manager Rick Spielman) and the scouting staff, that's something that we've talked...
Vikings News

Delivered to your inbox

You'll also receive Yardbarker's daily Top 10, featuring the best sports stories from around the web. Customize your newsletter to get articles on your favorite sports and teams. And the best part? It's free!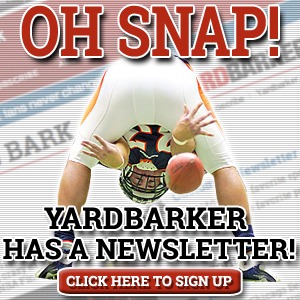 Latest Rumors
Best of Yardbarker

Today's Best Stuff

For Bloggers

Join the Yardbarker Network for more promotion, traffic, and money.

Company Info

Help

What is Yardbarker?

Yardbarker is the largest network of sports blogs and pro athlete blogs on the web. This site is the hub of the Yardbarker Network, where our editors and algorithms curate the best sports content from our network and beyond.