Found December 07, 2011 on StraitPinkie.com:
He weighs over 300 pounds. He's been Kentucky's Mr. Football, an MVP, and a Commissioner. Some have even wondered if his stomach has its own gravitational pull. He's the most interesting man that ever threw a pass for Rich Brooks. He is Jared Lorenzen.
We don't know if he drinks Dos Equis, but less than a decade ago, Lorenzen cemented himself as a Kentucky legend. In high school, at Highlands, he lettered in the three major sports and earned the title of Mr. Football, caught the eye of then coach Hal Mumme, and became a Kentucky Wildcat. In college, his strong arm and excessive girth earned him many nicknames, including "The Hefty Lefty", "Pillsbury Throwboy", and "Qbese". What many people tend to forget is that his strong arm also earned him some successful seasons as the Wildcats' signal-caller.
In 2002, Lorenzen had his best statistical season, throwing for 24 TD and only 5 INT, culminating in a solid QB rating of 135.4 and a winning record for the Cats. Though the team was in its punishment phase following the Mumme regime, Lorenzen made Kentucky football fun to watch for his four years. He was fat, yes, but also beloved by the fans. When he wasn't making players from Middle Tennessee State regret picking a fight with him, he was making defensive backs regret underestimating his ability to throw the rock. Lorenzen, not to be outdone by the likes of Tebow and Cam Newton, was also a very versatile quarterback in the vaunted SEC. After all, he did have six career punts –what a hybrid!
After leaving Kentucky, though, Lorenzen quickly faded into obscurity. His brief stint as Eli Manning's back-up in New York did give him a championship ring, but he finished his NFL career with less than stellar stats. Lorenzen retired with eight career passes, completing four of them for 28 yards, and scoring a total of one fantasy point. He didn't even get to punt.
Excepting those who follow Kentucky alumni with a fierce eye, most forgot about Jared Lorenzen for a while. Occasionally, he would rise as the butt of an analyst's joke, but few knew where Lorenzen had truly gone beyond the NFL. It turns out he's been busy doing what he loves most –football. Since leaving the NFL, Jared Lorenzen has become a staple of the NFL's favorite third-cousin –the Ultimate Indoor Football League (UIFL).
His rise in the UIFL has to be an unprecedented journey in pro sports. Within the scope of a single year, he was the MVP of the league and ascended to the position of the league's commissioner in the offseason. Though the Northern Kentucky River Monsters will miss their star quarterback, the league can rejoice in having the best large leader since President Taft graced the Oval Office. Lorenzen, not to be limited in his post-professional career, is also the current quarterback coach at his alma mater, Highlands High School.
Some quarterbacks can never escape the limelight. Every time Brett Favre gets on a tractor, there is an ESPN analyst ready to ask him if he is planning to join the latest team to lose a player to injury. Jared Lorenzen took a different path. After a prolific college career, Lorenzen quickly faded from view as his style of play didn't transfer to the NFL. The cameras stopped flashing. But Jared didn't stop playing. He never left football's side. Though the UIFL isn't the most prestigious sports league in America (good luck catching a game on Fox Sports), Lorenzen has found an outlet for his passion and is doing what he always did at Kentucky –leading the way, even if it is unconventional.
It takes more than food to quell the Hefty Lefty's appetite. He needs football. If it couldn't be the NFL, Wildcats fans should rejoice that, at least, he's still in the game. The coach that recruited him, Hal Mumme, always preached the mantra to "play the next play". Lorenzen isn't dwelling in a failed NFL career –he's simply doing what he knows –moving on to the next play.
Original Story:
http://www.straitpinkie.com/kentucky-...
THE BACKYARD
BEST OF MAXIM
RELATED ARTICLES
http://www.nj.com/giants/index.ssf/2011/12/giants_justin_tuck_struggling.htmlJohn O'Boyle / The Star-LedgerGiants defensive end Justin Tuck says he didn't sleep much on Sunday night after the loss to the Packers because he was pondering the ups and downs of the team's play of late.By Mike Garafolo - Star Ledger 12/6/11
Rookie cornerback Prince Amukamara, who missed most of the season with a broken foot and who left the Giants' loss to the Packers Sunday night with a combination of fatigue, an ankle injury and a sore foot, is on the Giants' pre-practice injury report with an injured back. He is joined there ...
A fourth straight loss did little to dampen Antrel Rolle's belief in the Giants. In fact, it may have made it stronger.
Giants guard Mitch Petrus, making his second NFL start, will have to face the Cowboys' fearsome pass rushGETTY IMAGESROAD BLOCKER: Giants lineman Mitch Petrus, who made his first NFL start — at left guard — last week, will have to be on his game to hold off the fierce pass rush of DeMarcus Ware (above) and the Cowboys on Sunday night.By Paul Schwartz - NY Post 12/8/11
Sorry this is getting up late, as the game has been re-hashed by many others, but here goes:This one hurts alot. To come so close and come up short…Well, let's take a look at the various components of the Giants' effort last weekend. On offense, the G-Men did ok. Manning was able to hook up with his receivers and exploit the Packers pass defense. Other than the pick six that...
AGREE TO AGREE
Responding to Cowboys CB Mike Jenkins' assertion that the Giants RB is a bully, Brandon Jacobs wholeheartedly agreed with the sentiment, even suggesting that the Cowboys are scared of the Giants.
There are names emblazoned up on high, circling the locker room where the Giants work each day, the Timex Performance Center, names of the greatest players in franchise history. Justin Tuck has glanced up at them many times. "This franchise, you look up at all these names in here, a...
Antrel Rolle isn't shy about predicting the future. After seeing the Giants lose four straight, the safety told a local radio station that New York remains a lock for the postseason.
The New York Giants' action-packed 38-35 loss to the mighty Green Bay Packers last week had a familiar feel to it. Unfortunately, so does the four-game losing streak the team will carry into a crucial final quarter of this 2011 season.
DeMarcus Ware has a simple theory about Justin Tuck. To the Dallas Cowboys' pass-rusher, Tuck is nothing more than a desperate wannabe.
Ted Berg speaks with Josh Zerkle of Bleacher Report to discuss the Cowboys' scouting report as they prepare to face the Giants on Sunday.
NFL News

Delivered to your inbox

You'll also receive Yardbarker's daily Top 10, featuring the best sports stories from around the web. Customize your newsletter to get articles on your favorite sports and teams. And the best part? It's free!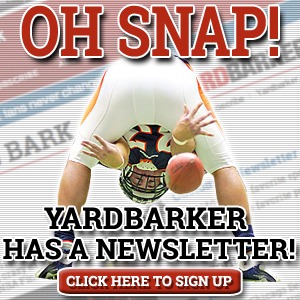 Latest Rumors
Best of Yardbarker

Today's Best Stuff

For Bloggers

Join the Yardbarker Network for more promotion, traffic, and money.

Company Info

Help

What is Yardbarker?

Yardbarker is the largest network of sports blogs and pro athlete blogs on the web. This site is the hub of the Yardbarker Network, where our editors and algorithms curate the best sports content from our network and beyond.