Found August 06, 2012 on CJ Sports NFL Talk:
PLAYERS:
Peyton Manning
,
Aaron Rodgers
,
Tom Brady
,
Drew Brees
,
Dan Marino
,
Eli Manning
,
Ben Roethlisberger
,
Philip Rivers
,
Tony Romo
,
Michael Vick
TEAMS:
Green Bay Packers
,
New England Patriots
,
New Orleans Saints
,
New York Giants
,
Pittsburgh Steelers
,
San Diego Chargers
,
Dallas Cowboys
,
Philadelphia Eagles
Let's see where they ranked the top 10 quarterbacks in Madden 13, the video game!
1. Aaron Rodgers-Overall 99
I totally agree with Aaron Rodgers being ranked 1st overall. Aaron Rodgers is the best quarterback in the game right now. Very smart and accurate, and let's not forget he can hit anyone no matter if its short or deep, he will hit his target. Aaron Rodgers can do it all. Overall, he is a great quarterback.
2. Tom Brady-Overall 98
I agree with this pick as well. You could argue that Drew Brees could fit into the 2 spot though too. Tom Brady is another great QB. Very smart, makes extremely accurate passes, and an excellent leader. Brady can do it all as well.
3. Drew Brees-Overall 98
I agree with putting Drew Brees here. Again as I said before, you could swap places with Tom Brady too in these ratings in my opinion. Brees is another great quarterback along with so many others. Very talented and can throw anywhere. Let's not forget, he broke Dan Marino's passing record this past season too!
4. Eli Manning-Overall 97
I like Eli being in this spot…but I somewhat disagree with it because I think the other Manning brother or Big Ben could be in this spot, but anyways, Eli Manning is once again, another great QB. He is a true leader, very clutch, and can throw the long ball. Eli Manning is an awesome quarterback to have on your team.
5. Ben Roethlisberger 95
As I said earlier, I like this spot but I think Ben could move up a spot possibly. Overall, Roethlisberger is a great QB. He is a true warrior and leader. He can make a throw from anywhere on the field and will put his heart into everything.
6. Peyton Manning 93
Once again as I said before, Peyton Manning could possibly move up a spot in my opinion. This guy is a very good and elite QB and is so talented. He is one of the smartest playmakers in the game. Peyton brings a lot to a team, but especially leadership.
7. Philip Rivers-Overall 92
I don't totally agree with Philip Rivers ranked in this spot…in my opinion, he should be ranked lower. Yes he is a good QB, but not a great one and sometimes makes poor decisions. He is overall a very good quarterback and makes great throws.
8. Matthew Stafford 91
I like this pick, but I think he possibly should be moved a bit lower in the rankings. Matthew Stafford is a great quarterback and has a ton of talent and potential but he has only been in the league for four years. For being in the league for only four years, he is a very good quarterback but I think it's a little too early to rank him above Tony Romo and Michael Vick. Don't get me wrong though, this guy is very exciting to watch, has a bright future, and is a great QB.
9. Tony Romo-Overall 90
I agree with this ranking for Tony Romo. Romo overall is a very good quarterback but he isn't very clutch, especially when it comes to the play-offs. But if you look at his stats, you can tell he is a very good quarterback and has a great arm.
10. Michael Vick-Overall 89
I don't agree with Vick being in the 10th spot…I think he should be ranked a bit higher. Yes Vick is very injury-prone, but he has so much talent and is so versatile. Sometimes he does make poor decisions, but when he is hot, he's unstoppable. Overall, great QB.
Related articles
Original Story:
http://110sportztalk.com/where-does-p...
THE BACKYARD
BEST OF MAXIM
RELATED ARTICLES
Peyton Manning's first appearance in blue and orange at Sports Authority Field on Saturday was expected to draw the largest crowd ever to watch a Denver Broncos practice. The parking lots filled up more than an hour before the scrimmage and gates opened 40 minutes early to ease crowd flow. The Broncos, who drew 5,034 fans Thursday - a record for their Dove Valley training complex...
Tebow mania cannot hold a candle to Manning mania. The evidence? Saturday afternoon, 41,304 fans packed the lower levels of Sports Authority Field at Mile High to watch the Broncos' annual preseason scrimmage. The attendance was more than double the amount who had turned out in 2010, Tim Tebow's first year in Denver. "I'm not sure I've ever seen anything like...
Denver Broncos rookie quarterback Brock Osweiler takes a snap as Peyton Manning watches during the team's summer scrimmage at Sports Authority Field at Mile High on Saturday, August 4, 2012. (BroncoTalk.net photo) The Denver Broncos' first depth chart of the 2012 season is expected today, The Denver Post reports. You can hit refresh on your browser window right here to see...
QB's like Aaron Rodgers are becoming more and more important in Fantasy Football. The landscape of fantasy football is drastically changing. Remember when there was a time it was a crime not to take a running back in the first round of your fantasy football draft? Oh how times have changed. With all the platoon running systems in the league and the amount of injuries we...
Today I will be discussing what the Giants have to do this season to defend their crown. The Giants have targets painted on their back after winning there second championship in five years.    Stay Healthy: The Giants last year were plagued by injuries. This year it's already starting. The Giants have lost starting CB Terrell Thomas with a 3rd ACL tear. For the Giants to repeat...
Hadn't seen this photo of Ron Jeremy at the 2003 Ole Miss-Memphis game in over 4.5 years until tonight when it showed up on Twitter. This pic of the Hedgehog takes me to February 2008 when it was posted on BC to very little fanfare on the Internet. Those sure were the days. I'd use Flickr for crazy photos and college cheerleaders hadn't figured out how to lock their Facebook...
The guys at EA Sports have just released their rankings for the top-10 QB's in the NFL according to their Madden 13 rankings and it's no surprise that Green Bay Packers QB Aaron Rodgers tops the list with an overall ranking of 99. On the heels of Rodgers in their rankings are New England Patriots QB Tom Brady and New Orleans Saints QB Drew Brees with 98 ratings. New York Giants...
(Image courtesy of Joe Mahoney/Lubbock Avalanche-Journal) The Denver Broncos and quarterback Peyton Manning will be relieved—or, in Manning's case, disappointed—to know that Bears linebacker Brian Urlacher has been ruled out for the team's preseason opener Thursday evening in Chicago. Urlacher has missed six consecutive training camp practices. Sidelined with a sore knee...
With most of the focus at Denver Broncos training camp surrounding Peyton Manning, veteran Willis McGahee has quietly supplanted himself as the clear number one running back. According to a report in the Denver Post by Lindsay H. Jones, McGahee looks to be the main horse for head coach John Fox this season. "He has clearly been the No. 1 running back in training camp and has been...
DALTON, Ga. -- When the Green Bay Packers drafted Aaron Rodgers to become Brett Favre's successor, Favre famously didn't handle it so well -- or, at the very least, he didn't look at the situation as a mentoring opportunity. Matt Hasselbeck and Jake Locker's competition for the Tennessee Titans' starting quarterback job couldn't stand in any starker contrast...
NFL News

Delivered to your inbox

You'll also receive Yardbarker's daily Top 10, featuring the best sports stories from around the web. Customize your newsletter to get articles on your favorite sports and teams. And the best part? It's free!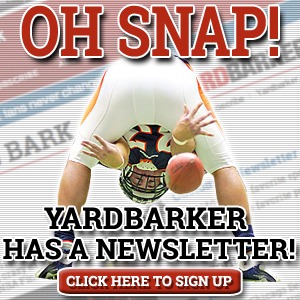 Latest Rumors
Best of Yardbarker

Today's Best Stuff

For Bloggers

Join the Yardbarker Network for more promotion, traffic, and money.

Company Info

Help

What is Yardbarker?

Yardbarker is the largest network of sports blogs and pro athlete blogs on the web. This site is the hub of the Yardbarker Network, where our editors and algorithms curate the best sports content from our network and beyond.