Found August 07, 2012 on NorthWest Sports Beat:
Get Ya Popcorn Ready
Terrell Owens has not had the off-field career a typical future Hall of Fame wide receiver has. The man has talent, he has experience, but most of all the man has attitude.
Owens' last reception in the NFL was on Dec. 12, 2010 for the Cincinnati Bengals.
Since then he has managed to have extensive knee surgery, put on a tryout for a crowd of precisely zero, and get kicked off of the Allen Wranglers of the Indoor Football league for reportedly skipping a charity event at a local hospital.
With this repertoire as of late, many bode the question "Why did the Seattle Seahawks take the risk?"
One word. Production.
Owens may be an annoyance, a "cancer," a distraction, or any other degrading title he has received in the past. But you can't deny the production he has had throughout his career (2nd all-time in rec. yards and rec. touchdowns).
His workout for the Seattle Seahawks on Monday could be looked at as a desperate move on Pete Carroll's part. And it may be, but looking at the Hawks' receiving core leaves reasoning for desperate moves.
The most experienced receiver on the Seahawks' roster is recent addidtion Braylon Edwards, who has yet to provide consistency in his NFL career.
Other than Edwards, the only receiver with respectable NFL experience is Sidney Rice. Until Rice can withstand a slight breeze without hitting the IR, I'm not going to consider him a true threat.
These are the reasons bringing Owens into Seattle isn't the worst move for the Seahawks.
Time will tell if the 4.45 fast TO is a great target for a young quarterback to throw to. (Photo Credit Blog.Seahawks.com)
Owens posted a 4.5 40-yard-dash during his workout on Monday.
That deserves consideration alone.
Handling Owens' attitude does not worry me one bit. Pete Carroll dealt with head cases constantly at USC. He has done a great job with Marshawn Lynch keeping his Beast Mode mentality on the field, not off (DUI aside). Carroll can handle the drama, but can Matt Flynn?
I say Flynn because I truly believe he will be the starter for the Seahawks come week 1. And with a first-time starter at the helm, the last player I would want in the huddle with my easily-influenced quarterback is Terrell Owens.
As long as Owens can keep his thoughts to himself, and remain silent after a snap where he believed "he was open," I think this could be a potentially great pick-up for the unproven Seahawks receiving core.
And without a doubt a great target for a young quarterback to throw to.
Weapons
Paired up with Rice, along with Zach Miller and Kellen Winslow at the tight-end positions, the term "towers" comes to mind. Flynn will have his safety nets, no doubt about that.
Most importantly, the one-year $1 million deal is a small price to pay for the once elite receiver. The possible reward greatly outweighs the risk.
If Owens can keep his mind between the sidelines and buy into Carroll's system, there is a potentially potent weapon in the Seahawk's passing game.
Words that are are rarely spoken above a whisper.
In a perfect world, Owens becomes a reliable target for the young Matt Flynn and nothing more.
But we all know the world is far from perfect, so in the words of TO, "Get ya popcorn ready."
CLICK HERE CHECK OUT THE SEAHAWKS BLOG IN OUR CLUBHOUSE AT NWSB!
Š Jordin Ereth for North West Sports Beat, 2012. | Permalink | No comment |
Follow NWSB on Twitter or join US on Facebook for real-time updates OR... | Share This on Twitter | Share NWSportsBeat.com on Facebook
Post tags:
Allen Wranglers
,
Braylon Edwards
,
Cincinnati Bengals
,
Hall of Fame
,
Indoor Football League
,
Kellen Winslow
,
Marshawn Lynch
,
Matt Flynn
,
NFL
,
NFL Headlines
,
NFL News
,
NFL rumors
,
Pete Carroll
,
Seahawks Blog
,
Seahawks News
,
seattle
,
Seattle Seahawks
,
Sidney Rice
,
Terrell Owens
,
TO
,
USC
,
Zach Miller
Original Story:
http://www.nwsportsbeat.com/seahawks/...
THE BACKYARD
BEST OF MAXIM
RELATED ARTICLES
The sideshow that is Terrell Owens has taken another unsuspected turn, this time it may be for the good. The Seattle Seahawks who are in dire need of help at the wide receiver position have called in Owens for a workout on Monday. Owens has been attempting to get back into the NFL since his last stint with the Cincinnati Bengals back in 2010. Although he had a pretty productive season...
Terrell Owens could have run his way onto the Seattle Seahawks' preseason roster with a 40-yard dash time below 4.5 seconds in a private workout on Monday. ESPN.com reported Owens' "impressive" workout with Seattle and said the team will try to sign the 38-year-old, 15-year NFL veteran to a contract. Owens, who'll be 39 in December, didn't play last...
Terrell Owens is the newest member of the Seattle Seahawks this morning. Several news outlets reported late last evening that the veteran wide receiver has agreed to a one-year contract with the Seahawks. This marks Owens' return to the NFL after sitting out the 2011 regular season while recovering from a knee injury. The Seahawks have signed a trio of veteran pass catchers in...
RENTON, Wash. (AP) -- Terrell Owens was back in Los Angeles packing up some belongings while the Seattle Seahawks were on the practice field Tuesday morning. Even though he was away from his new team, Owens was still the talk of training camp. Owens agreed to a one-year deal with the Seahawks on Monday. He returned to Los Angeles late Monday night, was expected back at the team...
Pete Carroll and the Seattle Seahawks continue their quest to bring in as many over the hill wide receivers as possible, as Terrell Owens is reportedly headed to the Pacific Northwest for a tryout. As reported by Mike Florio of PFT.com, Owens is heading to Seattle for what is assumed to be a tryout. Florio writes: For now, it's just a visit.  It's unknown whether Owens is getting...
Terrell Owens is back in the NFL - at least for now. Owens agreed to terms on a one-year contract with the Seattle Seahawks on Monday, multiple media outlets reported Monday. The 38-yrear-old Owens has not played in the NFL since 2010, when he caught 72 passes for 983 yards and nine touchdowns in 14 games for the Cincinnati Bengals. Owens suffered a torn anterior cruciate ligament...
Get your popcorn ready. Terrell Owens is set to make his return and to the team that he famously embarrassed by pulling a sharpie out of his sock to autograph a ball. T.O. blew the Seattle Seahawks away in a tryout on Monday. The 38-year old receiver ran the 40-yard dash in 4.5 seconds. Owens [...]
Terrell Owens did some surprising and impressing Monday during his workout for the Seattle Seahwawks. He was so impressive that according to ESPN's Ed Werder, Terrell Owens and the Seahawks are already engaged in contract negotiations and expected to complete a deal soon. The 38-year old who is coming off of surgery for a torn ACL reportedly ran a blazing 4.45 second 40-yard...
GOING BACK WEST
Get your popcorn ready, Seattle! Terrell Owens has agreed to a one-year deal to join the Seahawks.
Per Danny O'Neil of the Seattle Times twitter feed this AM, we've learned the Seattle Seahawks have released CB Donny Lisowski to open roster spot for Terrell Owens. #Seahawks release CB Donny Lisowski to open roster spot for Terrell Owens.— Danny O'Neil (@dannyoneil) August 7, 2012 We were really pulling for Donny. The local kid from Seattle by way of Montana. ...
NFL News

Delivered to your inbox

You'll also receive Yardbarker's daily Top 10, featuring the best sports stories from around the web. Customize your newsletter to get articles on your favorite sports and teams. And the best part? It's free!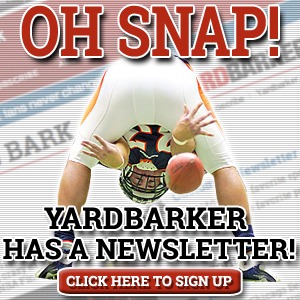 Latest Rumors
The Backyard

Today's Best Stuff

For Bloggers

Join the Yardbarker Network for more promotion, traffic, and money.

Company Info

Help

What is Yardbarker?

Yardbarker is the largest network of sports blogs and pro athlete blogs on the web. This site is the hub of the Yardbarker Network, where our editors and algorithms curate the best sports content from our network and beyond.