Found August 13, 2012 on Waiting For Next Year:
PLAYERS:
Jason Donald
,
Jabaal Sheard
,
Eric Mangini
,
Brandon Weeden
,
Josh Gordon
,
Travis Benjamin
,
Greg Little
,
Jason Pinkston
,
Jordan Cameron
TEAMS:
Cleveland Indians
,
Cleveland Browns
,
Baylor Bears
,
Ohio State Buckeyes
While We're Waiting serves as the early morning gathering of WFNY-esque information for your viewing pleasure. Have something you think we should see? Send it to our tips email at tips@waitingfornextyear.com. "But frankly, all of that isn't all that interesting (even to someone like me) and that's really just talking about the periphery of the roster in terms of a back-up catcher, a utility IF, the middle of the bullpen, and the back-end-of-the-rotation. Not to say that it isn't useful to find answers to some questions on these guys – or even seeing if they could build up some trade value for a guy like Lou Marson or Jason Donald as a throw-in for an off-season trade – but the performance of those guys down the stretch isn't likely to have a big impact on the 2013 team, even if some of the performances down the stretch here could affect some of the decisions (and there are lot of them) facing this team this off-season, in terms of FA, trades, and internal pieces. Even more important than seeing if any of those peripheral pieces can legitimately be counted on for 2013 (affecting how/if the Indians augment this group), the players that could have a big impact on 2013 are the ones that we've been watching all year long, with few "new" answers likely to come in the final months. How the organization handles those players (Choo and Perez, most notably) this off-season is going to determine whether they think of the future of this group of currently assembled players in the short-and-long term." [Cousineau/The DiaTribe] —- Brendan talks with Kyrie Irving- "Did you warn Dion about Camp Scott? "Yeah, but all the warnings and everything doesn't amount to when you are actually in Camp Scott. You just have to deal with it, he's a hard-nosed coach, and he's just trying to get the best out of you. I warned him a couple times, but he'll just have to experience it for himself." Have you talked with CJ Miles at all yet? "CJ's been in town for the last few days. I've been with him rehabbing, and I've seen him every single time. He's a really good dude, and I'm really excited to see what we can do." How was the experience working out with the Select Team for you? "Being part of the Select Team was the best thing that could've happened to me. I had the chance to go against All Stars every single day. What's better than that, at high intensity as well. So going against them, playing with them every single day. Just getting my mental strength better. Playing against those guys just continued to get me better. Seeing the way they work, and interact, I enjoyed it." [Bowers/Stepien Rules] —- "The Browns have longed for a dominant pass rusher from the defensive end position for over a decade. They hope they've found one in Jabaal Sheard. The second-year defensive end from Pitt accounted for 8½ sacks as a rookie, but he thinks he left more on the field. The last time the Browns had a defensive end account for at least 8½ sacks was when Keith McKenzie had the same number back in 2000. "There were probably some sacks I could've had if I finish the play," Sheard said. "It's something I definitely want to be great at. I definitely want to be the best at my position, that's what I work for." [Greetham/The OBR] —- "Yeah, about that. We get that football coaches have a weird aversion to "giving away" secrets to the other team, think Eric Mangini and his silly refusal to talk about which quarterback would start for the Browns, fearing an advantage for the other team (as if any defensive coordinator ever stayed up late worrying about a Brian Daboll offense.) But with the Browns having so many young players on offense – rookies Brandon Weeden, Mithchell Schwartz, Josh Gordon and Travis Benjamin, along with second-year players Greg Little, Jason Pinkston and Jordan Cameron – it seems like giving them as many reps as possible at game speed would be a better plan. If the starters see heavy minutes against the Packers, then limited time against the Eagles and no time against the Bears on Aug. 30, that means the starters will have gone 24 days without significant action when they take the field for the Week 1 game against Philadelphia." [Red Right 88] —- "In less than three weeks, Ohio State will take the field in the season opener against Miami (Ohio). With the taking of the field, a new era of Buckeye football will be underway. But the focus now is crunch time of fall camp. Over the next week, Ohio State will endure 10 practices. It is not panic time for head coach Urban Meyer, however. He said the Buckeyes are on par with their preparation for the RedHawks. The confidence has rubbed off on the team. They enter the home stretch with an air of self-assurance. Among those anxious for the season is Ohio State's stellar freshman class." [Eleven Warriors]
Original Story:
http://www.waitingfornextyear.com/201...
THE BACKYARD
BEST OF MAXIM
RELATED ARTICLES
We looked past the diamond encrusted pendants that swung from his neck like a pendulum. We looked past the sunglasses indoors phenomenon that was so eloquently embraced. We did so because what happened on the field of play; a highly talented player isn't exactly the norm when it comes to post-1999 Cleveland Browns football. Having a player who can make a game-changing play at nearly...
BEREA, Ohio Brandon Weeden is anxious to get back on the field after a less than stellar opening performance against the Lions. He was 3-of-9 for 62 yards and turned the ball over twice. His rating was a paltry 19. Its been a quick turnaround, but its been good, Weeden said. Im excited to get back out there and correct the mistakes from last week and just get back out and (play)...
First and 10 with the Browns returns for the 2012 season, and in honor of the 2011 offense well start the new season with First and 15:1) Watching the sloppiness of the exhibition game in Detroit, the thought came to mind: What changes when this happens under new ownership? Randy Lerners style was to hire people and leave them alone. Like really leave them alone. He might ask, but...
The mistakes I made were so small that they're easy fixes. I work on them every day after practice now. The one, the fumble, when I was trying to dump it down to Jordan [Cameron], regardless of if it was or fumble or if it wasn't a fumble, I've got to get that ball out quicker just knowing where we were on the field, knowing how good Phil [Dawson] is. That's three points...
The Cleveland Browns have gained defensive lineman Ronnie Cameron on waivers from the Chicago Bears. Cleveland cut fullback Eddie Williams to add Cameron on Tuesday. The Browns have numerous injuries on defense. Linemen Phil Taylor and Scott Paxson are out. Cameron was waived by Chicago on Saturday. The Bears signed him as an undrafted free agent in May. As a senior at Old Dominion...
Nine passing attempts isn't a lot. It only seems that way when one is picked off, another bounces off the pads of an opposing cornerback who's streaking for your end zone, and a tenth is ruled a fumble. Eight penalties in the first half, and allowing your opponent 6.4 yards per carry in the same half, though? That's just Shurmurball. DRINK! Like Brandon Weeden in 2012, Joe...
Trevin Wade looks like he may be another seventh-round selection with a chance to start in the Browns' secondary to start the 2012 season.
Former Cleveland Browns center LeCharles Bentley has reportedly settled his lawsuit against the Cleveland Browns. Fox Sports Ohio's Pat McManamon reports that the former Pro Bowl offensive lineman, after months of back-and-forth squabbling that elevated to the U.S. Supreme Court, worked out an agreement with long-time Browns owner Randy Lerner. Bentley had sued charging he...
Welcome to the first 2012 edition of "Xs and Os with the Bros" by Xs and Os editor @rodofdisaster. This feature represents a basic attempt to dive deeper into the game of football, learn something about the X's and O's that make it go, and better appreciate the games within the game. It's called "Xs and Os with the Bros" because you don't have to be a former player...
Injuries happen in the NFL. It's pretty much inevitable. Between grueling practices and preseason games, the fantasy football owner of now has to keep their fingers crossed that high-ranking fantasy options can not only stay healthy during the regular season, but can stay upright throughout August. One such player who has made the news in the past week has been Browns RB Trent...
NFL News

Delivered to your inbox

You'll also receive Yardbarker's daily Top 10, featuring the best sports stories from around the web. Customize your newsletter to get articles on your favorite sports and teams. And the best part? It's free!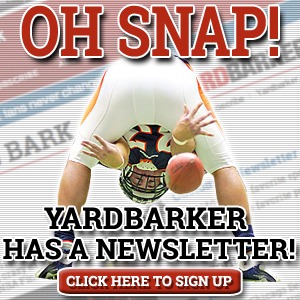 Latest Rumors
Best of Yardbarker

Today's Best Stuff

For Bloggers

Join the Yardbarker Network for more promotion, traffic, and money.

Company Info

Help

What is Yardbarker?

Yardbarker is the largest network of sports blogs and pro athlete blogs on the web. This site is the hub of the Yardbarker Network, where our editors and algorithms curate the best sports content from our network and beyond.