Found October 01, 2012 on Waiting For Next Year:
While We're Waiting serves as the early morning gathering of WFNY-esque information for your viewing pleasure. Have something you think we should see? Send it to our tips email at tips@waitingfornextyear.com
The "A Lazy Sunday" feature has been a regular read on my Sundays and a regular component of While We're Waiting posts on Mondays for years now. This is a very sad way to end a very sad season for the Tribe. Everyone should pass along their thanks to Paul for running such a great site for so long, and for having the stomach to write about this awful season. Best of luck in your future journeys, sir:
"Though that title may lead you to believe that I'm finally going to weigh in on the dismissal of Manny Acta from Thursday, it actually refers to someone else exiting stage left, as I've decided to walk away from writing about the Indians on these Interwebs on a permanent basis. While I know that I took some 'time off' last off-season and there will be those that will only believe there will be permanence to this when they fail to see 3,000 words from these fingers flying at them every couple of days, the time for me to move on from this endeavor has arrived." [Paul Cousineau/The DiaTribe]
–
Wow. This was peculiar and intriguing to see a newspaper take a stand on this topic. Seems mostly inconvenient, however: "An interesting note from the public editor of The Kansas City Star on the paper's policy of avoidance when it comes to the mascot of the NFL team from Washington: '[H]ere, I also agree very strongly with The Star's longtime policy on this matter. I remain unconvinced by every argument I've ever heard that the name is not a racial epithet, plain and simple. …'" [Isaac Rauch/Deadspin]
–
Hmmmm. Wasn't the Browns offense like astronomically good in 2007? Lot of good that did us then: "There are all kinds of things the Browns have to improve upon – and kinds of players who must improve — if they want to start winning. You name it, and it has to get better. You name him, and, with one exception — kicker Phil Dawson — he has to get better. The list is endless. There are few things or people not on the list. But there's one thing that, above all else, must improve. Without it, the improvement of all these other things and people doesn't matter – not one bit. We're talking about scoring – or a lack thereof. Until the Browns score more points more consistently, things won't change in terms of wins and losses." [Steve King/SportsTimeOhio]
–
About the offense, this looks briefly at the topic of the Browns wide receivers thus far this season: "After Thursday's game against the Baltimore Ravens, many people are noticing some semblance of what can be called progress. But the Browns continue to wallow in the painful world that is their current crop of wide receivers. Through four games, no Browns receiver has had more than 90 yards in a game (it was Mohamed Massaquoi against the Bengals), and no one has separated himself from the rest of the pack." [Steve DiMatteo/Dawg Pound Daily]
–
Today is October 1. That means basketball starts this month, hoorah! In that spirit, Cavs: The Blog continues its "10 things to like" series in focusing on that awesome coach of ours: "'Camp Scott' opens today, complete with the notorious trash cans for players to chunder into between laps if they show up out of shape. With an extension rumored to be in the works, it's as good a time as any to look at why Scott appears to be the right guy to develop the Cavs now, and win with them in the future. You have to respect a coach who can whip out his phone and dial up a highlight like this (You'd think a basketball player named Purvis Short would be destined to be posterized, right?)" [Nate Smith/Cavs: The Blog]
–
This was from Friday, but it's never too late (or, really, since the season is still 4 weeks away, I mean early) to read about fantasy basketball! "Kyrie Irving is a fantasy stud who I think is worth a first-round pick in a 12-team league. … I don't know who the third-best point guard is in fantasy. It might be Kyrie Irving and not Deron Williams. His ADP of 16.7 is actually too low; I am happy taking Irving ahead of guys like Al Jefferson and Andrew Bynum with bigger fantasy reps. His playing time will go up, his turnovers should be down, his assists will increase and he is almost certain to at least double his 73 three-pointers. What he did at 19, as a point guard, on a team offering him little or no help was remarkable." [Bruce Wrigley/Sheridan Hoops]
–
Oh viral GIFs are so much fun. The latest example? This gem from right after Saturday's big Buckeyes victory. A random photographer lined up perfectly for a photobomb and also got the quintessential angle for a nice hello to the crowd. [Lost Lettermen via The Big Lead]
–
Five takeaways from that 17-16 physical victory in East Lansing: "In what will likely turn out to be the 2nd most physical game the Buckeyes play all year, Meyer's troops overcame a slew of in-game injuries and three Braxton Miller turnovers, escaping East Lansing with a 17-16 victory over a chippy Michigan State squad. The gutsy effort improved Meyer to 11-0 in conference openers and to 95-5 when leading at the half. As a program, the Buckeyes have now won four straight in East Lansing, improving to 14-5 up there overall. Hey Michigan, that's how you're supposed to treat your little brother." [Chris Lauderback/Eleven Warriors]
Original Story:
http://www.waitingfornextyear.com/201...
THE BACKYARD
BEST OF MAXIM
RELATED ARTICLES
I've read countless tweets from Browns fans saying they won't watch this documentary about the 1995 Cleveland Browns. Tony Grossi wrote about it and likened it to reliving a family member's funeral. While those scenes depicting the stadium being torn apart might cause me to shed a few tears, after seeing the sneak preview, I think I'll have to watch it because there is so...
BEREA -- The negativity and frustration about the Cleveland Browns was increasing last week when a not-so-subtle message of encouragement was delivered to the team and public by one of the few players with the experience and credibility to deliver it. Hey Cleveland, what u r seeing is not the same old Browns, read the message on Twitter. Trust me. I feel it. I can hardly wait until...
Daryl Ruiter and a host of other Browns beat reporters all reported from their talks with Pat Shurmur this morning that T.J. Ward had surgery on his right thumb. It was also reportedly the same procedure that Bubba Ventrone had previously. Ward is considered "day-to-day" for whatever that means. The Browns have the Super Bowl champion New York Giants coming up this weekend. The...
BEREA The Browns receiving corps has been maligned for dropped passes. Now, there are less receivers on the practice field trying to get better. Mohamed Massaquoi (hamstring), Josh Cribbs (concussion) and Travis Benjamin (undisclosed) were all absent on the practice field as the Browns started their preparations to play the defending Super Bowl Champion Giants. Its the nature of...
Last week: 32 Record: 0-4 The Browns are the worst team in the league, but they're not awful. They haven't lost a single one of their games by more than 10 points. They rank 23rd in the league in yards per play differential, bad but not awful. They've done this mostly with their best player being suspended. There just really isn't a truly awful team in the NFL, at least one...
CLEVELAND - No team has ever started 0-4 and advanced to the postseason, but that doesn't mean the winless Cleveland Browns aren't focused on their game against the Giants on Sunday in the Meadowlands. "Hey, let's go," Browns coach Pat Shurmur said. "No gloom and doom here. We're fighting to do what we can to go to New York and beat the Giants. ...
Beyond some miraculous, mythological football heaven intervention, it doesn't appear that the Browns' current losing streak will reverse itself any time soon.
Click here if you're looking for my Draft Value Board (Similar to a Big Board.) The order of this mock draft was decided by an estimate of each team's final record, not the final    1. The Cleveland Browns select: Jarvis Jones | LB | Georgia   I still don't see any elite prospects in [...]
Is it the foot, or is it the knee? Well, both, I guess. Nicks had a foot problem originally that the Giants were waiting to heal. In the meantime, his knee has apparently started to swell. The Browns will face another team without Joe Haden this week as they face off against the New York Giants, but as the week goes it seems more and more likely that the Browns won't have to face...
Mohamed Massaquoi (hamstring), Josh Cribbs (concussion) and Travis Benjamin (undisclosed) were all absent on the practice field.
David Blaine, David Copperfield, Harry Houdini, Manny Acta… one of these men is not a magician. Sandy Alomar Jr. won his first game as the manager of the Cleveland Indians last night. It couldn't have gone much better, really. He got a quality start from I-71 veteran in southpaw David Huff, the piecework lineup combined for 16 hits, and the bullpen closed it out with Chris Perez...
The White Sox have completely collapsed, a huge part of which was the Indians last series win over Chicago. Unless both Cleveland and Detroit get swept this week, the Sox are officially out of the playoffs in 2012.  The Indians seem to  have a newfound motivation with the introduction of Sandy Alomar, Jr. as manager. This team, which has struggled all season scoring runs, has...
NFL News

Delivered to your inbox

You'll also receive Yardbarker's daily Top 10, featuring the best sports stories from around the web. Customize your newsletter to get articles on your favorite sports and teams. And the best part? It's free!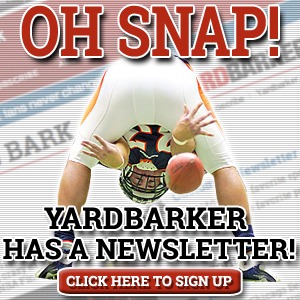 Latest Rumors
The Backyard

Today's Best Stuff

For Bloggers

Join the Yardbarker Network for more promotion, traffic, and money.

Company Info

Help

What is Yardbarker?

Yardbarker is the largest network of sports blogs and pro athlete blogs on the web. This site is the hub of the Yardbarker Network, where our editors and algorithms curate the best sports content from our network and beyond.