Found February 20, 2012 on Waiting For Next Year:
While We're Waiting serves as the early morning gathering of WFNY-esque information for your viewing pleasure. Have something you think we should see? Send it to our tips email at tips@waitingfornextyear.com. Evaluating Heckert- "The Browns, who are well under the cap, were not aggressive last offseason and don't expect much to change this year. Heckert is not a go-for-broke type GM like Phil Savage. Think patience. I know that is a word Browns fans get sick at the sight of, but Heckert's plan is not a quick turnaround. He is aware the Browns need offensive playmakers. He said so toward the end of the 2011 season, but throwing money at the hot free agents is not his M.O. The Browns are building for long term and not looking to repeat the one-year wonder like 2007. Last season, Young wasn't an impact player and Jackson got hurt. Heckert took to resigning current Browns players and we'll see if that trend continues this offseason with the likes of Peyton Hillis, Phil Dawson and D'Qwell Jackson. The only grade to give Heckert at this point is incomplete because, well, the Browns' roster is just that. He seems to be an improvement over past Browns GMs when it comes to the draft, but the Browns roster is far from complete." [Delco/Orange and Brown Report] – "Perhaps it could be argued that the Indians should have been the ones taking the risk on Cespedes, given their talent on hand (and I could easily make that argument) just as the 3-year deal with a player like Josh Willingham seemed to represent a plausible risk for the Indians this off-season, given their short-term needs and their long-term shortcomings. But for now the question for teams like the A's – or more acutely (in this space) the Indians – is how small-to-mid-market teams acquire talent to compete even periodically and, more importantly given the talent that is about to congregate in Goodyear, retain that talent in the current market and structure. To that end, and bringing this to the corner of Carnegie and Ontario, it's worth looking again at how the Indians find impact players as the they're starting to see some fruit borne of the draft (Kipnis, Chisenhall, Pestano and eventually Lindor…hopefully) and have mined other organizations' talent through trades (Santana, Masterson, Cabrera, Choo, C. Perez…this could go on for a while) to create this group of similarly aged-similarly controlled players that figure to head Northeast from Arizona. For teams like the Indians, FA isn't the way that they're going to fill out their roster anymore as the impact players are out of reach (although, again, the argument could be made that this was the year to extend that reach) and the Indians have assembled a group of non-roster invitees (notably Garland, Wheeler, Spilborghs, and Ray) in the hopes that they hit on one or a couple of those players the way that they did last year with Hannahan and Duncan." [Cousineau/The DiaTribe] – Updates from Arizona. Get used to them here in www- "One little news item: the talks between pitcher Jon Garland and the Indians are still ongoing. Cleveland is still working through some details and it now seems unlikely that Gardland will take a physical on Monday, as initially thought. The Indians reached an agreement with Garland last week on a Minor League contract that includes a spring invite. The team is not anticipating having an update on his status until later this week. So, stay tuned. Right now, there are 61 players in camp, including 21 non-roster players. Camp is so crowded that the Indians actually had to pair up four players to share two lockers. For those thinking the Indians cornered the market on non-roster invitees this winter, though, know that the Twins have 26 NRIs this spring, including 20 who were signed to Minor League contracts over the winter." [Bastian/MLBastian] – "J.J. could be great if he ever finally gets it," were words often spoken inside the locker room. The Cavs finally gave up on him in July, when Hickson was traded to Sacramento for Casspi (and a conditional first-round draft pick). Casspi was solid during his first two seasons in Sacramento, but has struggled mightily in Cleveland. He has appeared unsure of himself and been shaky on the court. Not long ago, he admitted he's thinking too much instead of just playing — and it shows. Too often, Casspi wears the confused look of a man who has been standing in the rain for hours, only to learn he's at the wrong bus stop. But again, as much as Casspi has struggled with the Cavs, Hickson has been every bit as bad with the Kings. And maybe even worse." [Amico/FSO] – Some good news about 2 of the Browns' cornerbacks. Patterson and Haden graded out as top 10 efficient corners in tackling. [Monson/Pro Football Focus] (Hat tip Dawgs by Nature)
Original Story:
http://www.waitingfornextyear.com/201...
THE BACKYARD
BEST OF MAXIM
RELATED ARTICLES
It says an awful lot about the season that Jabaal Sheard had as a rookie that he dominated the competition here.  Granted the competition was a bit skewed because the Browns played 3-4 so long and especially during Kamerion Wimbley's time in Cleveland.  Still, there are a lot of years of defensive ends that Sheard had to compete against for the honor of being number one in Browns...
Robert Griffin III continues to be the hot button topic in Cleveland, where a vocal group of fans believes he is the teams future. While some clamor for him to be the teams selection in Aprils NFL either with a trade up to the second spot or with the fourth pick others wonder if Griffin is hype. Both opinions are held strongly. The situation is complex, not merely regarding the...
According to Mary Kay Cabot of the Cleveland Plain-Dealer, the Browns are focusing their attention on five NFL prospects that they're interested in drafting in the first round of April's draft. The five players are, quarterback Robert Griffin III, wide receiver Justin Blackmon, running back Trent Richardson, cornerback Morris Claiborne, and quarterback Ryan Tannehill. If the...
We all know that the franchise mode in Madden is fun, and the detail-oriented amongst us loved NFL Head Coach. While these games may be fun, we all know in the back of our minds that nothing can replicate the feeling of sitting in our favorite team's front office and having the ability to make the big decisions that will help the Lombardi Trophy wind up in our team's...
Draft day strategy employed by general manager Tom Heckert his first two years on the job has set the defense up to be the strength of the Browns. Heckert used the first two picks in 2010 on cornerback Joe Haden and safety T.J. Ward and his first two picks on defensive tackle Phil Taylor and end Jabaal Sheard last year. Would Heckert dare take a defensive player with his first...
Today, Robert Griffin III talked to Dan Patrick.  With the amount of rumor and speculation regarding the Browns and Griffin, I decided to check it out.  Dan Patrick ended the interview by saying that he thinks Cleveland is most likely going to "go get" Griffin in the draft, but wisely Griffin stayed silent as Patrick only really feigned giving him a chance to respond to the...
The Cleveland Browns hold the fourth overall pick in the draft.  Mary Kay Cabot of the Cleveland Plain Dealer reports that the Browns are considering five possibilities. Which means, if our math is correct (and it rarely is), that one of the five will be available when the Browns pick. The quintet consists, per Cabot,…
Brodney Pool didn't have an easy time beating out Brian Russell in this voting.  Russell actually beat Pool in first place votes 1168 to 1064.  Pool picked it up thanks to a huge margin in second place votes with 926 to Russell's 524.  In fact, despite Russell getting so many first place votes, he was beat in the second place voting by Pool, Earl Little, Abram Elam and Chris...
NFL News

Delivered to your inbox

You'll also receive Yardbarker's daily Top 10, featuring the best sports stories from around the web. Customize your newsletter to get articles on your favorite sports and teams. And the best part? It's free!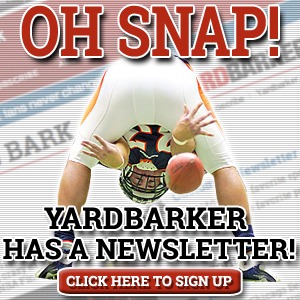 Latest Rumors
Best of Yardbarker

Today's Best Stuff

For Bloggers

Join the Yardbarker Network for more promotion, traffic, and money.

Company Info

Help

What is Yardbarker?

Yardbarker is the largest network of sports blogs and pro athlete blogs on the web. This site is the hub of the Yardbarker Network, where our editors and algorithms curate the best sports content from our network and beyond.