Found June 19, 2012 on Waiting For Next Year:
PLAYERS:
Jonathan Vilma
,
Will Smith
,
Anthony Hargrove
,
Scott Fujita
,
Colt McCoy
,
Brandon Weeden
,
Seneca Wallace
,
Kellen Winslow
,
Raheem Morris
TEAMS:
New Orleans Saints
,
Cleveland Browns
,
Seattle Seahawks
,
Tampa Bay Buccaneers
,
Cleveland Indians
While We're Waiting serves as the early morning gathering of WFNY-esque information for your viewing pleasure. Have something you think we should see? Send it to our tips email at tips@waitingfornextyear.com. "The early elements of a rivalry are there: the geography, the market-based struggles of underdogs and the head-t0-head record 3 . The only ingredient missing from this rivalry stew the history, and the Office of the Commissioner seems to have a plan in place that will add to the Indians-Pirates record books in due time. While the teams themselves have been completely left in the dark, this much we know: at any point in the 2013 season (and beyond), there will be an American League team in the midst of a series with a counterpart from the National League. The Indians and Pirates already play host to one another in the current inter league format so it would not be far-fetched to assume a higher frequency of Cleveland and Pittsburgh being located on the same scoreboard." [Scott/Still WFNY] —- "Though Saints linebacker Jonathan Vilma didn't return (as expected), the other three players returned. And after Saints defensive end Will Smith, Packers defensive end Anthony Hargrove, and Browns linebacker Scott Fujita left the league offices, Fujita stopped to speak to the media. "The NFL's investigation has been highlighted by sensationalized headlines and unsubstantiated leaks to the media. I have yet to see anything that implicates me . . . not in the last three months and not today," Fujita said, via Barry Wilner of the Associated Press. "The NFL has been careless and irresponsible, and at some time will have to provide answers." [Florio/PFT] —- "But it is really time to let this go. As in, why do the Browns "have" to do something with Colt McCoy? Training camp doesn't start until July 29. The regular season doesn't begin until Sept. 9. So why are so many people in a rush for the Browns to make a decision on the back-up quarterback position? We think the Browns should keep McCoy as the backup to Brandon Weeden. McCoy is younger than Seneca Wallace and has a bigger upside (which may not be saying much, but still). Entering his 10th year in the league, Wallace is not going to get better. That doesn't mean he's going to regress in the next couple of months, but at this stage of his career he is what he is." [Red Right 88] —- Former Brown Kellen Winslow doesn't seem to be getting any smarter. Click through to hear the interview- "Former Pro Bowl tight end Kellen Winslow Jr., now a Seattle Seahawk, had spent the last three years as a Tampa Bay Buccaneer. He arrived in Tampa at the same time as head coach Raheem Morris, who is now also a former Buccaneer. According to Winslow, one had a lot to do with the other. Had Morris not been fired, he'd probably still want to be a Buccaneer, because he didn't care for the new guy, Greg Schiano. But don't worry, he had a perfectly good reason: Greg Schiano tried to tell people what to do." [MJD/Shutdown Corner] —- Finally, Kyrie and Tristan paid a visit to Browns camp. [Fear the Sword]
Original Story:
http://www.waitingfornextyear.com/201...
THE BACKYARD
BEST OF MAXIM
RELATED ARTICLES
RESPECT YOUR ELDERS
Jim Brown has been critical of Trent Richardson's abilities since he was drafted, and the Browns running back has responded.
As Mike Holmgren came out front to talk about the Browns last week, he was asked frequently about the Browns and how they feel about their wide receivers. Out of one side of his mouth, Holmgren proclaimed his love for Mohamed Massaquoi and stated his expectations of the receiver are high. Out of the other side of his mouth, he indicated (without using any specific names) that the...
Disney encourages folks to wish upon a star. That makes magic happen and dreams come true. They play that kind of hokey music stuff all day long at Disney parks. The Cleveland Browns arent wishing upon many stars with their 2012 team. In fact, a lot of their hopes are built on hope. A few are obvious. The new running back, the new quarterback hopes are high for them. As it should...
Vegas isn't very impressed with the Browns, and now ESPN's John Clayton is echoing the sentiments. Clayton doesn't doubt that Weeden, Richardson and Mitch Schwartz will come in and start. He also recognizes the addition of Brad Childress to the coaching staff. In the end, it isn't enough for the Browns to make what Mike Holmgren refers to as a "big jump" in the record...
As the opening of NFL training camps draw closer, it's looking inevitable that the Cleveland Browns will be moving QB Colt McCoy either through a trade or even an outright release. Two reports surfaced Friday that the Cleveland Browns are only seeking minimal compensation in return for Colt McCoy, perhaps a sixth-round draft pick. The jury remains out as to whether or not McCoy...
Jim Brown has never been shy about giving his opinion, and he most certainly hasn't been shy about voicing his reservations with the Browns' 2012 first round pick, Trent Richardson. Richardson isn't one to back down either, telling ESPN's Jamison Hensley, "He has his own thoughts. That's him being him," Richardson said. "I have no problem with it. I just...
Admittedly, most running backs pale in comparison to the legendary Jim Brown, a fact that is assumedly not lost on the man himself. But he has seemingly gone out of his way to criticize Trent Richardson, the Browns' fourth overall pick this year, all throughout the offseason. Richardson, however, has decided to take the high road and just laugh the criticisms off, according to...
CLEVELAND COUNTRY
Hey, at least Cleveland Browns QB Colt McCoy isn't enjoying life while his job with the team hangs in limbo. Here he is on stage, singing, with Brad Paisley. For the sake of your ears, and your fellow employees, turned down the volume. Even though Colt is having wait patiently like a girl who gave [...]
A month ago, I was scorched by a burning river of Browns fans for saying that Greg Little disappointed and Colt McCoy had no weapons. The insults and expletives grunted into cyberspace by these Dawg-crazed nuts barked that the blame for the team's meager passing game rested squarely and solely on Colt McCoy. He (called "hot dumpster water" by one fan) was the team's only...
For one day, Browns rookie quarterback Brandon Weeden returned to his baseball roots. Weeden, a former minor league pitcher in the New York Yankees' organization, threw out the ceremonial first pitch Wednesday night before the Indians faced the Cincinnati Reds in the finale of a three-game series. Sitting in Cleveland's dugout before the game, Weeden said he hadn't thrown...
NEW YORK (AP) -- The NFL insists it has evidence galore in the New Orleans Saints bounty program, and even made some of it public on Monday. The players and lawyers involved weren't impressed. On a strange day that included a morning adjournment of the hearings with NFL Commissioner Roger Goodell, followed by one of the suspended players, Jonathan Vilma, opting not to return...
Andrew Stewart earned a rare victory against the NFL pension plan this week as a federal judge ruled officials "abused their discretion" in denying the Cleveland Browns defensive lineman disability benefits. US District Court Judge William Quarles Jr. ordered Bert Bell/Pete Rozelle NFL Player Retirement Plan -- a benefit run jointly by the NFL and NFL Players Association...
NFL News

Delivered to your inbox

You'll also receive Yardbarker's daily Top 10, featuring the best sports stories from around the web. Customize your newsletter to get articles on your favorite sports and teams. And the best part? It's free!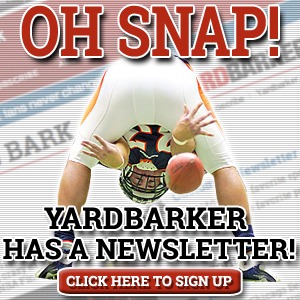 Latest Rumors
Best of Yardbarker

Today's Best Stuff

For Bloggers

Join the Yardbarker Network for more promotion, traffic, and money.

Company Info

Help

What is Yardbarker?

Yardbarker is the largest network of sports blogs and pro athlete blogs on the web. This site is the hub of the Yardbarker Network, where our editors and algorithms curate the best sports content from our network and beyond.