Found April 27, 2013 on Waiting For Next Year:
PLAYERS:
Barkevious Mingo
,
Rafael Perez
,
Tony Sipp
,
Esmil Rogers
,
Matt Albers
,
Rich Hill
,
Bryan Shaw
,
Nick Hagadone
,
Cody Allen
,
Chris Perez
,
Vinnie Pestano
,
Joe Smith
TEAMS:
Cleveland Indians
,
Minnesota Twins
,
Arizona Diamondbacks
,
Toronto Blue Jays
,
Boston Red Sox
,
Cleveland Browns
,
San Diego State Aztecs
While We're Waiting serves as the early morning gathering of WFNY-esque information for your viewing pleasure. Have something you think we should see? Send it to our tips email at tips@waitingfornextyear.com.   "I view Barkevious Mingo as a Type B player: Exceptional Physical Talent – Barkevious will be a starter in his first season and will reach Pro Bowl status when fully developed; has rare athletic ability and position skills; is a top 5 – 10 selection; his college circumstances / system limited his production in that he was often asked to play a "robber" role but we saw him unleashed in the Chick-Fil-A Bowl game vs. Clemson where there are moments you find yourself saying: "Wow". Mingo has excellent football IQ and is able to read and diagnose run and pass plays quickly; his instincts are strong and his motor is consistent and inspired; he showed the ability to take on and defeat college tackles with his speed and length; while he does not excel on the inside rush he can be elite when he attacks the edge; Mingo was not asked to drop into coverage often but showed the ability to do so as I will show below in the film breakdown section; his hands are active, strong and give him the ability to create space while rushing the passer; his blitz and pass rush skills and abilities have yet to be fully tapped for an athlete who possesses an elite first step and an array of rush and hand moves that enable him to get free at the POA and get to the QB; his length consistently shows up on film as an advantage in that he can, as stated before, disrupt the passer even if he wasn't able to get the sack." [Krupa/Orange and Brown Report] —- "What he brings to the Browns is that he is very good in coverage — as a cornerback should be — by being able to change directions with fluid hips, an eye to break on the ball yet still keep an eye on the quarterback and he is able to recover nicely if he somehow gets beat. McFadden also is very good at disrupting the ball from receivers by getting a hand in the way of the wide outs hands or ball. Being a former wide receiver helps McFadden perform well in 50-50 chances as does his ability to get interceptions at a better clip than someone who has only been a defensive back. The few downsides of McFadden are that he is not great in bumping or jamming a wide receiver at the line of scrimmage, and some of that has to do with him being just 5-foot-10. That size also gives him trouble trying to cover the taller and lengthier receivers. The Browns need playmakers on defense and McFadden fits that bill, and if he is able to make plays like he did at San Diego State then he McFadden should see some playing time in Cleveland early on." [Mauss/Mountain West Connection] —- "Browns: Again, a team that comes out of a loaded second day with just one selection … unless you count their decision to trade for Davone Bess. I don't because, well, he's Davone Bess. Their only selection was cornerback Leon McFadden out of San Diego State. That's a position of need, sure, but couldn't they have landed a cornerback in the first round instead of linebacker Barkevious Mingo? In my mind, that's a better combination of need and talent joining together than what Cleveland pulled off." [Brinson/CBSSports] —- "McFadden totaled 61 tackles with 12 passes broken up and three interceptions this season. 2012 was the best year of his collegiate career and McFadden was solid at the Senior Bowl. He is on the shorter side, but could be a nice slot corner in the NFL. McFadden ran a little slower than expected at the Combine. The former wide receiver has a reputation as a good cover corner. McFadden totaled 46 tackles, 15 passes broken up and two interceptions in 2011. He recorded 55 tackles, 12 passes broken up and two interceptions in 2010." [Campbell/WalterFootball] —- "The NFL draft, while celebrated and speculated over by an increasingly rabid, large number of people, has grown into an uncontrollable monster. Mock drafts are treated like some sort of gospel, despite 99.9 percent of the picks being flat-out wrong. In that regard, they are the draft's closest resemblance to an actual religion. But speculation is so rampant, so hilariously wrong at times, that anyone can call him/herself a "draft expert." The title of "draft pundit" pops up in a lot of Twitter profiles this time of the year. Because there is no consequence for being wrong – literally none at all – there is suddenly a flourish of supposed knowledge about every college player. There is no denying that the NFL draft is more exciting than other sports' drafts. In the NFL, a rookie can make an overwhelming impact on a team, sometimes completely reversing the fortunes of a downtrodden organization (see: every other team but the Browns)." [Dimatteo/Dawg Pound Daily] —- "A good number of names and faces may have changed during the offseason, but the bullpen still remains the biggest strength of the Cleveland Indians. Gone from last year are mainstays Rafael Perez and Tony Sipp. Also sent away in the winter was Esmil Rogers, who became a key contributor to the 2012 relief staff.Tribe General Manager Chris Antonetti spent the offseason collecting relief pitchers the way some people collect baseball cards and stamps. He held fast to that old saying of never having enough pitching. Newcomers to this season's pen include Matt Albers, Rich Hill Bryan Shaw. Nick Hagadone and Cody Allen, a pair of 2012 rookies, have been key contributors so far this season.Despite all the turnover and relatively new arms, the relief corps continues to hum along as it has over the past several seasons. Of course, a key to keeping relievers as the best group on the club are the names that haven't changed in recent years. Closer Chris Perez and setup men Vinnie Pestano and Joe Smith have been in their roles with the Tribe the past three seasons. Just about every team in baseball would love to have a trio like that at the back-end of its bullpen. Much like seasons past, Cleveland's Big Three are off to another fruitful start. Smith has been nearly untouchable, not allowing a run on four hits in seven and 2/3 innings. Perez and Pestano have matching 1.29 ERAs in seven innings of work, each. Success for the top three arms in the pen is to be expected, however. What some questioned at the season's start was how everyone else around them would fare. Through 20 games, it is so far, so good." [Gifford/DidTheTribeWinLastNight]  
Original Story:
http://www.waitingfornextyear.com/201...
THE BACKYARD
BEST OF MAXIM
RELATED ARTICLES
It's not necessarily the most exciting thing when your team uses the sixth overall pick to take a guy who, according to popular consensus, is the third best player available in a draft at a position. But Barkevious Mingo might be better suited to play 3-4 outside linebacker, as opposed to a 4-3 end, than any of the "edge rusher" prospects in this draft, which would help explain...
Sometimes punchlines are just too easy. The low-hanging fruit dangling mere inches from the blades of grass. The Browns traded two straight draft picks and you would have thought they'd done this as a part of their M.O. for decades and decades. "The Browns are on the clock… you know to trade another pick!" Hilarious. Yes, the Browns have traded in the draft in recent years...
The Browns completed their 2013 draft by selecting OL Garret Gilkey from Divison 2 Chardon State in Nebraska. Gilkey was the Browns second consecutive selection of a player from a D2 school with the choice of Armonty Bryant ten picks earlier out of East Central. After missing the first two games of his junior season due to an Achilles injury, Gilkey went on to start the remainder...
Usually we have to wait until late September to officially declare the Cleveland Browns dead in the water, but this year, I think it's safe to make that declaration following the first five rounds of the draft. Despite a completely overhauled and new regime, the same problems the Browns have faced in recent memory will persist. There's still questions at quarterback,...
Barkevious Mingo is coming into this NFL draft a little green as he only came to the game of football in his junior year of high school.  Even though he was still new, he earned a 4 Star Rating as he was recruited and accepted a scholarship to play at LSU.  According to his Wikipedia page he got his unusual first name from his mother, as she created a combination of the first three...
With their first pick in the draft, number six overall, the Cleveland Browns selected OLB/DE Barkevious Mingo. The Browns do not own a second round selection, but do have six draft picks left. Third round, sixth pick- (68 overall) Fourth round, seventh pick- (104 overall) Fifth round, sixth pick- (139 overall) Fifth round, thirty-first pick- (164 overall) Sixth round, pick seven...
With the 217th pick of the 2013 draft the Browns selected DE Armonty Bryant of Division 2 East Central in Oklahoma. Bryant originally enrolled at D2 powerhouse Abeline Christian, but did not play his freshman year leading to his transfer to Cisco Junior College (TX) before eventually making his way to East Central. East Central, relatively unknown the football public, is the alma...
With the first of two seventh-round picks, the Cleveland Browns selected defensive end Armonty Bryant from East Central Oklahoma in the NFL draft. The Browns used the 217th overall pick on the 6-foot-3, 263-pound Bryant, who didn't perform the bench press at the scouting combine following right shoulder surgery. Bryant, the Division II school's career leader with 26.5 sacks...
The Cleveland Browns selected Dan Diego State CB Leon McFadden with the 68th overall pick in the NFL Draft. (More to come)
NFL Films profiles newly acquired Browns WR Davone Bess and his remarkable journey from nearly losing it all to becoming an NFL wide receiver. Bess grew up in a rough neighborhood on Oakland's east side. His dad was caught up in the fast life of the streets of Oakland, exposing Bess to the harshest realities life had to offer, watching his uncle get killed right in front of him...
San Diego State's Leon McFadden was selected by the Cleveland Browns in the third round of the 2013 NFL Draft.
With their fifth-round pick, 142nd overall, in the 2013 NFL draft, the Tennessee Titans selected defensive end Lavar Edwards from LSU. Edwards is the third LSU defensive end to be selected in this year's draft, after Barkevious Mingo went in the first round to the Browns and Sam Montgomery went in the third round to the Texans. In my seven-round mock, I had Montgomery going...
NFL News

Delivered to your inbox

You'll also receive Yardbarker's daily Top 10, featuring the best sports stories from around the web. Customize your newsletter to get articles on your favorite sports and teams. And the best part? It's free!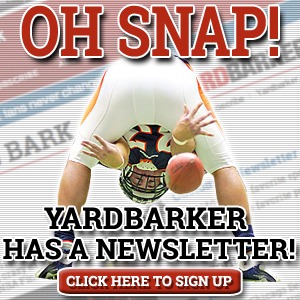 Latest Rumors
Best of Yardbarker

Today's Best Stuff

For Bloggers

Join the Yardbarker Network for more promotion, traffic, and money.

Company Info

Help

What is Yardbarker?

Yardbarker is the largest network of sports blogs and pro athlete blogs on the web. This site is the hub of the Yardbarker Network, where our editors and algorithms curate the best sports content from our network and beyond.